The 2020 Taboadella Encruzado Reserva is a concentrated, flavor-packed wine that's not quite like any other white wine, which renders it both unique and especially enjoyable. The 2020 Taboadella Encruzado Reserva is a beautifully textured wine from partial wood ageing with smooth, ripe fruit flavors and a nice crisp edge. Pear, white peach, and citrus flavors imbued with a delightful spiciness greet the nose and later emerge in the mouth to woo the palate. Fresh and firm on the finish, the youthful and complex 2020 Taboadella Encruzado Reserva is a delight from start to finish. However, as enjoyable as it is now, this complex and exceptional Encruzado is truly only a shadow of what it will be with an additional 6-12 months in the bottle. Enjoy now and over the next several years. Anticipated maturity: 2021-2026. Serve between 40°-45° F. Cheers!
What does one serve with a complex and unique wine such as the 2020 Taboadella Encruzado Reserva? How about whatever you want? If you find yourself at a loss for what to serve, consider seafood as a first choice; the Portuguese do. Bronzino Mediterranean prepared with Mediterranean herbs, arugula, red pepper, and mango with a fennel salad provides a fine accompaniment. Pan Seared Halibut with a beurre blanc sauce accompanied by crab meat risotto, zucchini, and fresh tomatoes makes another splendid companion. Seafood Ravioli with lobster, shrimp in a lightly spiced tomato cream sauce gets a nod, too. For those not beholden to the sea for sustenance, consider serving a juicy Veal Chop or hearty Wild Mushroom Risotto with Taboadella's delightful 2020 Encruzado Reserva. Poultry and pork dishes provide good companionship, too.
"We believe that Dão is one of Portugal's most emblematic and promising wine regions, home to great wines with a classic profile and enormous longevity, a unique territory that not only demonstrates the full potential of Touriga Nacional and Encruzado, but also of traditional Portuguese grape varieties. The region has a great history and certainly has a great future." – Luisa Amorim
Taboadella, nestled in the heart of the Dão between mountains of pine, chestnut, and cork oak, has been a place full of life and character for millennia. This ancient settlement alongside the Ribeira das Fontainhas dates to the first century when a Roman villa, winery, granary, and assorted other buildings occupied present day Taboadella. Taboadella's prominence re-emerged again in the 13th century when it came under the auspices of the Knights Templar. In 1504 it received a formal charter from Portugal's King Manuel and subsequently became the domain of several knighted families until being acquired by its present owners, the Amorim family.
The Amorims have been involved in wine since 1870 when they began negotiating cork sales to Port producers in Vila Nova de Gaia. And, although they remain one of the world's largest suppliers of cork, they have over the last three decades committed themselves to restoring and developing wineries and vineyards of historical significance in the Alentejo, Dão and Douro. In addition to Taboadella, the Amorims are the proprietors of the Aldea de Cima estate in the Alentejo and one of the most respected Port lodges, Quinta Nova de Nossa Senhora do Carmo in the Douro.
Today, Luisa Amorim oversees Taboadella and the family's other Quintas where wines and vineyards have ancestral roots and cultural importance. She has helped restore Taboadella to its original purpose as a winery, vineyard, and a place full of life and character in harmony with its surroundings. Only indigenous grape varietals such as Encruzado and Touriga Nacional are cultivated at Taboadella, which enables the family to "recover from the past the essence of nature and project great wines into the future with a remarkable typicality [while] maintaining the ancestral character of the Dão." We invite you to taste the exceptional wines of Taboadella.
Located in the north/central part of Portugal, Dão is surrounded on all sides by mountains, which shelter this important viticultural region from severe weather and provide the ideal conditions for the cultivation of Portugal's excellent, though mostly unsung, indigenous grape varietals. The region's high altitude vineyards grow on granite and schist soils up to nearly 3,500 feet. Dão's high altitude makes for cool nights, slow ripening, and the propensity to produce highly aromatic wines of superior elegance and longevity. The Dão produces both red and white wines. Dão's signature white grape is Encruzado, a grape renowned for producing tasty white wines in a myriad of styles, which range from fresh, light and supremely elegant white wines to crunchy, complex, barrel-aged versions. Although it is increasingly bottled as a varietal, Encruzado often finds its way into blends with Malvasia Fina, Bical, Cercial, Rabo de Ovela, or Verdelho. The region's finest red grape variety is Touriga Nacional, which also stars as the most important grape variety in Port, Portugal's most celebrated wine. Tinta Roriz (also known as Aragonez or Tempranillo), Jaen, Baga, Bastardo and Tinta Pinheira also figure prominently in the production of red Dão. Dão is proving to be equally adept at fashioning easy-drinking, everyday reds as well as deep, sophisticated, age-worthy red wines of considerable renown.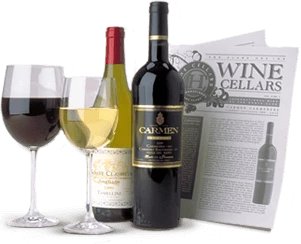 Enjoy Limited Production Estate
Bottled Wines
Discover limited production estate bottled wines such as Vergenoegd's internationally
acclaimed 2005 Cabernet Sauvignon, imported exclusively for our members.
DISCOVER OUR FOUR CLUBS