The 2004 Steele Mendocino Lolonis Vineyard Chardonnay shines as an excellently crafted, intense, and lush example of California's most renowned white varietal. While holding a glass to the light, the wine's thick golden tones point to the luxuriousness of the wine and Jed Steele's signature gentle handling that continue to draw us toward his Chardonnays. Pleasurable and distinct aromas of wood, apple, and vanilla extract mingle and draw us invitingly into a rich tasting experience. As one drinks this single vineyard Chardonnay, the smoothness of this wine drapes itself over the tongue. A gliding and wide fruit flavor helps us to picture perfectly ripe grapes hanging expectantly on the vine. As the physicality of this Chardonnay expands and caresses the entire mouth, an effortless transition to a buttery tannic core perfectly complement the full fruit flavors. While the full, smoothly-blended flavors both characterize the integrity and balance of the wine and point to the skill of the wine maker, the finish lingers and caps our experience with a hint of hazelnut and cream. Once again Jed Steele has nurtured a full-bodied and balanced winner with the 2004 Lolonis Vineyard Chardonnay, and demonstrated why he is one of California's consummate winemakers. Anticipated maturity: 2007-2009.
A Chardonnay as luxurious as the 2004 Steele Mendocino Lolonis Vineyard Chardonnay requires an equivalent selection of menu choices. So, let's talk about butter. Why? Because sometimes one simply must indulge and enjoy the full flavor of farm fresh, organic butter – the real thing. As starters, for example, present crab or lobster with a clear butter dipping sauce or immerse them in a creamy bisque. As a main course, adorn your table with a succulently crisp rôtisserie hen or your favorite pasta and cream sauce. Our recipe for Penne with Red Lentils, Spinach, and Gorgonzola offers an intriguing variation to the cream sauce concept. At the foundation of this dish is butter, and trust us here, what the recipe calls for is not too much. Butter, in combination with walnuts and gorgonzola, creates a rich, zesty, creamy, and earthy flavor that resoundingly complements the full-bodied texture and flavors of the Lolonis Vineyard Chardonnay. As sides, a loaf of fresh baked bread and any of your favorite vegetables roasted or lightly sautéed in – yes – butter will further round out the meal. There's no guilt in eating well, but to rein in these rich indulgences, finish the meal with a simple fruit salad.
In the wine trade since 1968, Jed Steele has owned and operated his own labels, Steele and Shooting Star Wines since 1991 where he continues to earn renown from his familiarity with and expertise at making world class Chardonnay. As the winemaker for Kendall Jackson during the 1980's, Jed helped to shape the company and his identity as a maker of top-notch Chardonnays. Yet, after nearly a decade, Jed left Kendall Jackson and started his own venture in 1991 in order to make fine wines from select vineyards and reconnect to the entire winemaking process. As he says in one interview, "I really needed to be in closer contact with the wines." After all, Jed Steele's claim to fame is making great wine, not overseeing a conglomerate. While Steele produces wines that feature other California varietals, such as Zinfandel, Pinot Noir, Syrah, and even Viognier, the Chardonnay grape remains a true shining star for Steele. In fact, Steele Wine's signature offering, Steele Cuvee Chardonnay, reflects Jed's remarkable gifts for blending and shaping a wine as he sources grapes from a number of established and well-respected vineyards across California, selecting each for the unique character of its grapes. Carrying his interest to fruition in hand crafting excellent and distinct wines that reflect their terroir, Jed features seven single vineyard Chardonnays, of which the Lolonis Vineyard is considered the pinnacle of perfection. He produces only a limited quantity of these single vineyard offerings, but each is carefully nurtured through the entire winemaking process. Completely fermented in French oak barrels for eight to ten months and handled gently with limited filtration, each of Jed's single vineyard entries aims to reveal the elemental qualities of the vineyard's grapes and its terroir. Under a separate label, Shooting Star, Steele really follows his interests as an innovative winemaker. While Shooting Star often produces great values of known varietals, such as Cabernet Sauvignon and Merlot, Jed, also, uses the Shooting Star label to experiment with lesser known grapes, such as Aligoté, and to craft intellectually probing, eclectic selections. Lolonis Vineyard Nestled in the Redwood Valley of Mendocino County 10 miles north of Ukiah, the county seat, Lolonis Vineyard holds several points of distinction. One noteworthy fact is that the Lolonis family has grown grapes in the Redwood Valley since 1920. Another is that beginning in the late 1950's the Lolonis family began farming organically long before it was a trendy practice. And the vineyard is among the first, if not the first, to be certified organic in California. A final point worthy of note is that Steele Wines has consulted and worked closely with the vineyard since 1991. Among the vineyards from which Steele selects Chardonnay, Lolonis is the warmest and typically produces peerless grapes that contribute hints of baked apple and cinnamon to Steele's classic Chardonnays.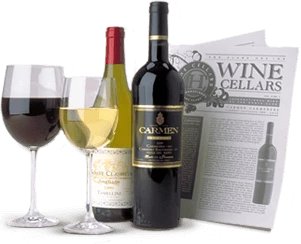 Enjoy Limited Production Estate
Bottled Wines
Discover limited production estate bottled wines such as Vergenoegd's internationally
acclaimed 2005 Cabernet Sauvignon, imported exclusively for our members.
DISCOVER OUR FOUR CLUBS