A deep purple robe smiles from the glass full of 2000 Sonoma Creek Merlot, indicating the natural, serious approach to winemaking at this estate. An amplifying nose laden with the scent of black cherry, cassis and just a hint of spice from a twelve month hiatus in oak barrel extends the warm welcome offered by this hand harvested Merlot. Black berry, plum and plush vanilla tones round out the palate profile of the 2000 Sonoma Creek Merlot, underscoring the undeniable benefits of bottling premium Merlot unfined and unfiltered. What else can we say? The Sonoma Creek Merlot is what more California Merlot producers could be making, if they put the time and effort into this noble varietal - a wine with ample fruit (not sugar), with an array of secondary characteristics to make you want to have more than one glass, and a dry finish that reminds you that real Merlot is not for 'sweet tooths'. It is no wonder that this wine has been winning awards all over the place. We suggest serving the Sonoma Creek Merlot at about 65° F.
A whole range of holiday fare awaits the charm and flavor of the 2000 Sonoma Creek Merlot. Beef tenderloin, standing rib roast, roast turkey with stuffing and gravy, and pork tenderloin all make splendid accompaniments to the Sonoma Creek Merlot. In a less carnivorous vein, we also recommend a cheese and roasted red pepper Boboli, cannelloni, and a not too spicy pasta Arrabiata. Cuban Black beans, with olive oil and a dash of Tabasco, also offer a nice alternative to meat with this flavorful Merlot. However, the 2000 Sonoma Creek Merlot is about as balanced and delicious as any Merlot, making it an excellent choice to serve on its own to friends, new and old. Enjoy!
Sonoma Creek Winery is located in the western reaches of the Los Carneros appellation on the site of the Larsen family's old Sonoma Rodeo. Where rodeo stock, racehorses, and polo ponies once grazed, Tom and Becky Larsen now grow organic, dry-farmed grapes for their award winning wines. The heritage of the property on which Sonoma Creek Winery sits and the history of the family that has owned it since the 19th century bring to life stories of the Wild West and capture the California experience - the transformation from rough and tumble western outpost to the world's fourth largest producer of fine wine. The young M.G. Vallejo, the Mexican Military Governor, first graced what is now Sonoma Creek Winery in June 1834 on his way to secularize the Mission San Francisco Solano de Sonoma, the last and most northern of the 21 California Missions. Vallejo established the town of Sonoma that would for many years be socially and politically more significant than Yerba Buena, the 'trashy little town' on the bay now known as San Francisco. What is now Sonoma Creek Winery was once the Embarcadero, the farthest navigatable point up Sonoma Creek from San Francisco Bay. Where Chardonnay now ripens, small craft landed European visitors as early as1823. Beginning in 1847 steamboats docked there before making the return voyage to San Francisco. It was a steamboat captain who built the Civil War-era farmhouse, which now serves as the winery's main office. Tom Larsen's great grandfather, Michael Millerick, bought the house and 120 acres of surrounding land in 1899. From 1929 to the early 1950's the Sonoma Rodeo was held on the Millerick Ranch. The largest and longest running rodeo in the Bay area, it was the event of the year in Sonoma. Thousands of fans filled the stands and feasted on beef roasted in underground pits, while world champion and hall of fame cowboys competed at the various events. To no one's surprise the locals held their own at the rodeo; one year legendary vintner August Sebastiani even won a roping trophy. In 1977, Tom Larsen and his father decided to plant Chardonnay on the site of the old rodeo. This 40 acre block on the home ranch gradually led the family beyond home winemaking as they soon began producing more wine than they could consume themselves. In 1984 Tom earned his degree from UC Davis, the nation's foremost school of enology, and the following year Sonoma Creek Winery was founded. Today, Sonoma Creek Winery produces a whole line of super tasty, premium Sonoma County varietals, including award winning Chardonnay, Merlot and Pinot Noir. All of Sonoma Creek's wines receive extended barrel aging in American or French oak, and in the case of the estate's reds are bottled unfined and unfiltered, a practice we wish more California producers would enact, since it results in richer, more natural tasting wines. The history of Sonoma Creek Winery, and to a large extent that of California as well, is depicted on Sonoma Creek's label by a colorful rendition of a jumping horse, a reminder that the Wild West in California was not so long ago.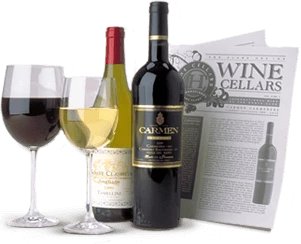 Enjoy Limited Production Estate
Bottled Wines
Discover limited production estate bottled wines such as Vergenoegd's internationally
acclaimed 2005 Cabernet Sauvignon, imported exclusively for our members.
DISCOVER OUR FOUR CLUBS