With the color of the noonday sun, the 2005 SolÉna Cellars Oregon Pinot Gris is a feast for the eyes as well as the palate. A full throttle Pinot Gris, SolÉna's exuberant 2005 Pinot Gris is as big, bold, and beautiful as any Oregon Pinot Gris we have tasted, and without ever going over the top. In the aroma, scents of fresh apricot and the nectar of pure summer fruits caress the nose. And on the palate, the wine is full and rich, but never flabby. It possesses subtle spice tones, a racy mid palate, and just enough acidity and zip to frame its bodacious flavors, all the while remaining vibrant and refreshing. With these attributes in mind, it is easy to see why SolÉna Pinot Gris has been served at the White House and at official state dinners; this pure, unadulterated Pinot Gris sums up all that is admirable in Pinot Gris and the indomitable American spirit. Enjoy this beautiful white wine well chilled (about 35°- 40 ° F). Anticipated Maturity: 2007-2009.
Dungeness Crab; Maryland or Carolina Style Crab Cakes; Alaskan King Crab Legs, served with warm drawn butter; and Maine Lobster, steamed to perfection are just a few American classics that pair superbly with the 2005 SolÉna Cellars Oregon Pinot Gris. However, there is far too much versatility and flavor in the SolÉna Pinot Gris to restrict its role at table to one or two delectable companions. Therefore, we heartily recommend other shellfish and fruits de mer with this wine as well many traditional dishes from France's ancient province of Alsace, including Pork and Sauerkraut, with apples, bacon and caraway seeds. A whole host of Asian dishes provide sublime accompaniments, too. With a firm structure and plenty of fleshy, spice laden fruit, the 2005 SolÉna Oregon Pinot Gris is a natural accompaniment to Thai and Vietnamese classics, most notably Lightly Fried Crispy Fish and Grao Prao with chicken and basil. Enjoy!
In just a few short years, SolÉna Cellars has become one of Oregon's top producers of both Pinot Gris and Pinot Noir. Launched in 2002 by Laurent Montalieu and Danielle Andrus Montalieu, this husband and wife team has wasted no time in establishing SolÉna Cellars'outstanding Pinot Gris and Pinot Noir as benchmarks for Oregon's two most prized grape varieties. And when one considers the burgeoning Oregon wine scene, the Montalieu's accomplishment constitutes no small feat, indeed. Before establishing SolÉna Cellars, Laurent and Danielle enjoyed considerable renown in the wine industry as the force behind some of Oregon's finest wines. With their marriage in 2000, Laurent and Danielle gave birth to a new family operated winery by purchasing an eighty acre estate in Willamette Valley as a wedding gift to each other. They named the estate vineyard in Yamhill Domaine Danielle Laurent. The name of the winery, SolÉna, comes from a combination of two words that signify the sun and the moon – earth's two most powerful forces. SolÉna is also the name that Danielle and Laurent have given to their daughter. Today, SolÉna Cellars produces a whole host of fine wines. Pinot Noir is the only varietal grown presently in the Domaine Danielle Laurent vineyard, so the Montalieus fashion their exquisite Pinot Gris, Merlot, Cabernet Sauvignon, Syrah, and Zinfandel from other selected vineyard sites in Oregon and Washington State. So taken has the public and the press been by this couple's wines that they have already been served at official state dinners at the White House and are now highly allocated. What else could one expect from two great wine personalities whose impetus is the sun and the moon? Willamette Valley: The Heart of Oregon Wine Country Oregon's Willamette Valley was the destination and the dream of thousands of 19th century pioneers as they migrated west across the Great American Desert to "the promised land," a green oasis where crops and orchards bore fruit aplenty. Today, the Willamette Valley retains its original allure. It is the center of the Oregon wine and fruit industries and it has become a haven for many environmental and high tech industries. Today, the Willamette Valley is home to more than two thirds of the wineries and vineyards in Oregon. At last count there were more than two hundred wineries in this broad and varied valley that follows the Willamette River from north to south for a hundred miles from the Columbia River to just south of Eugene. The Willamette Valley is one of the premier places on earth for the cultivation of Pinot Noir, one of the finest, yet most difficult grape varieties to grow. So favorable is this land for Pinot Noir that Willamette Valley is mentioned in the same breath as Burgundy and a few select cool weather locations in California as one of the few placse on earth for growing the often magical, yet mercurial Pinot Noir grape. Willamette Valley, also, provides ideal terroir for Pinot Gris and other premium white varietals.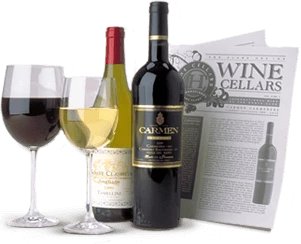 Enjoy Limited Production Estate
Bottled Wines
Discover limited production estate bottled wines such as Vergenoegd's internationally
acclaimed 2005 Cabernet Sauvignon, imported exclusively for our members.
DISCOVER OUR FOUR CLUBS