Scents of white peach and spring flowers rise from the 1999 Sokol Blosser. White Riesling, making the taster wish he could stick his nose right down into the glass. Riesling is not usually one of the New World's most highly acclaimed varietals, nor is it always sufficiently balanced to please the majority of experienced palates, but we beg of you to throw out all the pre-conceived notions you may harbor regarding this noble varietal. Sokol-Blosser's 1999 Riesling is enough to change the mind of even the most stalwart disbeliever. Just try it! Crafted in the Alsatian style of dry Riesling, this Oregon beauty captures all of the delicate fruit and subtle minerality of the varietal, with out the residual sugar of the majority of California and late harvest German Rieslings. One taster equated the bouquet of this wine to "the waft of a spring breeze through a blooming orchard," while a second commented that "the wine tasted as good as it smelled." Perhaps those comments best capture the essence of this lovely Riesling-balance. It finishes clean and zesty on the palate, making you wish you could do backflips with your nose into the glass for more. Serve chilled. Enjoy!
Drag up a chair, call a friend and talk, listen and breathe in the scents of spring, white blossoms and cool breezes that waft in your glass. Let go of the cares of the day, watch the sun set and know that life is good. This is the best accompaniment to the 1999 Sokol Blosser Riesling. In addition, we have enjoyed this wine with shrimp, weakfish, founder and scallops. A simply roasted chicken with butter and herb also goes quite well with this Riesling, as do most salads that are not soaked in vinegar. Ham and simple pork dishes that accentuate the flavor of the meat rather than a sauce are also good matches. Soft, uncrusted cheeses provide another reason to open a bottle of the Sokol Blosser, as does a bowl of fresh apples, pears or peaches. As you like it.
Susan Sokol Blosser has been called "Oregon's Wonder Woman" and with good reason. How many other people can teach American history, speak Japanese and French, spend eight years on the school board, run for political office, manage a major vineyard, drive her own tractor, raise three children and still have time to be the President and CEO of the award winning Sokol Blosser Vineyard and Winery - a venture that she and her husband built from scratch over the past thirty years? Yeah, not too many you say. Can you name a few others? Founded in 1970 when Susan and Bill Sokol Blosser bought a dilapidated, 18 acre prune orchard in the Willamette Valley that had been destroyed some years earlier in a storm, Sokol Blosser is today, one of the finest and most important Oregon wineries. At first, "starting a vineyard was my husband Bill's idea", Susan confesses. "I thought that's a pretty weird idea, but it could be fun" she added. Not only has she had fun, she has had remarkable success, much of which she modestly attributes to her willingness to listen. She is also creative, resourceful and determined, but by all accounts, never overbearing or overly aggressive. Testament to her style, Oregon Business Magazine has more that once chosen Sokol-Blosser as one of the "100 Best Companies to Work for in Oregon". It is the only winery in the state to be so honored and one of the smallest companies chosen for the list. "We are not large," says Susan (the winery steadfastly maintains its 25,000 case production, preferring to concentrate on improving quality rather than increasing quantity)"...and we cannot pay high salaries, but we can give people a good working atmosphere. Each segment - the tasting room, the winery - is its own little entrepreneurial area. We're all working together but each person has a tremendous amount of freedom to test and run with his own ideas. Does it work? I give people a lot of rope and sometimes they hang themselves, but most of the time, they build fabulous creations. I believe in management by gut feelings, by listening to myself and trying never to forget the golden rule." One of Susan's most recent decisions has been to bring in Russ Rosner as winemaker. Russ comes to Sokol Blosser with twenty years experience in California wineries and more than a few fresh ideas. Since his tenure, Sokol Blosser has redesigned its labels to match what Susan calls the winery's new image for elegant, clean-lined, sophisticated wines. Sokol Blosser produces both white and red wines at their Willamette winery. On the fairer side, the winery's recent Riesling offerings have been some of the best in the state, exhibiting all of the flavor and mystery of the varietal without the angular or cloying qualities so prevalent in lesser offerings. Chardonnay, Pinot Gris and a new wine, Evolution No. 9 (an easy drinking, semi-sweet melange), round out the white portfolio. Pinot Noir is of course the most important, and in the case of Sokol Blosser, the only red varietal grown at the estate.,Like most Oregon wineries, Sokol Blosser produces several different Pinot Noirs, including tiny lots of single vineyard designations in addition to a premium Redland Pinot Noir and a very good bread and butter Willamette Valley offering.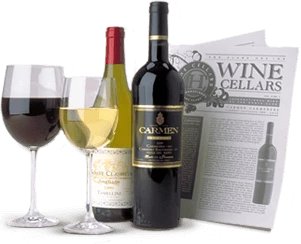 Enjoy Limited Production Estate
Bottled Wines
Discover limited production estate bottled wines such as Vergenoegd's internationally
acclaimed 2005 Cabernet Sauvignon, imported exclusively for our members.
DISCOVER OUR FOUR CLUBS