A deep, saturated purple that appears sunk into the marrow of the 2004 Silvio Grasso Barbera d'Alba Fontanile provides the first indication of the hedonistic side of this cru Barbera, but that's just for starters. Stick your nose near the glass and just wait for the aromatic fireworks. Deep cherry fruit, cedar, plum, and anise come to fore. On the palate the wine is broad and expansive, even without extensive aeration. A lush, velvety texture caresses the tongue and envelops the soul, carrying with it the savor of orchard fruits, violets, budding woodlands, and a cachet of spices. Hedonistic in the style of the finest Côte de Nuits Burgundies, Federico Grasso's Fontanile is an absolute pleasure to contemplate, sniff, and, of course, drink. Splendid now, it will most assuredly continue to improve in bottle for another year or two and hold for several more years at the peak of perfection. In short, this Barbera has what it takes, and then some. For optimal pleasure, we would allow it at least a half hour of aeration, but don't worry if you can't wait. The 2004 Fontanile possesses up front all that it needs for your drinking pleasure. As for the preferred serving temperature for this wine, cellar temperature (57°-62° F) gets our nod. Enjoy!
Traditional Piemontese specialties provide delightful accompaniments to Federico Grasso's 2004 Barbera d'Alba Fontanile. A blend of rusticity and sophistication, Piemontese cuisine is some of the finest in Italy. Moreover, it complements the region's full-bodied wines with aplomb. Veal Tartare, served with mushroom caps or shaved truffles, a hunk of well-aged parmigiano, and a glass of Fontanile may be one of the best ways to start a meal in Northern Italy. For the less adventuresome, Milk-Fed Veal sautéed in a luscious brown sauce can substitute for the tartare. The 2004 Fontanile and Sautéed Rabbit with Peppers; Roast Duck prepared with a cherry or blackberry sauce; or even fresh Bowtie Pasta and Pesto served with crusty bread and a well-aged cheese can turn a meal into a veritable feast. So, whether you choose to serve simple food or sophisticated fare, Silvio Grasso's Fontanile will stand and deliver. Buon Appetito!
Silvio Grasso is a small family-run estate that specializes in Piemonte's most important red grape varieties: Barbera and Nebbiolo. Located in the Barolo commune of La Morra, this estate has been making Piemontese classics since 1927. However, in the last decade this property's star has risen sharply and continues to ascend, thanks to the guidance and passion of its present guardian, Federico Grasso, who manages both the vineyard and the cellar himself. He is a proponent of the "new style" of Barolo and an ardent advocate of seductive, barrel-aged Barbera. Grasso's single vineyard Barbera d'Alba Fontanile is one of Piemonte's finest Barbera wines and ample testimony to the benefits of barrel aging and the deft touch of Federico Grasso. Federico also produces two single-vineyard cru Barolos, Bricco Luciani and Bricco Manzoni, from his own southwestern facing vineyards on the slopes of La Morra. In addition to these single vineyard selections, Federico Grasso fashions an assortment of Barbera and Nebbiolo based wines from surrounding vineyards. Perhaps most intriguing among the estate's non cru wines is L'Insieme, an increasingly popular blend of Barbera, Cabernet Sauvignon, Merlot, and Nebbiolo. As a member of the L'Insieme Association, Silvio Grasso is entitled to use the name "L'Insieme," which means "together," and blends the two traditional Piemontese grape varieties Barbera and Nebbiolo with Cabernet Sauvignon and Merlot.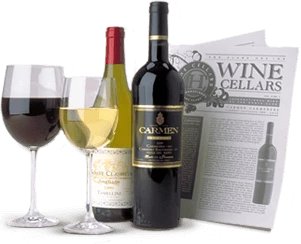 Enjoy Limited Production Estate
Bottled Wines
Discover limited production estate bottled wines such as Vergenoegd's internationally
acclaimed 2005 Cabernet Sauvignon, imported exclusively for our members.
DISCOVER OUR FOUR CLUBS