Sourced from a century-old high elevation vineyard of un-grafted vines, the 2020 Shofer Vayots Dzor Voskehat Dry White Wine emits a heavenly perfume resplendent with the enticing scents of spring flowers, pear, melon, and chamomile. Delicate and elegant on the palate, Shofer's 2020 Vayots Dzor elicits a soft, sensuous appeal as the wine's ethereal fruit and floral flavors waft gently over the tongue and ingratiate themselves to the mouth and thirsty throat. A gentle twist of acidity freshens the palate as the wine gracefully exits with charm and precision. No smoke, no mirrors, no oak, just a rare and unique natural tasting white wine to make you wonder why more wines aren't as pure and natural tasting as Shofer's 2020 Vayots Dzor Voskehat Dry White Wine. Enjoy this rare, unique white wine now and often over the next year (serve at 40°-45° F). Anticipated maturity: 2022-2024. Enjoy!
The elegant 2020 Shofer Vayots Dzor Voskehat Dry White Wine provides the perfect complement to white fish, salads, vegetables, and cheeses. For a special treat, consider pairing Shofer's Vayots Areni Dry Red with Braised Harissa Chicken, a recipe designed to accompany Shofer's Areni Dry Red Wine and Dry White Wine by Alex Gatter of the Ruffled Apron https://www.ruffledapronblog.com//braised-harissa-chicken/. This wine also makes a fine aperitif as its delicate charm shines on its own. For a truly splendid accompaniment to Shofer's tasty 2020 Vayots Dzor Voskehat, consider serving Zucchini Soufflé with Baked Goat Cheese and Pancetta Cream. Grilled or smoked trout; chicken salad with grapes, walnuts, and wild Mediterranean herbs; and crispy pork belly also make splendid companions to this wine. A plate of creamy cow or goat's milk cheeses with slices of Bartlett pears offer a simple, satisfying companion to the 2020 Shofer Vayots Dzor Voskehat Dry White Wine, too, but almost any light appetizers or hors d'oeuvres will fare equally well, so as you like it. Bari akhorzhak!
Shofer is a winery located in the highlands of Vayots Dzor in southeast Armenia. Vayots Dzor is Armenia's oldest and most important wine producing region, and in this mountainous, sparsely populated land, Shofer fashions three special wines from century-old vineyards of indigenous grape varieties.
Shofer, the Armenian word for "chauffeur," features the Lada, the Soviet-era car driven by most of Armenia's cab drivers. As is the case in many countries, Armenia's cabbies constitute a lively, animated bunch: equal parts welcoming, efficient, boisterous, and quick to offer an opinion. They take pride in facilitating everyday life in Armenia's towns and cities. Moreover, like the traditional London cabbie, they are knowledgeable and proud to show newcomers the rich cultural treasures of their homeland, including Armenia's treasure trove of fine wines. And like a good shofer, Shofer's wines are made to transport adventurous spirits to regions unknown and to celebrate the new, memorable, and unique in all that is Armenian.
Shofer's most celebrated wines stem from Vayots Dzor and Armenia's two most important indigenous grape varieties: Voskehat, the country's most renowned white grape, for Shofer's celebrated Dry White Wine (this month's feature), and Areni for Shofer's prized Dry Red Wine. Each is unique and delicious.
Located in southeastern Armenia in the Caucasus Mountains between Asia and Europe Vayots Dzor is Armenia's crown jewel and the site of the Earth's oldest winemaking facility, the Areni-1 cave complex. Recently unearthed, the 6,100-year-old caves contain definitive archaeological evidence of advanced winemaking, including the possible use of sulfur as a preservative. Moreover, archeological excavations carried out in the 1940s reveal that as early as the first millennium B.C. during the Kingdom of Van, Vayots Dzor was western Asia's leading wine producing region. Longer than anywhere else on earth, Vayots Dzor has continuously produced fine wine from indigenous grape varieties, a practice that continues and is once again attracting the world's attention.
Vayots Dzor is home to many of Armenia's ancient traditional grape varieties, including Areni, Khatoun Kharj, Tozot, and Voskehat. These are grapes whose names are difficult for outsiders to pronounce and, unfortunately, relatively unknown outside of Armenia. Areni, also known as Areni-Noir, is the region's most prized red grape. It takes its name from the Vayots Dzor village of Areni where the oldest winemaking facility was recently discovered. Areni is a hardy thick-skinned grape with excellent disease resistance and a proven adaptability to Vayots Dzor's extreme growing conditions. It is produced in a myriad of styles, all worth seeking out. Equally impressive is the region's leading white grape variety, Voskehat. Although quite hearty, it produces a highly aromatic white wine of surprising delicacy and elegance. We invite you to explore the fine wines of Armenia's Vayots Dzor as there is much to enjoy, and Armenian wines rightly deserve recognition beyond their native land.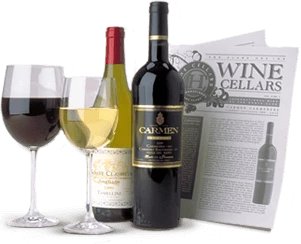 Enjoy Limited Production Estate
Bottled Wines
Discover limited production estate bottled wines such as Vergenoegd's internationally
acclaimed 2005 Cabernet Sauvignon, imported exclusively for our members.
DISCOVER OUR FOUR CLUBS