When we discovered the existence of a second cache of the 2015 Sherwood Waipara Riesling, we wasted no time in securing it for our members. We featured a small amount of Sherwood's 2015 Waipara Riesling to great acclaim when it was first released. Who are we then to pass up an opportunity to have a second go at an outstanding wine that bests many of the prized Kabinetts from top German producers, whose wines just happen to sell for twice the price? Think 2015 Graacher Himmelreich from a great Mosel estate! Sherwood's 2015 Waipara Riesling was splendid upon first release; it is even better now as Wine Enthusiast's stunning review and 91 points will attest. From the wine's brilliant sunlit hue to its graceful exit down the throat, the 2015 Sherwood Waipara Riesling truly shines. Entrancing scents of apple, peach and apricot waft from the glass and settle in the soul of this concentrated Riesling. Pure fruit and floral flavors emerge in the mouth to tantalize the palate. Rich and concentrated, yet lively and long, the 2015 Sherwood Waipara Riesling makes a stunning case for Waipara as a source of world class wine. Endowed with a delightful fruitiness and a winning, outgoing personality, it's easy to imagine consuming the better part of a bottle of this magical Waipara Riesling without much more than a notice, but there is more to this Riesling than a good quaff. Allow it to collect itself in the glass for a more than a few minutes and gentle acidity and pleasing minerality emerge to accompany the wine's beautiful fruit. We suggest serving Sherwood's Waipara Riesling moderately chilled (40º F).
With its pure fruit flavors and extroverted personality, the 2015 Sherwood Waipara Riesling provides superb accompaniment to fish, fowl, and many spicy cuisines from around the world. For starters, Sherwood's Waipara Riesling pairs beautifully with roast chicken or turkey accompanied by onion and sage stuffing. Crispy fish served with a fruit based dipping sauce, and Chinese or Thai dumplings provide other winning combinations. Stir fried eggplant and scallions, smothered in a sweet, spicy roasted garlic sauce pairs nicely with the 2015 Sherwood Waipara Riesling as well. Scallops, salmon, and fresh spring rolls offer other complementary options. A healthy salad of lightly dressed organic greens, pear, crumbled blue cheese and toasted walnuts makes a good companion, too. Whether meat or vegetable, plain or spicy, the 2015 Sherwood Waipara Riesling rises to the occasion. Enjoy!
Sherwood Estate is very much a family business, with Dayne and Jill Sherwood owning and operating their state of the art winery since the late 1980s. Located in Waipara on New Zealand's South Island, the Sherwoods have been two of the early pioneers of premium viticulture in Waipara. Waipara is the fastest growing wine region in New Zealand and an appellation that renowned Master of Wine Bob Campbell calls "one of the unsung heroes of the wine industry." In addition to their excellent estate holdings in Waipara, the Sherwoods own several outstanding vineyards in neighboring Marlborough.
Waipara Valley enjoys a unique location; it lies nestled against the leeward side of the Teviotdale Hills, which sit midway between Christchurch and Marlborough, New Zealand's most famous wine country. These hills admit the warm, drying northerly and westerly winds into Waipara Valley, but they also protect the area from the cold easterly winds that blow from the sea. Snuggling up against these hills with north facing slopes (the equivalent of a highly coveted south facing terrain in the Northern Hemisphere) provides the ideal sun trap for vines. The unique terroir of Waipara with its long, warm autumn days lends itself to the production of round, spicy Pinot Noirs and exquisite Rieslings with stunning fruit concentration, along with world class Pinot Gris, Chardonnay and Sauvignon Blanc.
The Sherwoods fashion several lines of wine in limited quantities, with the winery's estate bottlings of Pinot Noir, Chardonnay, Riesling, and Sauvignon Blanc constituting the focus of the estate's handiwork.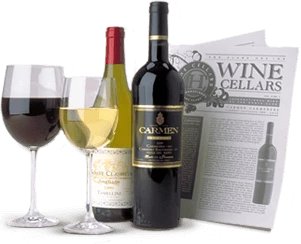 Enjoy Limited Production Estate
Bottled Wines
Discover limited production estate bottled wines such as Vergenoegd's internationally
acclaimed 2005 Cabernet Sauvignon, imported exclusively for our members.
DISCOVER OUR FOUR CLUBS