The 2010 Sherwood Estate Sauvignon Blanc is quintessential Marlborough Sauvignon Blanc. For starters, the fresh scents of gooseberry, grapefruit, and quince dominate the wine's heady aromatic profile. And on the palate, this wine lives up to its exhilarating bouquet by delivering plenty of crisp fresh fruit flavors, pleasant grassy tones, and a citrus twist. From start to finish, Sherwood's Marlborough Sauvignon Blanc comes across as a refreshing, in-your-face kind of wine. Moreover, it offers a boatload of personality along with a refreshing quaff. We suggest serving the 2010 Sherwood Estate Sauvignon Blanc moderately chilled (40º-45º F).
It is no secret that New Zealand winemakers know how to craft wines to fit the bounty of their native land, which makes us think of all the wonderful accompaniments that the seas surrounding New Zealand have to offer the 2010 Sherwood Estate Sauvignon Blanc. Fish, shellfish, and other sundry fruits of the sea in all their gastronomic glory provide a wealth of accompaniments to Marlborough's finest Sauvignon Blancs. For seafood lovers, New Zealand Green Tip Mussels, steeped in an herbal broth, and Crab Martinis in a creamy Asian dressing provide two signature dishes with this wine. For adventuresome gourmands, we suggest a spicy Cioppino, served with garlic bread. Herb crusted shrimp provides another tasty treat. For those who eschew seafood, Sherwood's Marlborough Sauvignon Blanc also pairs beautifully with Chicken Salad Veronique, a tasty version of this old favorite with grilled chicken, grapes, tarragon, and pecans. Fresh fruit and creamy goat cheeses provide a satisfying, no fuss alternative to seafood, too. Enjoy!
Sherwood Estate is very much a family business, with Dayne and Jill Sherwood owning and operating their state of the art winery since the late 1980's. Located in Waipara on New Zealand's South Island, the Sherwoods have been two of the early pioneers of premium viticulture in the region. Waipara is the fastest growing wine region in New Zealand and an appellation that renowned Master of Wine Bob Campbell calls "one of the unsung heroes of the wine industry." In addition to their excellent estate holdings in Waipara, the Sherwoods own several outstanding vineyards in neighboring Marlborough. Waipara Valley, like nearby Marlborough, enjoys a unique location. It lays nestled against the leeward side of the Teviotdale Hills, which sit midway between Christchurch and Marlborough, New Zealand's most renowned wine country. These hills admit the warm, drying northerly and westerly winds into Waipara Valley, but they also protect the area from the cold easterly winds that blow from the sea. Snuggling against these hills with north facing slopes (the equivalent of a highly coveted south facing terrain in the Northern Hemisphere) provides the ideal sun trap for vines. The unique terroirs of Waipara and nearby Marlborough with their long warm autumn days lend themselves to the production of round, spicy Pinot Noirs and Rieslings, as well as world class Pinot Gris, Chardonnay and Sauvignon Blanc. The Sherwoods fashion several lines of wine in limited quantities. Presently, the winery's Heritage Collection and Estate bottlings of Pinot Noir, Chardonnay, Riesling, and Sauvignon Blanc constitute the focus of this estate's handiwork.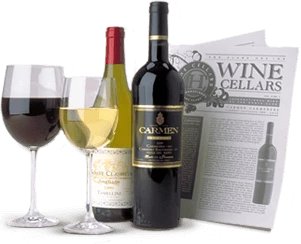 Enjoy Limited Production Estate
Bottled Wines
Discover limited production estate bottled wines such as Vergenoegd's internationally
acclaimed 2005 Cabernet Sauvignon, imported exclusively for our members.
DISCOVER OUR FOUR CLUBS