The 2008 Sherwood Estate Marlborough Pinot Noir makes us smile. It also makes us wonder why more French Burgundies that sell for under $50.00/bottle (made from 100% Pinot Noir just like the Sherwood Estate) simply cannot compete with this wine. Sherwood's Estate Pinot Noir is light, aromatic, and positively easy to drink; it provides all the attributes one can expect from well-made, cool weather Pinot Noir. It is a medium-bodied wine of charm and delicacy, not a Cabernet or Syrah want-to-be. And contrary to most of its French counterparts and fortunate for Pinot Noir aficionados, the 2008 Sherwood Estate displays ripe cherry, strawberry, and sweet plum notes on the nose and palate. And in the mouth this wine comes across as both elegant and round, offering much of the same flavors as the wine's entrancing aromatic profile plus a nice touch of Asian spice. Moreover, fine grained tannins frame this pretty picture of a wine and make for a refreshing, graceful finish. We suggest aerating the 2008 Sherwood Estate Pinot Noir for at least 15 minutes before serving at cool room temperature (60º-66º F).
With meat, cheese, and seafood, the 2008 Sherwood Estate Marlborough Pinot Noir positively shines. It seems New Zealand winemakers know how to craft wines to fit the bounty of their native land, which makes us think of all the wonderful lamb, sheep's cheeses, and seafood we can serve with Dayne and Jill Sherwood's huggable Estate Pinot Noir. Lamb chops, brushed with olive oil and herbs, and grilled to perfection; fried sheep or goat cheese with red pepper jelly, caramelized onions, basil oil and arugula salad; calamari tossed with wasabi glaze, over red bean salsa, chipotle remoulade, sprouts and fresh basil oil; and tuna sliders with wasabi and caper aioli are just a few gastronomic contenders for the crown to accompany this Pinot Noir. Salads, poultry, and grilled shitake mushrooms provide good companionship, too. Enjoy!
Sherwood Estate is very much a family business, with Dayne and Jill Sherwood owning and operating their state of the art winery since the late 1980's. Located in Waipara on New Zealand's South Island, the Sherwoods have been two of the early pioneers of premium viticulture in the region. Waipara is the fastest growing wine region in New Zealand and an appellation that renowned Master of Wine Bob Campbell calls "one of the unsung heroes of the wine industry." In addition to their excellent estate holdings in Waipara, the Sherwoods own several outstanding vineyards in neighboring Marlborough. Waipara Valley enjoys a unique location; it lays nestled against the leeward side of the Teviotdale Hills, which sit midway between Christchurch and Marlborough, New Zealand's most famous wine country. These hills admit the warm, drying northerly and westerly winds into Waipara Valley, but they also protect the area from the cold easterly winds that blow from the sea. Snuggling against these hills with north facing slopes (the equivalent of a highly coveted south facing terrain in the Northern Hemisphere) provides the ideal sun trap for vines. The unique terroirs of Waipara and nearby Marlborough with their long warm autumn days lend themselves to the production of round, spicy Pinot Noirs and Rieslings, as well as world class Pinot Gris, Chardonnay and Sauvignon Blanc. The Sherwoods fashion several lines of wine in limited quantities. Presently, the winery's Heritage Collection and Estate bottlings of Pinot Noir, Chardonnay, Riesling, and Sauvignon Blanc constitute the focus of this estate's handiwork.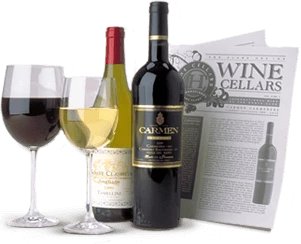 Enjoy Limited Production Estate
Bottled Wines
Discover limited production estate bottled wines such as Vergenoegd's internationally
acclaimed 2005 Cabernet Sauvignon, imported exclusively for our members.
DISCOVER OUR FOUR CLUBS