The 2013 Shatter Côtes Catalanes Grenache tops out at 15.6% alcohol, but one wouldn't know it from tasting it… that is until one had consumed a good bit of it. Rich, robust, but smooth on the palate, the opaque, nearly black 2013 Shatter offers up an enticing aroma of dark cherries and ripe plums infused with a light pleasant herbal quality. In the mouth, Shater is unctuous, rich, and robust. The wine's opulent fruit comes front and center and is beautifully balanced by ripe tannins with just the right touch of oak. Layered, long and lingering on the palate, the 2013 Shatter Grenache is smooth but no wilting flower. For optimum enjoyment, we suggest affording Joel Gott and Dave Phinney's flagship robust red at least thirty minutes of aeration before serving it at cool room temperature (60º-64º F). Enjoy!
Joel Gott and Dave Phinney's 2013 Shatter Côtes Catalanes Grenache combines American creativity and ingenuity with one of France's great red wine classics. Consequently, the 2013 Shatter is the ideal accompaniment to hearty American fare as well as traditional French culinary classics. Roast duck or turkey with savory wild rice or onion and sage stuffing makes a fine companion to Shatter. Better still, hearty pork barbecue and Baby Back ribs slow cooked in a thick, spicy barbeque sauce offer plenty to like in the company of a bottle of Shatter. A perfectly grilled marinated flank steak topped with Shitake or Portabella mushrooms provides good company, too. Provençal and Italian specialties straight out of a brick oven also offer excellent companionship to Gott and Phinney's outstanding 2013 Shatter Grenache. Cassoulet, calzones, eggplant and zucchini parmigiana, lasagna, manicotti, and three cheese pizzas topped with the finest pepperoni, prosciutto, and salami pair beautifully with this wine. Ripe cow and sheep's milk cheeses also attest to an affinity for the 2013 Shatter. And if the night should turn cold or be dark or lonely, a glass of Shatter Grenache on its own should be sufficient to chase away the chill or make one forget the weather-stained cares of life. So sit by the fire, pour a glass, and relax!
Shatter is the handiwork of good friends Joel Gott and Dave Phinney, two very accomplished winemakers whose wines have earned iconic status.
Joel Gott has been a legend since a young age. The offspring of fourth generation California winemakers, Gott was riding a tractor at his family's farm at 4 years of age and has been involved in numerous wine and food enterprises around the world since he was a teenager. Gott ran the now famous Taylor's Refresher drive up restaurant in Napa when noted wine critic Robert Parker Jr. named this eatery as the source of one his top ten meals of 1999, and in 2006 Taylor's was honored with a James Beard Foundation Award. But these accolades are just the tip of the iceberg, or perhaps more appropriately in Gott's case, the skin of the grape. Gott has been making knock-out wines for more than two decades. A partner in several successful and highly acclaimed wine ventures, his most notable success remains the production of bodacious red wines at the Joel Gott Winery. Each year, Gott produces a host of wines in small lots at his winery, with the most renowned past offerings being his Dillian Ranch Amador County Zinfandel from Tom Dillian's dry-farmed 20 acre vineyard in Plymouth, California and several high-end Cabernet Sauvignons. Shatter with Dave Phinney is Joel's newest, most robust wine.
Dave Phinney founded Orin Swift Cellars in 1998 and is the creator of The Prisoner, a Zinfandel blend that garnered cult status and high praise from critics. He has also fashioned an array of other bold reds. Since first visiting the Maury area of France' Roussillon in 2008, Dave has been making incredible Grenache and Grenache blends from old vines in the Maury. So impressed was Dave by the region's ancient vines and unique terroir that he built a winery in Maury. Long-time friend and partner Joel Gott has teamed up with Dave to make Shatter, a dry, very full-bodied red from 100% old vine Grenache.
Maury and Côtes Catalanes lie at the foothills of the Pyrenees Mountains within the confines of the ancient province of Roussillon in southern France. The historic town of Maury contains a 1000 year old castle that for centuries was used to defend France from Spanish invaders. Today, Maury's claim to fame is the town's ancient Grenache vines that grow on the rocky slopes of limestone and schist that surround the village. The traditional sweet, port-like wines of Maury are bottled as appellation Maury, while the town's dry robust wines such as Shatter are entitled to the VDP Côtes de Catalanes designation. Both wines emanate from very old Grenache vines capable of creating darker wines than anywhere else in France and achieving natural alcohol levels consistently in excess of 15%.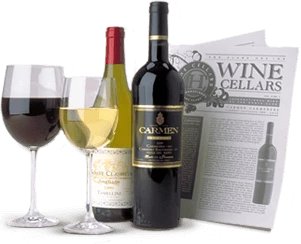 Enjoy Limited Production Estate
Bottled Wines
Discover limited production estate bottled wines such as Vergenoegd's internationally
acclaimed 2005 Cabernet Sauvignon, imported exclusively for our members.
DISCOVER OUR FOUR CLUBS