The 2009 Shannon Vineyards Sauvignon Blanc is certainly no ordinary little Sauvignon Blanc, and for that we are thankful. Rather, this outstanding offering is a feast for the senses that reminds us of the finest white wines of Bordeaux, most notably Graves and the neighboring Grand Cru Classé châteaux of the Medoc. What makes this Sauvignon Blanc so memorable? The wine's complex flavors, structure and elegance shine from the very first sip through to a long lingering finish. A complex cachet of ripe honeydew melon, fig, and herb greets the nose before inexorably falling into the wine's full, textured body, which is laden with lush fruit flavors reminiscent of gooseberry and pineapple. Both suave and sophisticated, Shannon's 2009 Sauvignon Blanc bears the marks of noble birth. Neither arrogant nor showy, it takes charge of the senses with charm and dexterity. Dry, long, layered, and deep, the 2009 Shannon Vineyards Sauvignon Blanc is positively the very finest Sauvignon Blanc we have tasted in quite some time. So, come, and experience the magic! For optimal enjoyment of this super premium Sauvignon Blanc, we suggest only moderate chilling (40º-45º F).
While it may be true that there is more to food and wine pairings than seafood and Sauvignon Blanc, the 2009 Shannon Vineyards Sauvignon Blanc makes a compelling case for the marriage between these two consenting partners. Actually, almost anything that swims in the sea or creeps along its murky bottom will have an affinity for this South African beauty. South African lobster tails or whole steamed lobsters served with drawn butter merit our first endorsement. Full and opulent, Shannon's 2009 Elgin Valley Sauvignon Blanc won't wilt or fade in front of the rich meat of the lobster. Alaskan King Crab Legs offer another outstanding complement to this wine. Deep sea fish, clams, mussels, and oysters provide great companionship, too. New Zealand Green Tip Mussels served in a creamy, aromatic broth remain a perennial favorite, and when paired with Shannon's majestic Sauvignon Blanc, tears of joy have been noted to stream down more than one grateful face. Herb crusted shrimp or prawns provide another tasty treat. And a simple filet of cod or halibut, baked with white wine, garlic, herbs and mustard, is tasty, too. For more adventuresome gourmands, we suggest Spicy Chorizo Mussels, served with garlic bread. For those who eschew seafood, never fear. Shannon's 2009 Sauvignon Blanc shines in the company of highly charged chicken salads and Indian vegetarian specialties, too, even those with a touch of curry. So, enjoy!
Finding exceptional wines that offer great flavor and incomparable value often requires much more than just tasting a bevy of wines. Actually, uncovering the oenological gems that lay hidden away in far flung places is much akin to mining. There is usually a whole lot of sweat and toil before anything that vaguely resembles a jewel can be extracted from the earth. Yet, every now and then a wine, like a rare diamond or emerald, happens mysteriously to find its way to the surface to cross our path at a most opportune moment. Eureka! Shannon Vineyards' Sauvignon Blanc is indeed just such a find. In fact, Shannon Vineyards and the lush Elgin Valley constitute major discoveries. Shannon Vineyards is situated in the heart of the Elgin Valley, a verdant patch of South Africa's Western Cape that has long been known for its cool climate, beautiful flowers, and splendid produce. Ringed by mountains, the Elgin Valley remains a tapestry of orchards, olive groves, and vineyards among green rolling hills. For nearly a century, Elgin Valley has produced some of Africa's most exceptional fruits, most notably apples and pears. These luxuriant green hills are also home to Shannon Vineyards and a growing number of South Africa's most talented winemakers. A member of the Green Mountain Eco Route and a leader in the Biodiversity Wine Initiative, which maintains wide corridors of virgin soil and native Cape flora between the vineyards to allow indigenous animals territorial access, Shannon Vineyards is fervently committed to conservation, sustainability, and social uplift. Shannon Vineyards is the domain of James and Stuart Downes. The name Shannon pays homage to the Downes brothers' Irish ancestry. Their forbearers, the Shannon and Downes families, hailed from County Cork, Ireland. They married into the James family, renowned wine merchants and former owners of London's famous White Horse Pub. In tribute to their ancestors James and Stuart Downes now produce a number of South Africa's most compelling wines. Shannon wines are fashioned from 12 different vineyard blocks, with 7 of those blocks devoted solely to Sauvignon Blanc, but not just any ordinary Sauvignon Blanc. Shannon's Sauvignon Blanc ranks as our top pick this year in Sauvignon Blanc. The balance of Shannon's vineyard sites are planted to Merlot, Pinot Noir, Semillon, and Viognier.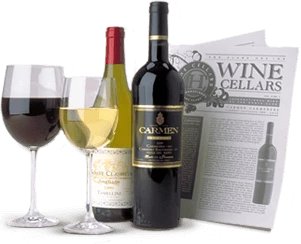 Enjoy Limited Production Estate
Bottled Wines
Discover limited production estate bottled wines such as Vergenoegd's internationally
acclaimed 2005 Cabernet Sauvignon, imported exclusively for our members.
DISCOVER OUR FOUR CLUBS