Blackberry, cassis, wood smoke, voluptuous fruit, a seductive mid palate, and a long, lusty finish punctuated by pinpoint minerality are just a few reasons to like (we mean really like – love, if you will) the 2008 Shannon Vineyards Mount Bullet Merlot. In short, Shannon's Mount Bullet Merlot is no ordinary Merlot, and for that we are thankful. Rather, this outstanding offering is a feast for the senses that reminds us of fine classified Bordeaux, shaming in fact many a grand cru St. Emilion. What makes this Merlot so memorable? The wine's complex flavors, structure, and elegance come together in one seamless symphony, which makes Shannon's Merlot shine from the very first sip through to a long lingering finish. A complex cachet of ripe fruit, rich heady flavors, and a finish that won't quit place this Merlot head and shoulders above the pack, and then some. Both suave and sophisticated, Shannon's 2008 Merlot demonstrates how far South Africa has come in making world class wine. Neither arrogant nor showy, this Merlot takes charge of the senses with extreme charm and dexterity. For optimal enjoyment, we suggest giving this outstanding offering thirty minutes or more of aeration before consuming at cool room temperature (60º-65º F).
Elegant, sexy, full-flavored wines the likes of the 2008 Shannon Vineyards Merlot provide exemplary accompaniments to simple well-prepared dishes as well as grand cuisine. With that said, our preferences in food pairings with Merlot run towards simple elegance. In our experience, plump roasted chicken or game hen, duck, and filet mignon provide outstanding accompaniments to Shannon Vineyards Merlot. For the somewhat more adventuresome, we suggest pairing this delicious Merlot with a South African favorite, Grilled Ostrich Tenderloin, served with sautéed wild mushrooms, and either a mustard sauce or light herb infused cream sauce. A tray of French cheeses comprised of Cantal, Port Salut, and young Camembert offers another simple, tasty way to enjoy the 2008 Shannon Vineyards Merlot.
Finding exceptional wines that offer incomparable flavor, elegance, and breed often requires much more than just tasting a bevy of wines. Actually, uncovering the oenological gems that lay hidden away in far flung places is much akin to mining. There is usually a whole lot of sweat and toil before anything that vaguely resembles a jewel can be extracted from the earth. Yet, every now and then a wine, like a rare diamond or emerald, happens mysteriously to find its way to the surface to cross our path at a most opportune moment. Eureka! Shannon Vineyards' Merlot is indeed just such a find. In fact, Shannon Vineyards and South Africa's lush Elgin Valley constitute major discoveries. Shannon Vineyards is situated in the heart of the Elgin Valley, a verdant patch of South Africa's Western Cape that has long been known for its cool climate, beautiful flowers, and splendid produce. Ringed by mountains, the Elgin Valley remains a tapestry of orchards, olive groves, and vineyards among green rolling hills. For nearly a century Elgin Valley has produced some of Africa's most exceptional fruits, most notably apples and pears. These luxuriant green hills are also home to Shannon Vineyards and a growing number of South Africa's most talented winemakers. A member of the Green Mountain Eco Route and a leader in the Biodiversity Wine Initiative, which maintains wide corridors of virgin soil and native Cape flora between the vineyards to allow indigenous animals territorial access, Shannon Vineyards is fervently committed to conservation, sustainability, and social uplift. Shannon Vineyards is the domain of James and Stuart Downes. The name Shannon pays homage to the Downes brothers' Irish ancestry. Their forbearers, the Shannon and Downes families, hailed from County Cork, Ireland. They married into the James family, renowned wine merchants and former owners of London's famous White Horse Pub. In tribute to their ancestors, James and Stuart Downes now produce a number of South Africa's most compelling wines. Shannon wines are fashioned from 12 different vineyard blocks. Shannon's Merlot and Sauvignon Blanc rank as our top picks this year in both Merlot and Sauvignon Blanc. The balance of Shannon's vineyard sites are planted to exceptional Pinot Noir, Semillon, and Viognier.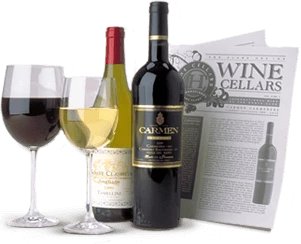 Enjoy Limited Production Estate
Bottled Wines
Discover limited production estate bottled wines such as Vergenoegd's internationally
acclaimed 2005 Cabernet Sauvignon, imported exclusively for our members.
DISCOVER OUR FOUR CLUBS