Just as one shouldn't judge a book by its cover, the same can be said for a wine's label. The label on Schwarz's 2020 The Butcher Blaufränkisch elicits all kinds of reactions, everything from the ridiculous to the sublime. The wine on the other hand is nothing short of masterful. The 2020 Schwarz The Butcher (91 Points – Falstaff; 90 Points – Wine Enthusiast) woos the nose with juicy scents of crushed blackberries and currants laced with hints of sandalwood. On the palate, the wine's delicious fruit, spice, and herbal flavors fill the mouth and flow across the tongue, offering wonderful texture and energy. As one tasting panel member stated with a smile, "This wine drinks like Pinot Noir on steroids." Perhaps that isn't how most tasters would put it, but the medium-bodied, boldly flavored 2020 Schwarz The Butcher Blaufränkisch has the juice and complexity of a good Pinot Noir but with more stuffing and a flavor profile of its own. Enjoy this fine unique Austrian red wine at cool room temperature (58°-62° F) after 10-15 minutes of aeration. Anticipated maturity: 2023-2027. We thank Austrian Wine for making this wine available to us.
What meals might a butcher want to serve with his wine? In the case of Schwarz's 2020 The Butcher Blaufränkisch, just about anything he wants. Poultry, pork, beef, and lamb all make fine complements to Schwarz's vegan friendly 2020 The Butcher Blaufränkisch, but so do all kinds of root vegetables and pastas. Roast duck served with wild rice, and turkey with stuffing, creamed onions, and all of the trimmings offer tasty complements. The 2020 The Butcher is equally at home with bistro food as it is with an eclectic assortment of Mediterranean fare as Burgenland is surprisingly warm and its climate more akin to that of Northern Italy than it is to most of Austria. Correspondingly, pizza, pasta, and other authentic regional Italian specialties provide Schwarz's The Butcher Blaufränkisch with ideal accompaniments. Pork Bracciole from Italy's Marches and Bracciole Florentine, made with beef and mushrooms, provide hedonistic feasts to match the flamboyancy of Schwarz's 2020 The Butcher. Pasta with Alfredo sauce is an another good bet. And certainly, dumplings, schnitzels, and other dishes that are commonly thought of as typically Austrian offer superb companionship to Schwarz's flagship wine. And, if it's simply a burger or barbecue night, Schwarz's 2020 The Butcher will surely add panache to an otherwise ordinary mid-week meal.
"I make wines that I like to drink." – Michael Schwarz
Our mantra at The International Wine of the Month Club has always been "You can't drink a label, a price tag, or anyone else's palate." Some things you can't un-see, such as the iconic and unusual labels that have reached cult status for one of Austria's greatest red wine producers. With that said, some may find the label for this month's feature, Schwarz's The Butcher Blaufränkisch, out of the ordinary to say the least, but then this is no ordinary wine; it is in fact quite extraordinary. Let's first begin with Hans Schwarz, the butcher, and his unusual and extraordinary story.
A butcher by trade, and an excellent one at that, Hans also cultivated a penchant for farming and grape growing in his native Andau, Burgenland, the warmest region of Austria. In warm sunny Andau, Hans Schwarz came to the attention of two of the world's iconic winemakers, Alois Kracher, renowned for his sumptuous dessert wines, and Manfred Krankl, the genius behind California's Sin Qua Non and many of the planet's greatest Rhône wines. Kracher and Krankl convinced Schwarz to stop selling his fruit and start making his own wine. In Schwarz, they saw the same passion and commitment that they possessed, so in 1999 the idea of bottling exceptional Schwarz grapes evolved between Kracher and Schwarz with inspirational input and support from Manfred Krankl. Hence, the butcher became the vintner, but no ordinary vintner.
Today, Michael Schwarz, Hans' son, directs the estate and carves his own path by creating world-class red wines from the estate's sustainably farmed 29 hectares (nearly 72 acres). Michael has quickly risen to fame with continuous 90+ point ratings and accolades for Austria's red wine producer of the year with award-winning Blaufränkisch (this month's feature) and Zweigelt, Austria's two most important red wines. "I make wines that I like to drink," Michael says unabashedly. We invite you to taste and see for yourself.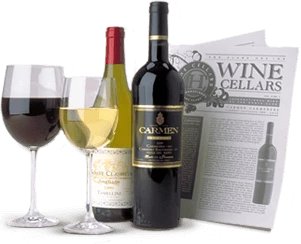 Enjoy Limited Production Estate
Bottled Wines
Discover limited production estate bottled wines such as Vergenoegd's internationally
acclaimed 2005 Cabernet Sauvignon, imported exclusively for our members.
DISCOVER OUR FOUR CLUBS