Wow! The 2002 Savannah-Chanelle Santa Cruz Cabernet Franc is a huge staggering statement. It is a monolithic wine that could only have been made from very old hillside vines whose yields are low. This wine must top out at 15º alcohol or more, but there is much more to this wine than sheer power. True to its varietal, it is profoundly rich in color, deep, dark, and foreboding. However, it is also very aromatic and loaded with flavor. Ripe berry fruits, kirsch, and coffee tones all leap from the glass. And on the palate the 2002 Savannah-Chanelle Cabernet Franc is positively mind-boggling. It is as big and flavorful as one can imagine. To put it mildly, the 2002 Savannah-Chanelle Cabernet Franc is no delicate, wisp of a red, nor is it likely to leave even the most stalwart red wine drinker wanting. Enjoy this legendary Cabernet Franc anywhere between cellar temperature and moderate room temperature (55º-68º F), after a bit of aeration.
The 2002 Savannah-Chanelle Cabernet Franc makes an outstanding companion to hearty, stick to your ribs kinds of foods and those difficult to pair dishes that defy more diminutive wines. Considering the size and stature of the 2002 Savannah-Chanelle Santa Cruz Cabernet Franc, we heartily endorse serving this colossus with Texas Barbecue, Irish Lamb Stew, or even full flavored cheeses. This is a wine to cut through the fat and open up the arteries, so a little herb, spice, or savory is not apt to hinder its performance. In short, the Savannah-Chanelle Cabernet Franc is the perfect wine to pair with heavy or slightly piquant sauces. So fire up the grill, put on the steaks, and slather on the sauce, the 2002 Savannah-Chanelle Cabernet Franc is ready to stand and deliver. Enjoy!
Savannah-Chanelle Vineyards is a landmark winery south of San Francisco Bay along California's historic Chaine d'Or or Golden Chain. Nestled in the Santa Cruz Mountains, high above Silicon Valley, this historic property has been home to friends, family, and some of California's most exciting wines since its founding in 1892 by French immigrant Pierre Pourroy. Located just over three miles from the village of Saratoga, the present owners (the Ballard family) continue the celebrated history and the viticultural legacy that was born on this site more than a century ago. Purchased in 1996 by Michael and Kellie Ballard, this turn of the century estate now bears the name of the Ballards' two daughters. The present winery occupies 58 acres, only 15 of which are under cultivation. From a mere 15 acres flow five award winning varietals: Chardonnay, Carignane, Cabernet Franc, Pinot Noir, and Zinfandel. The property's Zinfandel vines date to 1910, while Savannah-Chanelle's historic Cabernet Franc plantings hale from 1920, making them the oldest Cabernet Franc plantings in California. Needless to say, each of this estate's intensely individual wines is strictly limited and highly allocated. Although Pinot Noir now constitutes the primary focus of Savannah-Chanelle's red wine production, the winery's estate bottled Cabernet Franc from ancient vines remains its most expensive and intriguing offering. Like all of Savannah-Chanelle's red wines, the estate bottled Cabernet Franc is bottled un-fined and loosely filtered. Moreover, it makes a riotous statement; almost from the moment the cork exits the bottle.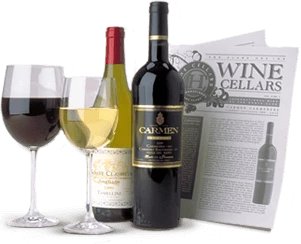 Enjoy Limited Production Estate
Bottled Wines
Discover limited production estate bottled wines such as Vergenoegd's internationally
acclaimed 2005 Cabernet Sauvignon, imported exclusively for our members.
DISCOVER OUR FOUR CLUBS