Light lovely and altogether tantalizing, it ought to be a sin to drink the 2003 Saracco Moscato d'Asti. Perhaps, that's why it's so hard to put this wine down; it's forbidden fruit, and before you know it the bottle is empty and you're looking for another bottle…. or two. Moscato d'Asti is typically light, effervescent, low in alcohol, and long on flavor, but the Saracco is more than the usual pleasant dose of lush Moscato one comes to expect from this type of wine, it is the ultimate Moscato d'Asti. Peach, pear, and what can best be described as the scent and savor of ambrosia haunt every sip of this naturally fruity, bubbly. Not only does the Saracco provide a fine dollop of the ancient Muscat grape in every glass, it is impeccably balanced, so it never comes off as ponderous or sugary sweet. We advise serving the Saracco Moscato d'Asti lightly or moderately chilled. Since it is easier to let a wine warm up in the glass rather than cool down, we suggest chilling this Moscato to approximately 40 F, then allowing it to open slowly and unfold in the glass. Enjoy!
The 2003 Saracco Moscato d'Asti is not a wine that requires a prop to strut its stuff, but it sure does taste good with that special someone, before or after dinner. And adding a little to a ripe melon and allowing the two to stew for a few hours certainly starts or finishes a meal in style. Furthermore, dessert lovers are in for a treat. Whether you serve this wine with poached pears, a creamy fruit and custard tart, or a white chocolate mascarpone cheesecake, the Saracco Moscato is on duty and ready to serve. Nonetheless, many panel member, even a few died in the wool dry red wine lovers, extol the virtues of consuming the Saracco Moscato d'Asti all by its lonesome, and that is more than fine. In fact, Saracco's Moscato can take the place of dessert or simply be dessert in a glass, so as you like it.
Paolo Saracco is an oenologist and the pro-prietor of this charming family-owned estate in the Langhe Hills of Piemonte - the region of Italy that lies just south of the great Alpine wall as it tumbles out of Switzerland. Saracco's pursuit is the expert production of small quantities of two of the world's greatest white varietals: Chardonnay and Moscato. From 50 acres of steep Langhe vineyards, which are world renowned for producing Italy's most illustrious white DOC's as well as the long lived, full-bodied DOCG reds of Barolo and Barbaresco, Saracco turns out a modest amount of delicious Moscato d'Asti and a mere 500 cases of a splendid Chardonnay called Prasue. The Saracco estate dates from the early 1900's. Paolo Saracco is the fourth generation of his family to run this property, but the first to bottle and sell the estate's entire production. Utilizing his outstanding oenology skills, this master winemaker has completely modernized this traditional property and made his winery a force to reckon with. And in an effort to focus entirely on quality, Saracco has decided to concentrate on only two grape varietals - a move we wish more winemakers would adopt. With Paolo Saracco at the helm of this fine property, we have much to look forward to in the years to come.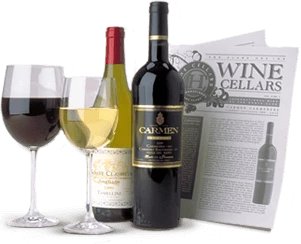 Enjoy Limited Production Estate
Bottled Wines
Discover limited production estate bottled wines such as Vergenoegd's internationally
acclaimed 2005 Cabernet Sauvignon, imported exclusively for our members.
DISCOVER OUR FOUR CLUBS