The 2015 Santo Aspa is an artful blend of Santorini's prodigious white varietals, most notably Assyrtiko, which are vinified on their skins before being barrel aged. Sporting a clear, luminous lemon color and proffering enticing floral and fruit aromas, the 2015 Santo Aspa lures the taster much as the sirens of old seduced weary sailors. In the mouth, delicate fruit flavors caress the palate, while crisp acidity and a light veneer of oak from 3 months in barrel provide a long, satisfying finish. Although approaching ideal maturity, the 2015 Santo Aspa is built for longevity on account of its preponderance of Assyrtiko and will continue to offer pleasurable drinking for several more years. Enjoy!
Grilled fish, white meats, and salads made with the organic greens grown on the Aegean Islands are the traditional accompaniments to the 2015 Santo Aspa and Santorini's celebrated Assyrtiko based wines. However, wine lovers enamored of dry white wines that offer plenty of body and flavor will revel in drinking this wine as an aperitif with nary a morsel, while others will relish this rare white wine in the company of great seafood, pastas and white meats. Grilled octopus, calamari tossed with a light wasabi glaze, and steamed littleneck clams with sautéed butternut squash, black beans, sweet corn and garlic simmered in a heady stock all get two thumbs up with this wine. Potato encrusted mahi-mahi and steamed shrimp and pork dumplings with a tasty dipping sauce also provide delicious complements to the multi-flavored 2015 Santo Aspa. Bouillabaisse, paella, and even grilled lamb kebobs and pork chops accompanied by a healthy blend of organic greens provide excellent companionship to the 2015 Aspa, Santo's signature wine.
Santorini is one of the most beautiful and celebrated of the Cyclades Islands, which rise precipitously out of the Aegean Sea. Santorini is also the home of Greece's finest white wine and purportedly the oldest continuously cultivated grape varietal in the world – Assyrtiko. Assyrtiko is grown in Santorini's unique volcanic soil and is cultivated in small plots by dozens of growers as well as Santo, the largest wine producer on the island.
Founded in 1947 as the Union of Santorini Cooperatives, Santo has represented all Santorini wineries. Today, Santo possesses a modern state-of-the-art winery that sits on the edge of the island's caldera in the village of Pyrgos. Santo is committed to producing authentic Santorini wines of the highest quality and always with respect to Santorini's traditional vinification techniques. They have also launched their own Research and Development Department to protect the precious vineyards of Santorini and develop special projects aimed at improving cultivation techniques, vinification processes, and varietal quality. Santo specializes in producing Santorini's prized Assyrtiko varietal as well as the island's other indigenous varieties, including Athiri and Aidani. Santo's Aspa (this month's feature) is a blend of 75% Assyrtiko, 15% Athiri, and 10% Aidani. We invite you to enjoy this unique wine which springs from Santorini's volcanic soil.
Assyrtiko is a rare white grape varietal indigenous to the Aegean island of Santorini where it thrives in the island's dry, sandy volcanic soil. This grape varietal has since made its way to some neighboring Aegean islands, but the Assyrtiko of Santorini remains the benchmark for this distinctive world-class varietal. Assyrtiko-Santorini is a white wine that can be drunk young or aged. On its native Santorini, it provides the ultimate accompaniment to all kinds of seafood, meat, vegetables, and greens. Archaeological evidence suggests that Assyrtiko's appearance on Santorini may go back millennia.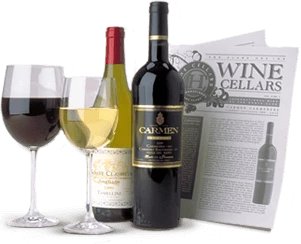 Enjoy Limited Production Estate
Bottled Wines
Discover limited production estate bottled wines such as Vergenoegd's internationally
acclaimed 2005 Cabernet Sauvignon, imported exclusively for our members.
DISCOVER OUR FOUR CLUBS