The 2001 Santa Monica Tierra de Sol Chardonnay is no ordinary New World Chardonnay. It is neither brash nor flabby, and despite barrel fermentation it is definitely not all about oak Instead, Don Emilio chose to fashion his outstanding Tierra de Sol Chardonnay in the Burgundian tradition, which means this Chardonnay is built to last. The 2001 Santa Monica Tierra de Sol continues to wear a pale yellow robe and emit a heavenly scent reminiscent of French Meursault, the quintessential white Burgundy that ranks as one of France's finest Chardonnay based wines. In the nose, the gentle scent of an ocean breeze, spring flowers, dried apricots, mineral, and stone all come to fore in the glass. Meanwhile, on the palate the wine remains fresh and vibrant; it exhibits elegant refined fruit, traces of hazelnut, and vanilla, too. As with fine white Burgundy, we suggest serving the 2001 Santa Monica Tierra de Sol Chardonnay between 40° – 50° F for optimal pleasure.
The 200l Santa Monica Tierra de Sol Chardonnay is the epitome of a mature Chardonnay. It is soft, approachable, and utterly satisfying – unlike so many of this varietal's over the top California compatriots. Consequently, it deserves the freshest, simplest, and most elegant of meals. We suggest serving grilled shrimp or a plain steamed lobster in drawn butter with this well balanced classic. Seared scallops in a savory cream sauce or Coquilles St. Jacques provide other outstanding pairings. In fact, most fish and pasta dishes without tomato sauce provide ample opportunities for enjoyment with the 2001 Tierra de Sol Chardonnay, too. And of course, a glass on its own is a treat in itself.
Founded in 1976 by Emilio de Solminihac, Santa Monica is one of the most contemporary wineries in Chile. Yet, this superb property is truly an amalgam of Old World charm and modern technology Located in the beautiful Rapel Valley of central Chile, this historical 19th century property includes a beautiful old hacienda that dates from Chile's colonial past as well as one the cleanest, most up to date wineries in all South America. Emilio de Solminihac, more affectionately known as Don Emilio to a burgeoning legion of young Chilean winemakers, is the guardian of traditional winemaking in Chile and one of South America's finest winemakers. He is also an affable gentleman who seems cut from a bygone age. Hailing from a wine making family, Don Emilio received his first training in wine as a young man while working in his grandfather's vineyard and winery. Later he would graduate from the Universidad de Chile with a degree in agricultural engineering, and subsequently depart for France, where he would study at the Université de Bordeaux under the legendary Emile Peynaud – then France's most renowned oenologist. While attending the Université de Bordeaux, Emilio earned that venerable institution's esteemed degree in oenology, the first Chilean to do so. Today, Santa Monica reigns as an oasis of calm and simple elegance. Beyond its gates lay long rows of well-tended vines that doze between the towering Andes and the coastal mountain ranges. From these neat rows of vines that hold just about every grape imaginable, Don Emilio fashions a bevy of delicious wines. However, the highly acclaimed Private Reserve Tierra de Sol and Gran Reserva offerings of Chardonnay and Cabernet Sauvignon constitute the signature series at Santa Monica. In them, one can taste and see Don Emilio's passion for making traditional Burgundy and Bordeaux style wines – wines that are complex, age worthy, and as endearing as they are enduring.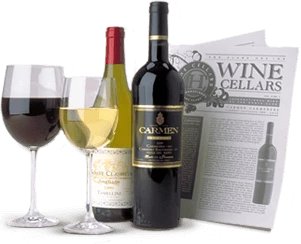 Enjoy Limited Production Estate
Bottled Wines
Discover limited production estate bottled wines such as Vergenoegd's internationally
acclaimed 2005 Cabernet Sauvignon, imported exclusively for our members.
DISCOVER OUR FOUR CLUBS