The 2011 Santa Lucia Il Melograno Castel del Monte Nero di Troia is a soft, rich, velvety wine with plenty of flesh and backbone. As a quintessential southern Italian red, it offers an eye-popping, deep purple color, a heady aroma, and a big mouthful of wine. Black cherry, woodland berries and purple plum flavors dominate the palate profile of this delightful wine, and with the support of ripe tannins and a touch of oak, the 2011 Santa Lucia Castel del Monte Nero di Troia presents itself as a rich, balanced, savory red fit for almost any occasion. For optimal enjoyment, we suggest affording Santa Lucia's savory Nero di Troia 15-20 minutes of aeration before serving at cool room temperature (no more than 65° F).
Red meats, rich pasta dishes, savory sauces, bean and lentil soups, and hard aged cheeses all provide excellent accompaniments to the 2011 Santa Lucia Castel del Monte Nero di Troia. Homemade lasagna made with fresh buffalo mozzarella, homemade meatballs and a combination of sweet and hot Italian sausages earns high marks in the company of Santa Lucia's Nero di Troia. Marinated steak with Portabella mushrooms also gets two thumbs up. Lentil and Sausage Fajole (Lentil Soup with Sausage) offers another mouthwatering companion. Add crusty brick oven bread and a bit of aged Parmesan and a match is made in heaven. In the company of Santa Lucia's 2011 Castel del Monte Nero di Troia almost any southern Italian specialty will shine as will this wine. Buon Appetito!
The property has been owned by the Perrone Capano family since 1628 and it is presently run with passion by Roberto Capano, a trained economist and sailing champion with an abiding love for the wines of Castel del Monte. Santa Lucia cultivates the traditional indigenous grape varieties of Apulia's Castel del Monte "Murge" region: Uva di Troia, Aleatico, Bombino Nero, Negroamaro, and Fiano.
The Murge region is located on the heel of the Italian peninsula. Santa Lucia's vineyards surround the slopes of Castel del Monte and enjoy a commanding location crowned by the beautiful octagonal Norman castle of the German emperor Frederich the Second. Santa Lucia's vineyards are worked as if they are a personal garden: the estate has practiced organic viticulture since 2009 and is in the process of being certified organic. The estate's winery, too, is state of the art. Santa Lucia's cellars are built underground to provide the ideal temperature and humidity for the maturation and the storage of the wines (an extremely important undertaking as the summer temperatures in Castel del Monte can soar to well over 100° F). In addition to fashioning a tasty Castel del Monte Nero di Troia, Santa Lucia also turns out an outstanding Castel del Monte Riserva and a fine Puglia IGT wine.
Nero di Troia (also known as Uva di Troia) is a red grape variety, which is thought to be indigenous to Puglia on Italy's southeast coast. However, the origin of the grape may actually lie across the Adriatic Sea in Albania or even in northern Greece as some believe colonizing Greeks may have brought Nero di Troia to the Italian peninsula more than two thousand years ago. In addition, some sources cite the town of Cruja in Albania as the possible origin of Nero di Troia, while still others claim the small town of Troia in the Italian province of Foggia as the origin of Nero di Troia. The latter theory appears to hold sway.
In the past, Nero di Troia was used primarily as a grape for blending along with other southern Italian varietals as Apulian wines were exported throughout Italy for blending purposes, namely to add color, vigor and alcohol to the lighter red wines grown in cooler locales in Northern Italy or to make Vermouth. Today, many premium Apulian estates are bottling 100% Nero di Troia with excellent results. Add the grape's high polyphenol content and resistance to oxidation and Nero di Troia is wine to be sought after.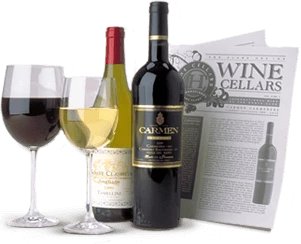 Enjoy Limited Production Estate
Bottled Wines
Discover limited production estate bottled wines such as Vergenoegd's internationally
acclaimed 2005 Cabernet Sauvignon, imported exclusively for our members.
DISCOVER OUR FOUR CLUBS