The 2007 San Filippo Lo Scorno Rosso di Montalcino is everything one can expect from Rosso di Montalcino, and more. What first strikes the eye is this wine's brilliant ruby robe, which prepares the beholder for Lo Scorno's abundance of sensual pleasure. This medium bodied Rosso offers up a gorgeous nose that alone is worth the price of admission, but then follows its aromatic fireworks with an abundance of bright juicy berry flavors that coat the tongue and fill the palate. Woven into the wine's polished silky red and black fruit flavored core are touches of chocolate, mocha, cedar, and subtle earth tones that speak of Montalcino's hallowed terroir. For optimal pleasure, allow this gifted Rosso di Montalcino to breathe for thirty minutes or more before consuming at cool room temperature (62º- 66º F).
Montecastro fashions a quintessential dinner party wine that will rise to the heights of the finest cuisine, so first and foremost we suggest planning an elegant dinner party around the 2005 Montecastro Ribera del Duero. Although charming, elegant, and plenty satisfying on its own, this aristocratic red positively shines in the company of well prepared dishes. We have found that the more savory the fare, the greater the reward with this wine. Rack of Lamb, served with a savory stuffing; Filets of Beef Tenderloin, covered with an herb infused medley of mushroom and accompanied by pearl onions; Venison Stew; Spit Roasted Quail, prepared with a wild rice risotto; and Crown Roast of Pork, served with onion and sage stuffing are just a few of the more tempting dishes we suggest with the 2005 Montecastro Ribera del Duero. Chicken, veal, and ham provide additional opportunities for gastronomic pleasure with the ebullient 2005 Montecastro. Enjoy!
San Filippo is one of Montalcino's rising stars. Superbly situated close to Biondi Santi's Il Greppo, the original Brunello vineyard that launched Montalcino's legend, San Filippo is owned and expertly run by the dynamic Robert Giannelli. Since acquiring San Filippo, Giannelli has completely restored the vineyards, renovated the old winery, and transformed San Filippo into one of Brunello's most exciting estates. With the assistance of renowned oenologist Paolo Caciorgna, Giannelli fashions small quantities of Brunello and Rosso di Montalcino from 25 acres of estate vines. In true Tuscan fashion San Filippo also produces superb olive oil from the property's olive grove. Giannelli's production of Brunello and Rosso typically amounts to less than 3,300 cases, all of which is aged in Slovenian and Allier oak barrels and casks. He makes two Brunellos from separate vineyards: Lo Scorno and Le Lucere. Le Lucere is an intense, dark, traditional potion that begs for some extra time in the bottle, while Lo Scorno wears its welcome from the very beginning. The estate's Lo Scorno Rosso di Montalcino is even more ingratiating and is currently enjoying its status as one of the great Rossos produced in Montalcino. The 2007 vintage proved to be ideal for this wine. Like the estate's Brunello, Giannelli's Rosso di Montalcino is made entirely from 100 % Sangiovese grapes grown on the estate's high, northeast facing slopes. Montalcino Montalcino is the most renowned hill town in all Tuscany, and its wines the most expensive and sought after in all Italy. The village's Brunello di Montalcino has an illustrious and politically charged history dating back to the 19th century, and until recently it has been the appellation's traditional Brunello di Montalcino – a wine that requires extensive barrel aging and often many years to evolve into legendary status – that has received the lion share of the press. However, in the past decade the best Montalcino estates have decided to devote more of their time and talent to producing outstanding Rosso di Montalcino, Brunellos's more affable, forthright, and immediately engaging sibling. Many critics have even gone so far as to declare Montalcino's delicious Rossos to be superior to many of the more expensive and age worthy Brunellos, and we are apt to agree. This summation is especially true in 2007, a near perfect vintage that produced some of the most compelling Rosso di Montalcinos of recent memory.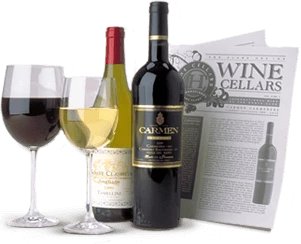 Enjoy Limited Production Estate
Bottled Wines
Discover limited production estate bottled wines such as Vergenoegd's internationally
acclaimed 2005 Cabernet Sauvignon, imported exclusively for our members.
DISCOVER OUR FOUR CLUBS