Saint Pauls' 2016 Alto Adige Chardonnay combines Chardonnay's soft fruit flavors to Alto Adige's mineral-rich soil, resulting in a balanced, finely textured wine that aptly expresses the grape as well as the unique terroir from which the grape springs. A bright, clear color and enticing aromas of golden apple and the soft minerality, which emerges in the center of wine, provide sensory delight. Add a crisp, racy finish to underlying hints of minerals and exotic spices and this Burgundian-style Chardonnay offers a delightfully natural tasting alternative to the butter and barrel flavors of many New World Chardonnays. Serve moderately chilled at 40°-45° F. Enjoy!
The 2016 Saint Pauls Alto Adige Süd Tirol Chardonnay makes a splendid aperitif as this delightful Chardonnay offers crisp acidity and plenty of mouth-filling flavors to assure that guests won't tire of the wine before they sit down at table. Even more intriguing is how Saint Pauls'Alto Adige Chardonnay responds to food. It pairs especially well with a variety of hors d'oeuvres and tapas, and it is a natural with sushi, sashimi, California rolls, and tempura, too. Other favorite accompaniments include grilled shrimp, served with a light Dijon mustard and dill sauce; real lump crabmeat mixed with a chive cream and served over a Parmesan tuile; oysters sautéed in butter, cream, and fresh herbs; and grilled trout with almonds. A tray of rindless cheeses provides another successful marriage. However, regardless of what you choose to serve with the 2016 Saint Pauls Chardonnay, we strongly suggest inviting someone special to enjoy it with you; the true wine lover is never stingy.
Founded in 1907, Kellerei Saint Pauls specializes in fashioning the international and traditional grape varietals of Italy's beautiful Alto Adige, also known as Süd Tirol and South Tyrol. It is a specialized cooperative of 150 growers whose small, high elevation vineyard plots cling to the mineral-rich soils of the region's Dolomite rock.
Saint Pauls' wines are internationally renowned and routinely garner 90+ ratings from Wine Advocate, Wine Enthusiast, and James Suckling. They are known for producing elegant, fresh wines that reflect Alto Adige's unique terroir. Furthermore, gravity feed and solar panels are employed at the winery and only sustainable and non-invasive agricultural techniques are practiced, creating a harmony between innovation and tradition. In addition, Saint Pauls is the proud owner of Alto Adige's oldest vineyard, a Pinot Bianco vineyard that dates to 1899.
Saint Pauls produces excellent red and white wines. Chardonnay, Pinot Bianco, and Pinot Grigio lead the charge among the fairer grape varietals, while Lagrein and Schiava (aka Vernatsch), the region's traditional red grapes, predominate among the reds. Kellerei Saint Pauls also fashions a very fine sparkling Brut from 100% Chardonnay.
In Italian, Alto Adige refers to the high or upper reaches of the Adige, the stony, swift flowing river that Ernest Hemingway immortalized in A Farewell to Arms. However, most of the world knows this picturesque country as the Süd Tirol or the South Tyrol. The dual name illuminates this region's splintered history and highlights its continuing split personality. Presently, Alto Adige is officially an autonomous region of Italy, but the Alto Adige or South Tyrol remains primarily German speaking, which underscores the fact that throughout most of its tortured history this beautiful alpine land of lederhosen and loden caps was an integral part of Austria. In fact, it was not until after World War I that the South Tyrol was ceded begrudgingly to Italy.
In spite of or, perhaps, on account of the South Tyrol's plurality, ethnic diversity, and historical factional violence, the present generation of winemakers in Alto Adige of both Austrian and Italian heritage have banded together in the common pursuit of happiness and prosperity. In doing so, the winemakers of the Alto Adige/ Süd Tirol have fashioned some of the highest standards for winemaking in all Italy. Consequently, more than 50% of the zone's wines are DOC designated.
While it may be true that white wine is the calling card of Alto Adige and that many of Italy's finest white wines do indeed flow from the pretty hills and valleys of the area, this industrious, forward thinking region is also renowned for its production of light to medium bodied red wines of supreme bouquet, finesse, and style. So whether it be an outstanding Chardonnay, Kerner, Pinot Bianco, or Pinot Grigio, or one of Alto Adige's little know reds in the guise of Santa Maddalena, Teroldego, or even Lagrein, quality remains the region's unifying common denominator.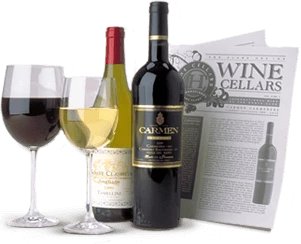 Enjoy Limited Production Estate
Bottled Wines
Discover limited production estate bottled wines such as Vergenoegd's internationally
acclaimed 2005 Cabernet Sauvignon, imported exclusively for our members.
DISCOVER OUR FOUR CLUBS