A classic mature Napa Valley Chardonnay, the 2002 Rutherford Hill reveals enormous charm, flavor, and style, all of which are revealed persistently and progressively. In this regard, the 2002 Rutherford Hill Chardonnay acts more like a red wine than a white wine, but such is nearly always the case with well-bred Chardonnay; as it matures it takes on secondary and tertiary qualities that blossom with moderate aeration. Accordingly, the Rutherford Hill Chardonnay reveals a beguiling nose of textured fruit, toasted coconut, and vanilla spice. And on the palate, it divulges a litany of Chardonnay flavors along with a supreme tactile quality. Consequently, we suggest that you savor this wine by holding it in your mouth for a few seconds before swallowing. Balanced, classy, subtle, and full of flavor, the 2002 Rutherford Hill may very well be the Napa Valley equivalent to Grand Cru Chablis; it contains plenty of underpinning and a taste of minerally terroir to back up its ample fruit and understated taste of tempered oak. In short, this is serious mature Chardonnay for those who like only the best. We found it to be at its finest when only moderately chilled (50° F). Enjoy!
In its youth, California Chardonnay is often a show wine; its bold flavors, ribald fruit, and lavish oak leap from the glass. Eager and powerful, a youthful Chardonnay catapults itself upon its opponent, in much the way a prizefighter advances upon his adversary. Initially, these wines are best consumed without food or at wine tastings. However, the finest examples of California Chardonnay, like the 2002 Napa Valley Rutherford Hill, mellow and mature. They become food wines, much like their European counterparts, white Burgundies. Consequently, we heartily suggest that the 2002 Rutherford Hill Chardonnay be given a noble dish or two in order to strut its stuff. It will shine with an eclectic selection of well-prepared recipes from Cheese and Pear Risotto to Lobster au Gratin. Indeed, savory seafood dishes provide natural companions to this wine. Scallops in Puffed Pastry, Poached Salmon, or nearly any grilled white fish that is served with an herbed mayonnaise offer superb accompaniments to the 2002 Rutherford Hill Chardonnay. However, poultry goes well, too. Chicken Cordon Bleu and Chicken Fricassee provide excellent companionship as well. In addition, a glass of 2002 Rutherford Hill Chardonnay and a selection of soft goat cheeses or un-crusted semi hard cow's milk cheeses like Gruyere or Panela offer an excellent alternative to dessert. Enjoy!
Rutherford Hill Winery commands a spectacular view of Napa Valley's famed Rutherford Bench, California's most distinctive terroir, from a perch high in the eastern hills of Napa. Begun in 1976, before Napa Valley had become a household word, Rutherford Hill Winery specialized early in its inception on Merlot, a rare grape variety in California three decades ago. The original owners believed the Valley's soil and climate resembled that of Pomerol, Bordeaux's premier appellation for Merlot based wines. Not surprisingly, Rutherford Hill quickly established itself as California's premier Merlot producer, but what the world would have to wait to discover was just how outstanding this winery's other varietal wines could be, namely the estate's Chardonnay. In 1996, the Terlato family, owners of Paterno Wines International, purchased Rutherford Hill Winery and initiated a renaissance at the property. Immediately, Anthony Terlato set about improving overall quality as well as broadening the winery's palette of wines. Today, Rutherford Hill's portfolio includes more than excellent Merlot and Chardonnay. It also boasts a fine Cabernet Sauvignon, Cabernet Sauvignon Reserve, Sangiovese, Gewürztraminer, Sauvignon Blanc, and Zinfandel Port. Like nearly all California wineries, Rutherford Hill draws fruit from its neighbors as well as its own 60-acre estate vineyard in order to fashion its award winning wines. Since acquiring Rutherford Hill, the Terlato's have made major capital improvements to the property and winery, not the least of which is a special 5,100 square foot facility that houses an assortment of small capacity fermentation tanks, a gentle destemmer, and a pneumatic press. In essence, this miniature facility is a winery within a winery. It affords Rutherford Hill's winemakers tremendous flexibility in terms of fermentation and maceration, and it permits all the estate's small individual vineyard selections to be vinified separately. Perhaps, the most distinctive aspect of viticulture at Rutherford Hill is the winery's extensive hillside cave aging system. Carved into the hills and cliffs behind the winery is a mile long system of caves that house the more than 8,000 French and American barrels the winery employs for gracefully aging its wine. Rutherford Hill was one of the first Napa Valley wineries to dig caves for aging and this enterprise remains one of the most extensive such facilities in North America. These subterranean caves remain at a constant 59° F and 85% humidity all year round.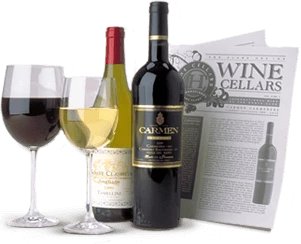 Enjoy Limited Production Estate
Bottled Wines
Discover limited production estate bottled wines such as Vergenoegd's internationally
acclaimed 2005 Cabernet Sauvignon, imported exclusively for our members.
DISCOVER OUR FOUR CLUBS