A thoroughly charming and well-mannered Gruner Veltliner, the 2003 Rudi Pichler Gruner Veltliner Federspiel manages to combine all the raciness and exotic charm of Austria's most distinctive vareital with good breeding and a sunny disposition. Indeed, there is much to like in Pichler's dry, ripe rendition of what has suddenly become Europe's most fashionable white grape. Subtle fruit, a hint of rose petal, dried lichée, oriental spice, supreme balance, and a sublime integration of flavors all harmonize in this Pichler offering. Sipping Pichler's Gruner Veltliner is like attending the symphony, except all the music is in the glass, so that it is the palate that is dazzled rather than the ears. Yet, what truly characterizes the Rudi Pichler Gruner Veltliner from lesser examples of this varietal is its underlying ripeness and balanced finish. Whereby many contemporary Gruner Veltliners offer interest, it is usually at a price that manifests itself in a hard edge. Notably absent in Pichler's Federspiel is the hard edge and harsh finish that can mar the up front pleasure of lesser Gruner Veltliner offerings. So, enjoy the Pichler symphony, without worrying about hurting your ears or your palate. Prost!
If there ever were ever a single varietal to accompany today's eclectic cuisine or the explosion of ethnic offerings that now abound in many trendy kitchens and restaurants in the United States, it could very well be Gruner Veltiner, with the 2003 Rudi Pichler Federspiel Gruner Veltliner at the very top of that heap. Whether it is Tandoori from India or the heavenly concoctions of good Thai food, we suggest a well-chilled bottle or two of Pichler's Gruner Veltliner. Along this vein, one of our favorite pairings with the Federspiel is a lightly grilled tuna that is topped with cilantro, lemongrass, red onion, and finely chopped vegetables that have been so deftly infused with a mélange of Thai spices. Other heavenly accompaniments include seared scallops that are served with either a Thai nut relish or a rich Piedmontese cream sauce with pistachio nuts or pecans. Fish, soft cheeses, and light meats will provide other winning combinations with the Pichler Gruner Veltliner as well.
Pichler is a renowned name in the picturesque Wacchau Valley of Austria, where more than a few of Austria's finest wines are produced. In fact, Rudi Pichler is the newest member of this elite family to make wine. After working with his father for many vintages, Rudi is now making his own wine his way. As it turns out, his way is a "no compromises" approach that features the most natural winemaking process possible. Rudi Pichler's winery is located in a small carriage house, which until recently contained very little in the way of modern technological equipment. Given the small size of the winery, he can easily control the temperature in the entire room, but he is unable to precisely control each fermenting tank, which would drive modern technocrats mad but not young Rudi. Instead, Rudi eschews the contemporary rage for cold fermentation in favor of warmer fermentation temperatures and an overall more natural fermentation, which allow him to gain more flavor and extract from the grapes. Whenever possible, which seems to be nearly all of the time, Pichler uses only the wild natural yeasts for fermentation, another practice that would send the computer regulated engineers of large commercial wineries to the asylum. However, Pichler aptly demonstrates that such daring practices pay large dividends. His wines are consistently more exotic and complex than other Wachau producers' wines, and they often exhibit an elusive quality that is simply compelling. Rudi Pichler fashions modest quantities of several different excellent Gruner Veltliners and Rieslings, as well as a very fine, highly concentrated Weissburgunder (Pinot Blanc), all of which are highly recommended..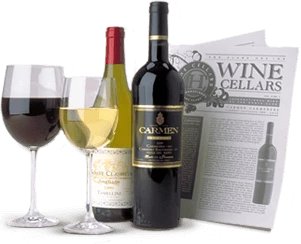 Enjoy Limited Production Estate
Bottled Wines
Discover limited production estate bottled wines such as Vergenoegd's internationally
acclaimed 2005 Cabernet Sauvignon, imported exclusively for our members.
DISCOVER OUR FOUR CLUBS