The 2013 Round Pond Estate Rutherford Cabernet Sauvignon truly reflects the estate's highly prized terroir, the region's signature Rutherford dust, as well as the inherent benevolence of the 2013 vintage in Napa Valley – certainly one of the finest vintages for Cabernet Sauvignon on record. Round Pond's 2013 Rutherford Estate Cabernet Sauvignon (77% Cabernet Sauvignon, 19% Petit Verdot and 4% Malbec) embodies the best of all worlds, both old and new, as it melds the finest Napa Valley fruit to Bordeaux elegance and complexity. Hand crafted entirely from the top 5% of Round Pond's Rutherford estate, it exhibits a complex set of aromatics, layers of gorgeous fruit, polished tannins and exceptional minerality thanks to Rutherford's magical dust. Rich cassis, plum and floral scents grace the nose and palate. In the mouth, one senses the wine's richness and experiences the complex layers of fruit, exotic spices and minerals that make Round Pond's Rutherford Cabernet Sauvignon so appealing. This wine has been described as "intense, smooth, medium-bodied, rich, and supple." Although seemly contradictory, Round Pond's 2013 Rutherford Estate Cabernet Sauvignon is all of these and more. Drink this beautiful Cabernet now through 2030. For optimal enjoyment we suggest an hour of aeration before serving at cool room temperature (60°-64° F). Enjoy!
Given the balance, complexity, and intensity of the 2013 Round Pond Rutherford Estate Cabernet Sauvignon, only the finest of ingredients are a match for this wine, unless one considers this exuberant Cabernet a meal in itself. Although there is no shame in enjoying this fine Cabernet Sauvignon with nary a morsel, all kinds of meats, including lamb, beef, and duck provide superb accompaniments. Braised Lamb Shanks or, better still, a Rack of Lamb, served with lentils and haricots verts; Bacon Wrapped Bison Meatloaf, served with hand cut duck fat fries; and Grilled Duck Breast with duck confit hash and seasonal vegetables make splendid dinner companions to a bottle of Round Pond's exquisite 2013 Rutherford Cabernet Sauvignon. For those who prefer simplicity and subscribe to the philosophy that less is more when it comes to enjoying a fine wine, we suggest serving a well-endowed charcuterie and cheese plate comprised of naturally dry cured meats and soft rindless cheeses, but almost any aged, finely crafted cheese will shine in the presence of Round Pond's Rutherford Estate Cabernet Sauvignon. Enjoy!
Located in the heart of the renowned Rutherford AVA, Round Pond is one of Napa Valley's iconic producers of world-class Cabernet Sauvignon and artisan foods – all of which flow from Round Pond's sustainably farmed Rutherford estate.
Round Pond is owned and operated by the MacDonnell family, who have for two generations created exquisite wines, olive oils and gourmet foods that critics have deemed to be among the finest in the nation. Every Round Pond creation reflects the MacDonnells' passionate, hands-on from soil to bottle philosophy, and nowhere is this more the case than in Round Pond's outstanding Rutherford Estate Cabernet Sauvignon.
At Round Pond, excellence is achieved through a seamless blend of Old World traditions and state-of-the-art innovation. The MacDonnell team walks the vineyards daily and carefully tends the property's highly prized Rutherford vines. All of the grapes are sustainably farmed and hand-harvested. To make their own highly-rated, handcrafted wines, Round Pond has combined two generations of winegrowing experience Essentially, by wedding the best of the old with the best of the new, Round Pond strives to create modern classics – a goal this prized estate has already achieved by all accounts.
In addition to fashioning several of Napa Valley's most prestigious Cabernet Sauvignons under their own label, Round Pond's outstanding Rutherford Cabernet grapes are highly sought after by other Napa Valley producers and find their way into a number of other iconic Napa Valley Cabernets. Round Pond also turns out exceptional Sauvignon Blanc under its own label.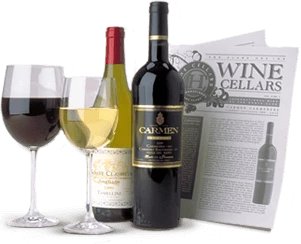 Enjoy Limited Production Estate
Bottled Wines
Discover limited production estate bottled wines such as Vergenoegd's internationally
acclaimed 2005 Cabernet Sauvignon, imported exclusively for our members.
DISCOVER OUR FOUR CLUBS