Although normally available exclusively at the winery's new tasting room in Malibu and at a hand full of world renowned restaurants, we are pleased to offer our Collector Series members a rare opportunity to taste the unique 2005 Rosenthal The Malibu Estate Chardonnay. Golden hued and finely honed, this youthful Chardonnay captures all the charm, purity, and richness of fruit that one can wish for in California Chardonnay plus the added bonus of impeccable balance – and that's not all. Add a heady bouquet and a long broad palate that burst with fresh fruit, spice, butterscotch, and vanilla and you have the best of the New World meeting the Old World. The 2005 Rosenthal The Malibu Estate Chardonnayis every bit a California classic. Yet, it also possesses the elegance, suavity, and texture of a fine white Burgundy. Enjoy this rare Chardonnay moderately chilled (40°-45° F). It is perfectly enjoyable now. However, if previous vintages of this wine are any indication, the 2005 Rosenthal The Malibu Estate Chardonnay will continue to mature beautifully for at least a couple more years.
As charming, balanced, and personality filled as the 2005 Rosenthal Chardonnay is, the temptation is to consume it long before one ever gets to the table. "Nearly irresistible," is how one panel member described it. Nonetheless, the greater glory awaits those disciplined souls who plan a scrumptious meal with which to enjoy this first rate Chardonnay. For starters, we suggest an appetizer of Pan Seared Scallops in a light curry and mint cream sauce, topped off with toasted almonds. Another faithful companion is a Sweet Lump Crab Meat Napoleon, served with avocado and sweet corn and topped by a mild red pepper coulis. A whole Maine Lobster, steamed to perfection, and served with drawn butter, provides another wonderful accompaniment to the 2005 Rosenthal The Malibu Estate Chardonnay. A plate of fine French cheeses offers an alternative to meat and another superb way to celebrate The Malibu Estate Chardonnay. However, whatever you choose to serve, we suggest you take the time to savor it along with this very special Chardonnay. Enjoy!
The Malibu Estate, the country home of George Rosenthal, produces Los Angeles County's finest wine, and that is no mean feat. In the 19th century, Los Angeles County was reputed to have been the leading producer of premium wine in California, but with the advent of phylloxera and Pierce's Disease, followed by urban sprawl (the county's most fatal malady), wine production had nearly ceased in Los Angeles County as early as the 1950's. Such was the unhappy state of wine affairs in and around Los Angeles until 1987, when George Rosenthal planted a prime portion of his Malibu ranch to European varietals and put Malibu and Los Angeles County back on California's viticultural map. Others have followed suit in an attempt to emulate The Malibu Estate's success, but none have fashioned wines quite as compelling as Rosenthal's The Malibu Estate. Critics have commented that The Malibu Estate has two distinct levels of wine: great and greater, and it would be hard to argue against that summation. The estate's low yields and small production make it difficult to turn out anything but the best. Nevertheless, this winery manages to fashion in exceptional vintages tiny quantities of Founder's Reserve Cabernet Sauvignon from the property's Las Piedros Vineyard. The Founder's Reserve is a wine that has been heralded as the epitome of Cabernet Sauvignon. In addition, The Malibu Estate offers estate bottled Merlot and Cabernet Sauvignon, and as of this year the winery has added a new red release called RE. It is an outstanding Meritage that combines all three of the estate's red grapes: Cabernet Sauvignon, Merlot, and Cabernet Franc, all from low yielding vines. However, with all this talk of red wine, it would be easy to lose sight of the fact that The Malibu Estate also produces southern California's most compelling Chardonnay, albeit it in miniscule quantities. In fact, the estate's Chardonnay may be California's best kept secret. In any given vintage, The Malibu Estate may fashion anywhere from a hand full of cases to two hundred cases of outstanding, age worthy Chardonnay, weather premiting. All of Rosenthal's wines now bear the distinct Malibu Newton Canyon appellation. The force and vision behind The Malibu Estate is of course George Rosenthal. George has been a real estate developer, restaurant/hotel owner, movie mogul, and breeder of fine Andalusian show horses. However, today, his primary passion is fashioning Rosenthal The Malibu Estate into a living, sustainable work of art. The artist in residence is French winemaker Christian Rougenet, who spares no expense in the pursuit of full throttle, highly extracted wines of distinction. At Malibu Estate, the grapes are entirely handpicked from low yield vines and the resulting hand crafted wines are all aged in the finest French oak barrels. No wine is released until it is ready to drink, a practice that defies contemporary economic exigencies but aptly defines this estate's commitment to quality. To highlight just how serious The Malibu Estate is about maturing its wines, it is just now releasing its other worldly 1999 and 2000 Founder's Reserves. Salut!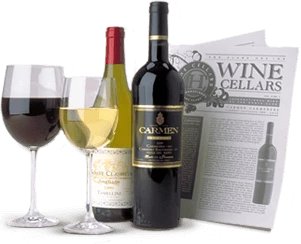 Enjoy Limited Production Estate
Bottled Wines
Discover limited production estate bottled wines such as Vergenoegd's internationally
acclaimed 2005 Cabernet Sauvignon, imported exclusively for our members.
DISCOVER OUR FOUR CLUBS