Rosenblum Cellars Fess Parker Vineyard Santa Barbara Roussanne 2004 offers extraordinary rewards for those willing to explore and seek treasure, for this white wine is a true gem. Composed of 100% Roussanne from the celebrated Fess Parker Vineyard, this rare and unique grape varietal infuses this 2004 Rosenblum Cellars rendition with a complex blend of tropical aromas and flavors. When one holds a glass of the Rosenblum Roussanne, the aromatic profile spills from the glass as an overflowing floral centerpiece cascades across a table. A clean, fresh, spring-like burst of floral aromas fills the nose and reveals a citrus effervescence that speaks well of each subsequent sip. As the wine passes the lips, a splash of fruit dances across the palate. And as the wine's lovely, smooth taste continues, a touch of oak emerges and mingles with woodsy spices, reminiscent of nutmeg. Yet, only after this wine eases down the gullet is the sparkle and luster of this unique offering fully understood. The Rosenblum Cellars Roussanne 2004 possesses a smooth connectivity that places it among the best white wines to come out of California, a prize worthy of a trip to the frontier.
Rosenblum Cellars Fess Parker Vineyard Santa Barbara Roussanne 2004 possesses substantial charm and flavor in a smoothly elegant presentation, so it is a wine that requires food with flavor and panache to match. When constructing a menu, continue the Roussanne grape's journey westward from France to California to explore the flavors of Southeast Asia. Nutty flavors, such as cashew and peanut, join nicely with the spicy elements of the wine to fully frame its tropical fruit profile. Also, consider recipes that include fruits, such as Mandarin oranges – a hearty chicken, cashew, and Mandarin orange salad offers a satisfying summer respite. And no need to be afraid of traditional Asian spices, either, such as curry, but do avoid extraordinarily spicy hot dishes while drinking this month's selection. Our featured recipe for a Satay with Peanut Sauce, complements of The Chef's Table of Asheville, NC, is a fine example of an extremely satisfying combination of flavors – a Satay is a skewer of marinated chicken or pork that is traditionally served with a peanut dipping sauce. Serve in combination with Coconut Rice to capture the ambience of the South Seas and to accentuate the tropical floral and fruit flavors of the Rosenblum Cellars Roussanne 2004. Bon appétit.
Rosenblum Cellars is one of a just a few dozen California wineries that are internationally known. Located in Alameda, California, Rosenblum Cellars fashions 40 different wines in any given vintage – almost all in small lots from California's finest vineyards. Begun in 1978 by veterinarian Dr. Kent Rosenblum, this remarkable winery began as a basement operation. In Rosenblum's own words, "Winemaking was a hobby gone wild." And aren't we glad it did. Rosenblum Cellars has evolved into a world class winery, whose specialties include many award winning Zinfandels and a bevy of delicious Rhône style wines from single vineyards. In 1978 after years of making wine out of his home, Kent Rosenblum and several close friends took the great leap of faith and passion: they bought property next to the infamous Dead End Bar in Oakland, once a prohibition speakeasy, and began their own winery, Rosenblum Cellars. The winery's first great success was with Zinfandel, which Rosenblum and his cohorts made fashionable by turning out a dozen or more top notch wines from the mercurial Zinfandel grape. From the beginning Kent focused on fashioning exceptional vineyard designate wines from mountainside dry farmed, head pruned, old vines. And the public response was sensational. In 1986, Rosenblum Cellars won the sweepstakes at the San Francisco Fair Wine Competition with its George Hendry Reserve Zinfandel. The winery promptly moved into its present location in Alameda and has never looked back. Under Kent's watchful eye Rosenblum Cellars has fashioned some of California's most compelling wines. Once considered unworthy of critical acclaim, vineyard designate Zinfandels have become the rage and the darling of connoisseurs and critics alike – thanks in large part to Kent Rosenblum and his team. Although Zinfandel and Rosenblum Cellars are nearly synonymous, this world-class winery also crafts award-winning Cabernet Sauvignon, Merlot, Chardonnay, and most recently Rhône varietals such as Syrah, Petite Sirah, Mourvèdre, Viognier, Marsanne and a truly outstanding Roussanne from the Fess Parker Vineyard in Santa Barbara County. Fess Parker may be best known for his legendary roles as Daniel Boone and Davy Crockett, but his greater claim to fame is, perhaps, the wonderful Santa Barbara winery that bears his name. Fess Parker's son Elie runs the winery and is a masterful winemaker. He is also one of the early pioneers of Rhône varietals in California. For decades the Fess Parker winery has produced some of California's most consistent and enjoyable Syrah based wines. Now the same can be said for Roussanne and a host of other fine Provencal favorites. Roussanne Roussanne is a unique white grape variety that derives its name from the russet colored skin of its fully ripened clusters. Its home is the mostly red wine producing appellations of Crozes-Hermitage, Hermitage, and St. Joseph in southern France. In fact, Roussanne is the only white grape varietal other then Marsanne that is permitted in those appellations. Small amounts of Roussanne can also be found in Châteauneuf-du-Pape. Roussanne is a difficult grape to grow and an even harder grape to produce as a varietal. Its yield is low and irregular, and it is quite susceptible to powdery mildew and other viticultural maladies. By natural selection as well as all commercial accounts, Roussanne should be extinct and probably would be if it weren't for a select group of passionate growers in whose hands Roussanne shines. From its fully ripened clusters flows one of the world's most intriguing white wines, which often bears the distinct and haunting aroma of wildflowers and herbs. Roussanne can be enjoyed young or after many years in the bottle. Unlike most white varietals, it can age for up to ten years or more in the bottle. Presently, there are less than 200 acres of Roussanne planted in California, making it one of the continent's rarest grape varietals.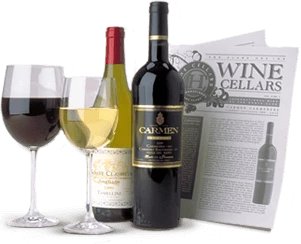 Enjoy Limited Production Estate
Bottled Wines
Discover limited production estate bottled wines such as Vergenoegd's internationally
acclaimed 2005 Cabernet Sauvignon, imported exclusively for our members.
DISCOVER OUR FOUR CLUBS