Crafted by Rosenblum Cellars winemaker and longtime veterinarian Kent Rosenblum, the Château La Paws series of wines is produced as a tribute to the animals that bring us so much joy. In the case of the 2006 Château La Paws Côte du Bone Blanc, Kent Rosenblum has fashioned a vibrant, hedonistic concoction from a host of mostly white Rhône varietals. Highly aromatic and delightfully fruit driven, the 2006 Côte du Bone Blanc contains a bit of the exotic in its scent and savor. The essence of summer fruits straight from the orchard combines with a medley of tropical island fruit to tantalize the nose and glide deftly across the palate. Placed in a medium body and framed with just enough backbone and acidity to finish dry, this mercurial wine ends with both a twist and a zip. For optimal enjoyment, we suggest giving the 2006 Côte du Bone Blanc a moderate to full chill (38°-45° F).
The 2006 Rosenblum Cellars Château La Paws Côte du Bone Blanc is the perfect wine to accentuate all kinds of foods, particularly dishes with unique flavors that are typically difficult to match. Shrimp and Avocado Salad and Spicy Chicken Salad with honey, apple, coriander, and pecan create delightful interludes with this wine. Chinese, Thai, and Vietnamese specialties also provide excellent complements to the 2006 Côte du Bone Blanc. Stir fried Chicken and Broccoli, prepared with a pungent garlic sauce; Thai Chicken and Basil; Stir Fried Noodles with carrots and broccoli; and Vietnamese Spring Rolls all offer exemplary complements to Kent Rosenblum's latest white wine sensation. It seems the spicier the food, the more sensual and complimentary the 2006 Château La Paws Côte du Bone Blanc becomes. However, one should not discount this hedonistic, racy white wine as the aperitif par excellence. Besides, this Côte du Bone Blanc is simply an excellent way to while away the day or the waning rays of sunset, so enjoy!
Rosenblum Cellars is one of a just a few dozen California wineries that are internationally known. Located in Alameda, California, Rosenblum Cellars fashions 40 different wines in any given vintage – almost all in small lots from California's finest vineyards. This remarkable winery began as a basement operation by veterinarian Dr. Kent Rosenblum. In Rosenblum's own words, "Winemaking was a hobby gone wild." And aren't we glad it did. Rosenblum Cellars has evolved into a world-class winery whose specialties include many award-winning Zinfandels and a bevy of delicious Rhône style red and white wines from single vineyards. In 1978, after years of making wine out of his home, Kent Rosenblum and several close friends took the great leap of faith and passion: they bought property next to the infamous Dead End Bar in Oakland, once a prohibition speakeasy, and began their own winery, Rosenblum Cellars. The winery's first great success was with Zinfandel, which Rosenblum and his cohorts made fashionable by turning out a dozen or more top-notch wines from the mercurial Zinfandel grape. From the beginning Kent focused on fashioning exceptional vineyard designate wines from mountainside dry-farmed, head-pruned, old vines. And the public response was sensational. In 1986, Rosenblum Cellars won the sweepstakes at the San Francisco Fair Wine Competition with its George Hendry Reserve Zinfandel. The winery promptly moved into its present location in Alameda and has never looked back. Under Kent Rosenblum's watchful eye his magical winery continues to fashion some of California's most compelling wines from a large assortment of red and white varietals. In addition to producing top-notch Zinfandels, Rosenblum Cellars now crafts award-winning Cabernet Sauvignon, Merlot, Chardonnay, and Rhône varietals such as Syrah, Petite Sirah, Mourvèdre, Viognier, Marsanne, and Roussanne. The Château La Paws series is Rosenblum's most recent feat: juicy Rhône style wines that go down ohhh so easy. Moreover, a portion of the proceeds from every bottle of the La Paws series goes to support charities that bring together animals and people with disabilities.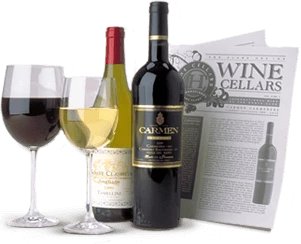 Enjoy Limited Production Estate
Bottled Wines
Discover limited production estate bottled wines such as Vergenoegd's internationally
acclaimed 2005 Cabernet Sauvignon, imported exclusively for our members.
DISCOVER OUR FOUR CLUBS