Root: 1 Cabernet Sauvignon remained one of Chile's best-kept secrets, until recently. Deemed by critics and consumers to be one of the best South American wineries, Viña Ventisquero has further solidified its position in the top echelon of Chilean wine producers with the release of the 2006 Root: 1 Cabernet Sauvignon. Unlike some South American Cabernets that provide plenty of flavor but not much charm and texture, the 2006 Root: 1 dazzles with its entrancing aromatic profile, ripe round fruit, and silky smooth texture. A bouquet resplendent with the scents of bay leaf, blackberry, boysenberry, and cocoa caresses the nose and sets the stage for the same smooth caressing flavors to beguile the palate. Ripe, round, and utterly delicious from start to finish, the perfectly balanced 2006 Root: 1 Cabernet is ohhh so easy to drink. It offers all a Cabernet drinker can ask for: great flavor in a round, velvety body. Give this wonderful Cabernet a few minutes to breathe and drink it as often as you can over the next five years. We suggest serving it at no more than 66° F.
Young Cabernet Sauvignon is not always our first choice as a "sit around and sip" kind of wine, without at least a hunk of good cheese or some other hearty fare to tame the youthful fire. However, in the case of the 2006 Root: 1 Cabernet Sauvignon, we are willing to make an exception. This wine needs very little to shine, except a clean glass. Nevertheless, if you are like most members of our tasting panels, you will want to double the pleasure by adding some tasty morsels. Consequently, we suggest you consider serving this Cabernet with what constitutes the Chilean national food – beef. Steaks, burgers, and marinated veal chops all get our nod. Grilled lamb, pork, and barbecued ribs make fine accompaniments, too. And don't worry about a little marinade or spicy condiment doing damage to this flavorful Cabernet. A traditional Chilean dish, Pastel de Choclo, a corn and meat pie, offers yet another interesting pairing with the 226 Root: 1 Cabernet. For the vegetarian set, a Three Mushroom Pizza, with Cremini, Portabella, and Shiitake mushrooms provides a crowd-pleasing experience, too. Salud!
Root: 1 is a special line of wines from one of Chile's foremost wineries, Viña Ventisquero. Viña Ventisquero is an environmentally friendly winery that practices only sustainable methods of agriculture. It is also the first Chilean winery with a certification to offset carbon dioxide emissions. And of paramount importance, Viña Ventisquero's wines are all first rate. Root: 1 is purveyed by Click Imports, which has built an enviable portfolio of premium wines from world-class terroirs from the finest wine regions throughout the world. Click's original collection of wines included many of Australia's best estates; but in recent years this dynamic group has ventured into Chile, Washington State, and elsewhere to bring the beauty and glory of exceptional wines to our tables from other noteworthy estates and locales. All Root: 1 wines bear a unique distinction. Yet, each shares a common characteristic: they are crafted entirely from grapes grown on their own root stocks – a rarity since Phylloxera nearly destroyed all European grape varieties known as vitis vinifera in the late 19th century (including Cabernet Sauvignon and Sauvignon Blanc) and forced most grape growers worldwide to graft their vinifera vines onto American root systems. Only Chile with its unique geographic location and terroir has managed to escape the wholesale devastation of Phylloxera. Consequently, Root: 1 wines are some of the most authentic varietal wines made in the world today and "living proof that character comes from the roots." Root: 1 specializes in two of Chile's most important grape varieties, Cabernet Sauvignon and Sauvignon Blanc. Each is grown in the region of Chile for which it is best suited. Root: 1 Cabernet Sauvignon hails from the Colchagua Valley, Chile's equivalent of Napa Valley. Long renowned for its excellent Cabernet Sauvignon and Carmenère, Colchagua Valley is now the source of most of the greatest red wines of Chile. Similarly, Viña Ventisquero has rightly chosen the cooler Casablanca Valley close to the nation's capital for growing Sauvignon Blanc. The warm days and cool breezes from the nearby Pacific Ocean that pervade Casablanca provide Sauvignon Blanc with a long slow maturation, which brings out the heady aroma and intense flavors of the varietal.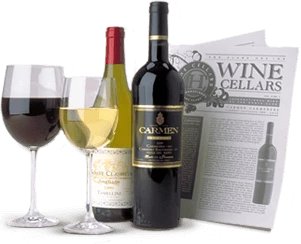 Enjoy Limited Production Estate
Bottled Wines
Discover limited production estate bottled wines such as Vergenoegd's internationally
acclaimed 2005 Cabernet Sauvignon, imported exclusively for our members.
DISCOVER OUR FOUR CLUBS