Root: 1 Sauvignon Blanc is a very fine Sauvignon Blanc, indeed. From its elegant bottle to its long smooth finish, the 2008 Root: 1 Sauvignon Blanc exudes both class and style. However, what lies within is the finest treat of all. Pale straw in color with a glint of green that recalls the first breath of spring, this fresh, lively herb-tinged Sauvignon Blanc reminds us of a hypothetical blend of the finest French Sancerre and a noble New Zealand Sauvignon Blanc. A comely bouquet resplendent with the scents of grapefruit, herb, melon, and fig caresses the nose. And, unlike weaker renditions of Chilean Sauvignon Blanc, Root: 1 follows through on the palate with all that it delivers to the nose. A full-throttle Sauvignon Blanc, replete with just the right balance of fruit and herb, the 2008 Root: 1 fills the mouth and exits with a long vibrant mineral-laden finish – a true Sauvignon Blanc drinker's dream come true. For optimum enjoyment, we suggest chilling this wine to 38º-40º F and then allowing it to breathe a few minutes in the glass prior to serving. As it reaches for ambient temperature, it puts on a display that is worth the wait. Enjoy!
For many wine drinkers, Sauvignon Blanc and seafood, at least the very finest fish and fruits of the sea, are synonymous. And for most Sauvignon Blanc aficionados there would be no better choice with the 2008 Root: 1 Sauvignon Blanc than a plate of raw or sautéed oysters, steamed New Zealand mussels in a heady broth, or grilled grouper topped with a persimmon glaze. However, neither blind parochialism nor simple tradition ought to deny the glory of Sauvignon Blanc with cheese, poultry, smoked meats, and a wide array of Asian dishes, many of which were once deemed too spicy for the wimpy white wines of yesteryear. From Chinese Chicken and Broccoli to Thai Grao Prao or even a light Indian Curry, the 2008 Root: 1 shines like the sun. Yet, no one would look askance if you decided to take the Root: 1 Sauvignon Blanc to task and serve it neat as an aperitif. And what a splendid aperitif it will be! Salud!
Root: 1 is a special line of wines from one of Chile's foremost wineries, Viña Ventisquero. Viña Ventisquero is an environmentally friendly winery that practices only sustainable methods of agriculture. It is also the first Chilean winery with a certification to offset carbon dioxide emissions. And of paramount importance, Viña Ventisquero's wines are all first rate. Root: 1 is purveyed by Click Imports, which has built an enviable portfolio of premium wines from world-class terroirs from the finest wine regions throughout the world. Click's original collection of wines included many of Australia's best estates; but in recent years this dynamic group has ventured into Chile, Washington State, and elsewhere to bring the beauty and glory of exceptional wines to our tables from other noteworthy estates and locales. All Root: 1 wines bear a unique distinction. Yet, each shares a common characteristic: they are crafted entirely from grapes grown on their own root stocks – a rarity since Phylloxera nearly destroyed all European grape varieties known as vitis vinifera in the late 19th century (including Cabernet Sauvignon and Sauvignon Blanc) and forced most grape growers worldwide to graft their vinifera vines onto American root systems. Only Chile with its unique geographic location and terroir has managed to escape the wholesale devastation of Phylloxera. Consequently, Root: 1 wines are some of the most authentic varietal wines made in the world today and "living proof that character comes from the roots." Root: 1 specializes in two of Chile's most important grape varieties, Cabernet Sauvignon and Sauvignon Blanc. Each is grown in the region of Chile for which it is best suited. Root: 1 Cabernet Sauvignon hails from the Colchagua Valley, Chile's equivalent of Napa Valley. Long renowned for its excellent Cabernet Sauvignon and Carmenère, Colchagua Valley is now the source of most of the greatest red wines of Chile. Similarly, Viña Ventisquero has rightly chosen the cooler Casablanca Valley close to the nation's capital for growing Sauvignon Blanc. The warm days and cool breezes from the nearby Pacific Ocean that pervade Casablanca provide Sauvignon Blanc with a long slow maturation, which brings out the heady aroma and intense flavors of the varietal.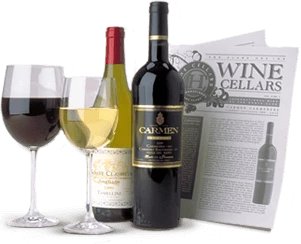 Enjoy Limited Production Estate
Bottled Wines
Discover limited production estate bottled wines such as Vergenoegd's internationally
acclaimed 2005 Cabernet Sauvignon, imported exclusively for our members.
DISCOVER OUR FOUR CLUBS