Tim Burvill has always made exceptional Chardonnay, but Rockbare's 2005 McLaren Vale Chardonnay is unquestionably this winery's most prodigious offering to date. The 2005 Rockbare Chardonnay wears a pretty straw-colored robe and a sunlit gleam, but even more exciting is the wine's seductive aroma – a combination of fresh apple and peach, followed by a gentle minerality, and a textured creaminess that persists all the way through to a glorious finish. Furthermore, all of the olfactory goodness in the 2005 Rockbare Chardonnay is followed by a refreshing mouthful of pure elegant Chardonnay fruit, minus the smoke and mirrors of excessive oak. How is it that Rockbare can fashion such a gorgeous, seamless, European style Chardonnay in South Australia, a land considered more attuned to red wine than white, when legions of well-heeled winemakers from around the world (including Burgundy and California) can barely furnish the consumer more than insipid, malnourished progeny that in the New World at least far too often rely on a massive infusion of oak to mask their inherent malediction? The flamboyant, medium-bodied Rockbare Chardonnay has just the right amount of acidity and oak, as well as a bright, clean, racy finish that just begs the taste buds for another sip. Recently, the 2005 Rockbare Chardonnay has garnered high praise from critics from all corners of the globe, so alas quantities are strictly limited. We suggest serving this versatile Chardonnay fairly well chilled (about 40° F), and then allowing it to warm gradually in the glass. Indeed, it would be a shame to miss any of the subtle nuances and latent goodness inherent in the 2005 Rockbare McLaren Vale Chardonnay.
The 2005 Rockbare McLaren Vale Chardonnay is the ideal wine to drink now with family or friends, or it can be put aside for six months or more in search of an occasion. With food or without, in warm weather or cold, the 2005 Rockbare McLaren Vale Chardonnay is easy to adore. Fish, shrimp, clams, oysters, scallops, and nearly anything else that swims in the sea gets our nod for partnering with the 2005 Rockbare Chardonnay. And rest assured the fruits of the sea are not the only noteworthy complements: How about Crispy Chicken with a Honey Dijon Glaze? Vegetable and Feta Stuffed Acorn Squash makes another wonderful accompaniment, as does a cheese and fruit platter. Whatever you decide, we are confident that you will enjoy this splendid Chardonnay. Enjoy!
Rockbare is the handiwork of Tim Burvill, Australian winemaker extraordinaire, in collaboration with the great terroir of McLaren Vale. McLaren Vale is a relatively small viticultural area of South Australia that is known for its premium grapes and its abundance of meticulously tended, family owned vineyards, which not surprisingly turn out some of the very finest wine Australia can produce. Tim Burvill has run the gamut in Australian viticulture. He gained extensive winemaking experience working at Southcorp, one of Australia's leading wine conglomerates, where he was responsible for making what many consider to be Australia's most exciting and expensive premium Chardonnay – Yattarna. Equally well versed with red and white wines, as well as the merits of technical razzle-dazzle, Tim made a conscious effort when he created the Rockbare label in 2000 to eschew technical homogeneity along with the smoke and mirrors employed by so many other Australian winemakers. Instead, he employs winemaking techniques at Rockbare that were more in vogue a century or more ago. Using minimal filtering, or even a no filtration approach, and very little oak, Tim does not obscure or obliterate the great McLaren fruit he sources from the region's premier vineyards. Instead, Rockbare's wines are filled with complex flavors driven by outstanding fruit and natural acidity, not some wine technocrat's rendition of the Molotov cocktail. Rockbare puts all of its attention into producing just two outstanding McLaren Vale offerings: Shiraz and Chardonnay. Both varietal offerings are produced from 100% McLaren Vale fruit, much of it from old vines that are dry-farmed. Taste and see why critics have gone crazy over Rockbare wines!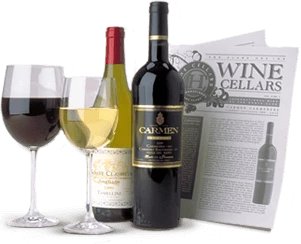 Enjoy Limited Production Estate
Bottled Wines
Discover limited production estate bottled wines such as Vergenoegd's internationally
acclaimed 2005 Cabernet Sauvignon, imported exclusively for our members.
DISCOVER OUR FOUR CLUBS