With the color of pale straw and a sparkle, the 2002 Rockbare Chardonnay sets the stage for the complex aromatics that leap from the glass. Many on the tasting panel perceive peach, mango, and pear tones in the nose, while others subscribe to lime, passion fruit, and pineapple as the dominant aromatic profile. In addition, a crisp Chablis-like minerality, complete with steel, lemon and hints of tangerine, emerges in the bouquet and on the palate to dispel any notion that subtle complexity is merely elusive. This medium-bodied wine finishes well, too, with just the right amount of acidity and a hint of oak. Rarely, does a Chardonnay elicit so many different perceptions from the tasting panel, but this offering from Rockbare has a lot of good things going on it. It is easy to see why critics have so quickly become enamored of Rockbare wines; recently, the 2002 Rockbare Chardonnay has garnered high praise from all corners of the globe. We suggest serving this versatile Chardonnay fairly well chilled (about 40º F), and then allowing it to warm gradually as it sits in the glass. In this manner, the taster is most likely to catch all of the nuance and latent goodness the 2002 Rockbare McLaren Vale Chardonnay has to offer.
The 2002 Rockbare McLaren Vale Chardonnay is the ideal wine to drink now with family or friends, or it can be put aside for a year or so in search of an occasion. With food or without, in warm weather or cold, this Rockbare offering is easy to like. Shrimp, clams, oysters and scallops, or just about any fresh fruit de mer would be our first choice to serve with this Chablis-style Chardonnay. Some of our other favorite food accompaniments include an herb-grilled chicken with julienned vegetables and dried cranberries; penne pasta primavera; and a spinach salad, served with walnuts, pumpkin seeds, and a mild goat cheese. But what ever you choose to serve with the Rockbare Chardonnay, we are confident you are in for some fun. Enjoy!
Rockbare is the handiwork of Tim Burvill, Australian winemaker extraordinaire, in collaboration with the great terroir of McLaren Vale. McLaren Vale is a relatively small viticultural area of South Australia that is known for its premium grapes and its abundance of meticulously tended, family owned vineyards, which not surprisingly turn out some of the very finest fruit Australia can produce. And we have not even begun to mention the outstanding wines that flow from McLarenVale. Tim Burvill gained extensive winemaking experience working at Southcorp, one of Australia's leading wine conglomerates, where he was responsible for making what many consider to be Australia's most exciting and expensive premium Chardonnay Yattarna. Well versed in the merits of technical razzle-dazzle, Tim made a conscience effort when he created the Rockbare label in 2000 to eschew technical homogeneity along with the smoke and mirrors employed by so many other Australian Chardonnay makers. Instead, he employs winemaking techniques that were more in vogue a hundred years ago or more. Using minimal filtering or even a no filtration approach and very little oak, Tim does not obscure or obliterate the great McLaren fruit he sources from the region's premier vineyards. Rockbare's wines are filled with complex flavors driven by outstanding fruit and natural acidity, not some wine technocrat's rendition of the Molotov cocktail. Rockbare produces two outstanding McLaren Vale offerings: Chardonnay and Shiraz. Both varietal offerings are produced from 100% McLaren Vale fruit, much of it from old vines that are dry-farmed.
Chardonnay: The Planet's Most Planted White Of all the world's premium white varietals, Chardonnay is the most widely cultivated and its wine the most highly sought after on earth. Each year at harvest time, whether it be in its native France or in the Land Down Under, Chardonnay commands the highest prices and the most attention for its grapes. In tribute, Chardonnay produces the finest, most flavorful dry white wines in the world to which writers and connoisseurs devote countless columns and untold hours exalting its virtues and dissecting its flavors. Whether it be from Chablis or Champagne, Napa or McLaren Vale, or from the most illustrious of vineyards perched atop the slopes of Corton and Montrachet, Chardonnay is the yardstick by which all other dry white wines have come to be measured. From its home in the Burgundy region of France, Chardonnay has traveled the length and breadth of France where it is planted in areas as diverse as Champagne, Alsace, the Jura and the high mountain valleys of the Alps, as well as the hot plains of Languedoc. Never content to be a homebody, Chardonnay found its way to Italy centuries ago and then to Eastern Europe, before traveling the seven seas to Australia, Argentina, Chile, California, Japan, New York, New Zealand, and almost everywhere fine wine is made. Today, Chardonnay is produced on all continents, except Antarctica. In these varying locales, Chardonnay produces premium wine that reflects in ever detail the soil and climate (terroir) in which it is grown. With food, Chardonnay is a peerless match. In the company of seafood, Chablis-style Chardonnays provide superb complements and are in turn elevated by the union with fine fruits de mer. Fuller, fleshier Chardonnay wines, typified by the best Australian and Californian versions, can more than hold their own with more complex fare, rich cream sauces, and meats. Moreover, the finest Chardonnay wines shine on their own, requiring nothing but a corkscrew and a glass to please the palate. Right about now, can't you hear the distant strains of Hail to the Chief, along with thunderous applause?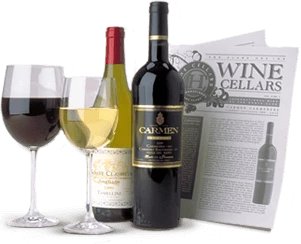 Enjoy Limited Production Estate
Bottled Wines
Discover limited production estate bottled wines such as Vergenoegd's internationally
acclaimed 2005 Cabernet Sauvignon, imported exclusively for our members.
DISCOVER OUR FOUR CLUBS