The 2013 Robertson Constitution Road Chardonnay more than lives up to its lofty reputation as one of Robertson's two flagship offerings. From the moment this sun-kissed wine flowed into our glasses, it captivated the entire tasting panel. This world class Chardonnay offers an entrancing set of aromatics, full, round flavors, impeccable balance, and a long, satisfying finish. According to Jacques Roux, specialty winemaker at Robertson Winery, the 2013 Robertson Constitution Road Chardonnay is "deliciously rounded and deeply satisfying… it has so many dimensions and layers from apricot, peach and pineapple to some nuttiness, a hint of vanilla from the wood and a whiff of coffee." We concur but think Roux may be a touch modest, understating the pleasure inherent in his Gold Medal winning Chardonnay. We paired Roux's superb 2013 Constitution Road Chardonnay against French and California Chardonnays, some costing more than twice the price, and Robertson's flagship offering beat them all. Simply put, this Chardonnay has it all. For optimal enjoyment we suggest serving the 2013 Robertson Constitution Road Chardonnay moderately chilled (40° F).
South Africa offers a multitude of culinary choices and more than its share of gustatory delights. By drawing upon South Africa's multicultural make-up, which encompasses traditional African, Indian (South Africa has the largest Indian population outside of India) and European food traditions, Robertson's Constitution Road offerings possess a nearly endless array of delicious accompaniments. The 2013 Constitution Road Chardonnay pairs nicely with a variety of foods, everything from cow and sheep's milk cheeses to thick, meaty chops, which are traditional at a South African brai. Grilled prawns with garlic butter, pan seared salmon rubbed with East Indian spices, and pumpkin or sweet potato ravioli drizzled with sage butter provide more tasty accompaniments to Robertson's Constitution Road Chardonnay. Robertson also touts toasted polenta with Brie and sautéed mushrooms as a superb accompaniment to their flagship Chardonnay. Eggs Benedict and almost any fish or poultry dish gets our nod, too. Enjoy!
Robertson Winery sprang to life in 1941 in an old chapel established by Scottish missionaries. Nestled between mountains in the Robertson Valley, the winery draws life from the nearby Breede River and a vibrant close-knit farming community founded in 1852 that counts seven generations of winemakers and a wealth of viticultural experience.
Although Robertson began operation in 1941, it wasn't until 1984 that Robertson started bottling wine under its own label. Like many South African wineries, Robertson served as a source of wine for many of the nation's top producers. With its acumen and experience, Robertson quickly assembled an incredible portfolio of South African wines, from high quality affordable varietals to robust hedonistic treasures that rival the best South Africa has to offer.
Robertson's flagship wines are its two Constitution Road offerings, a voluptuous bold Shiraz and an impeccably made Chardonnay, which rivals the best that Burgundy and California have to offer (this month's feature). Robertson Winery released their first Constitution Road Shiraz in 2004 to commemorate ten years of democracy in South Africa under the new constitution. The 2013 Constitution Road Chardonnay (this month's feature) is the maiden release of Robertson's outstanding, highly allocated Chardonnay. It has enjoyed tremendous success as numerous accolades will attest. The 2013 Constitution Road Chardonnay was awarded a Gold Medal at the 2016 Chardonnay du Monde, a prestigious international wine competition that is held each year in Burgundy, France – the ancestral home of Chardonnay. Chardonnay du Monde recognizes the world's best Chardonnays from around the world after tasting nearly 800 Chardonnays from dozens of countries.
Robertson continues to fashion limited releases of Constitution Road Chardonnay and Shiraz in vintages that warrant the prestigious Constitution Road designation. The folks at Robertson suggest serving their Constitution Road wines with a joyous gathering of family and friends as they celebrate abundance. We heartily concur and are thrilled to make available Constitution Road to our members.
Chardonnay is not only the most widely cultivated white varietal on the planet; it is also the most treasured. Twice each year at harvest time (because the seasons are reversed in the northern and southern hemispheres) in its native France and in countless locales on six continents, Chardonnay grapes command premium prices. In tribute, Chardonnay produces the finest, most flavorful dry white wines in the world, to which writers and connoisseurs devote countless columns and untold hours exalting its virtues and dissecting its flavors. Whether it be from Chablis or Champagne, Sonoma or the Western Cape of South Africa, or from the most illustrious of vineyards perched atop the slopes of Corton and Montrachet in Burgundy, Chardonnay is the yardstick by which all other dry white wines have come to be measured.
With food, Chardonnay is a peerless match. Chablis and other Chardonnays that see little or no oak provide superb complements to seafood. Fuller, richer, and more heavily oaked renditions of Chardonnay, typified by the finest examples from California, France, and South Africa pair beautifully with more complex fare, such as rich cream sauces, poultry and white meats. Moreover, the finest Chardonnay wines shine on their own, requiring nothing but a clean glass to please the palate.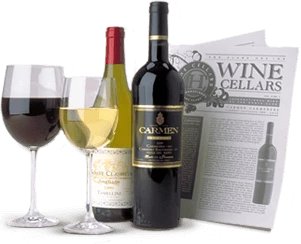 Enjoy Limited Production Estate
Bottled Wines
Discover limited production estate bottled wines such as Vergenoegd's internationally
acclaimed 2005 Cabernet Sauvignon, imported exclusively for our members.
DISCOVER OUR FOUR CLUBS