Georges Lorentz has once again fashioned an outstanding Grand Cru Riesling from the famous Altenberg de Bergheim vineyard. For those of you who may still think of Riesling exclusively as a sweet German concoction, we ask you to put aside all pre-conceived notions and prepare yourself for the glory of Alsace and the essence of a noble varietal in the 2004 Gustave Lorentz Altenberg de Bergheim Riesling Grand Cru. This Grand Cru offering is neither sweet nor does it much resemble its German counterparts across the Rhine. Brilliant, limpid, and dressed in a pale yellow robe with a glint of the morning sun, this Grand Cru Riesling dazzles with its enchanting perfume, offering a mélange of citrus oils, liquefied minerals, and a subtle unctuous quality that defines the very best examples of Alsace Riesling. Furthermore, the 2004 Altenberg de Bergheim Riesling is long and flavorful in the mouth, and it caresses the palate with all the charm and intensity of its enchanting aroma. So, what is there not to like? Moreover, the 2004 Gustave Lorentz Altenberg de Bergheim Riesling Grand Cru remains complex, dry, and downright racy on the finish. Just one glass of the 2004 Altenberg de Bergheim Riesling should be enough to convince the uninitiated as well as the most ardent of Riesling detractors of this noble variety's greatness. We suggest serving the 2004 Altenberg de Bergheim moderately chilled (40º- 45º F), at least initially. However, one of the glories of Altenberg de Bergheim Riesling is allowing the wine to creep slowly towards cool room temperature and metamorphose in the glass: this way you are sure not to miss all that this wonderful Riesling has to offer, including the wine's long, satisfying finish that persists on the palate for up to thirty seconds after the wine has been swallowed. Anticipated maturity: 2009-2015.
The 2004 Gustave Lorentz Altenberg de Bergheim Grand Cru Riesling provides the perfect complement to seafood as well as to traditional Alsace favorites. Crab or prawns with avocado, grilled white fish, and an old-fashioned onion or leek tart offer plenty of complement to Lorentz's flagship offering. Lobster salad, sautéed oysters served in a savory cream based broth, and veal roast with braised onions provide other tasty treats to highlight this exquisite Alsace Riesling. Duck, goose, sweetbreads, and pork complement Lorentz's Altenberg de Bergheim Grand Cru Riesling, too. And for Riesling purists, all that is required for the ultimate in gustatory pleasure is a clean glass and a special occasion, like tonight, to thoroughly enjoy this wonderfully dry Riesling. Santé!
Gustave Lorentz is a family-owned and -operated winery that dates to 1836. Today, this fine estate rests in the very capable hands of Georges Lorentz, who fashions a bevy of delicious white wines with some assistance from his "retired" father, Charles. The Lorentz winery is one of the largest family-owned facilities in Alsace. It encompasses nearly sixty-six acres of premium vineyards in Bergheim, including nearly half of the great Grand Cru vineyard of Altenberg de Bergheim, famous for its extraordinary Riesling, and all of Kanzlerberg, the smallest Grand Cru in Alsace. Bergheim is located along the famous Route de Vin in the very finest section of Alsace, a mere 3 kilometers from Ribeauville and just 5 kilometers from Riquwihr. This is the heart and soul of Alsace wine country. All Lorentz wines come from the Bergheim area, also known as the Haut Rhin, and express the unique terroir of the region. Lorentz's top wine is his single-vineyard Grand Cru Altenberg de Bergheim Riesling. Like most Alsace producers, Gustave Lorentz features several levels of wine from a wide variety of traditional Alsace grapes. The ubiquitous Pinot Blanc provides a steady income and a solid foundation upon which Lorentz has built his domain, as have most other family growers in Alsace. As one would expect, Riesling, Tokay Pinot Gris, and Gewürztraminer constitute the pinnacle of this estate's achievement, as they do throughout Alsace. In addition, Lorentz's wines are featured in many of the Michelin-starred restaurants in Alsace and some of the finest restaurants around the world. From simple vintage cuvees to Reserve and Grand Cru bottlings to the rare late harvest wines known as Vendanges Tardives, Lorentz is dedicated to the fashioning of the highest quality Alsace wines. Vive la différence! Alsace Alsace is quite possibly the most picturesque wine region in all France. It is an enchanted land of beautifully restored half-timbered houses, flower-bedecked balconies and carved window boxes, and, of course, vineyards. It is bounded by the Vosges Mountains to the west, which block out the dreary maritime weather that plagues much of the rest of northern France, and the Rhine River and Germany to the east. Because of its favored climate and position, Alsace is the sunniest province in northern France. This extra sunshine makes Alsace an ideal spot for the cultivation of the vine and the production of premium wines, especially Riesling and Pinot Gris. In Alsace, white wine reigns supreme. Pinot Blanc is the staple of Alsace, where it makes a fresh, sprightly wine of considerable merit. Nonetheless, the greatness of Alsace lies more typically in the crafting of some of the world's finest wines from Riesling, Gewürztraminer, and Pinot Gris – the vast majority of which are made dry, rather than sweet. The relative dryness of most Alsatian wines may come as a surprise to many, especially to those for whom German-sounding names and tall thin green bottles are synonymous with sweetness. However, Alsatian wines are unique unto themselves and rarely do they resemble their German counterparts in style, flavor, or level of residual sugar. Robert Parker Jr. has called the wines of Alsace "some of the greatest white wines produced on the planet," and they are some of the most pleasurable and hedonistic wines, too, we might add.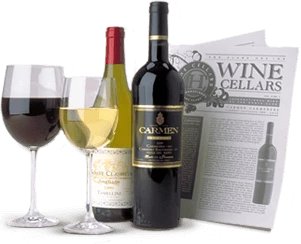 Enjoy Limited Production Estate
Bottled Wines
Discover limited production estate bottled wines such as Vergenoegd's internationally
acclaimed 2005 Cabernet Sauvignon, imported exclusively for our members.
DISCOVER OUR FOUR CLUBS