How often do you wish to savor a truly satisfying glass of Cabernet Sauvignon? If you answered this question in any way affirmative, we suggest you quickly open a bottle of the 2010 Respite Reichel Vineyard Alexander Valley Cabernet Sauvignon. This Cabernet not only provides a much needed respite from the complexities of life, it offers a respite from the many disappointing and overpriced Napa Valley Cabernets that sell for twice the price. Enjoy Respite's dark rich color, intense aroma of blackberry and cassis fruit, mingled with touches of tobacco leaf and graphite. But this is just Respite's opening act. From the moment the textured, sensuous, Respite Reichel Vineyard Cabernet is poured, it provides layers of deep blackberry and raspberry fruit coupled with fine, but substantial tannins that complement and frame the wine but never overpower it. Although born in a great vintage and built to last, there is no reason not to enjoy this wine now. Give it 30 minutes in a decanter and enjoy it tonight or a decade from now at cool room temperature (60°-65° F).
Given the smooth, voluptuous nature of the 2010 Respite Reichel Vineyard Cabernet Sauvignon, it brings a warm welcome to any table, though many a Cabernet aficionado will choose to make this wine a true respite on its own or as a meal in itself. We enjoyed this wine with and without accompaniments, but much can be said for pairing the 2010 Respite Reichel Vineyard Cabernet Sauvignon with lamb, beef, pork and duck. Braised Lamb Shanks served with lentils or Braised Veal Cheeks served with a peanut sauce and roast carrots, scallion, pea shoots, organic greens and Lion's Mane mushrooms make superlative accompaniments to Respite's outstanding 2010 Reichel Vineyard Cabernet Sauvignon. Duck Confit served with crispy prosciutto, Gouda cheese, caramelized onions and arugula make another tasty accompaniment. Roasted red or yellow peppers stuffed with Portabella mushrooms, artichoke hearts, roasted Zucchini, arugula, and mozzarella cheese provide a hearty vegetarian offering to accompany Respite's full throttle Cabernet Sauvignon. And for those subscribing to the philosophy that less is more when it comes to accompaniments, we suggest pairing only a plate of soft, ripe cheeses with this laudable Cabernet. Camembert, Fontina, and Saint Aubray are just a few of the many cheeses to pair with the 2010 Respite Reichel Vineyard Cabernet Sauvignon. Enjoy!
"You feel it as you crest the last hill, round the last bend. Your mind quiets and your body relaxes. It can be a quiet beach or a bench in a far corner of a city park. You have arrived at the place that makes you forget the craziness of the rest of the world, your Respite," say Corinne and Charles Reichel, proprietors of Reichel Vineyard and the makers of Respite Reichel Vineyard Cabernet Sauvignon. And who isn't in need of a respite, a well-deserved rest or relief from difficulty, tedium and the many omnipresent cares of life? The 2010 Reichel Vineyard Alexander Valley Respite provides a true respite and much more.
Reichel Vineyard is a 20 acre south-facing, mountain vineyard northeast of Cloverdale in the Alexander Valley Appellation. It is part of Charles and Corinne's larger 400 acre ranch that was originally purchased by Corinne's grandfather in 1948. Cabernet Sauvignon is perfectly suited to the Reichel's high elevation vineyard (2,600 feet) and it accounts for 19 of the vineyard's 20 acres. The remaining one acre is devoted to Cabernet Franc and Malbec, which are blended into Respite's Meritage offering named Indulgence. In addition to this month's feature, Respite's 100% Reichel Vineyard Alexander Valley Cabernet Sauvignon, Respite fashions a delicious Cabernet Sauvignon Rosé from young vines to round out the Respite's Reichel Vineyard portfolio.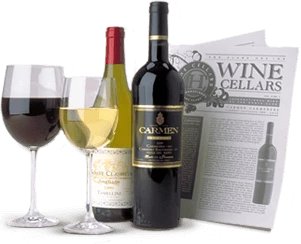 Enjoy Limited Production Estate
Bottled Wines
Discover limited production estate bottled wines such as Vergenoegd's internationally
acclaimed 2005 Cabernet Sauvignon, imported exclusively for our members.
DISCOVER OUR FOUR CLUBS