Rapeneau's Premier Cru Grande Reserve Brut captures the light, frivolous side of Champagne as this Premier Cru Grand Reserve captivates the audience with pretty aromatics, a persistent mousse, and soft round flavors that leave the mouth refreshed and begging for more. Fun, yet thoroughly captivating, Ernest Rapeneau's Premier Cru Champagne reinforces Champagne's centuries-old reputation as the wine of celebration, conviviality, and good cheer.
In this elegant Champagne savory scents and flavors of freshly picked golden apples and oven baked bread straight from the oven caress the nose and delight the palate. Soft, seductive, and ohhh so easy to drink, Ernest Rapeneau's Premier Cru Grande Reserve Brut brings its welcome with it, again and again as it disappears quickly down the thirsty throat. We strongly recommend that the Ernest Rapeneau Grande Reserve Brut, like all sparkling wines under pressure, be well chilled (37º F) before opening and serving. Once in the glass you can allow this delightful bubbly to open slowly and reveal its innate charms. Enjoy!
Champagne has been called the "The Belle of Ball," and indeed Ernest Rapeneau's Premier Cru Grande Reserve Brut fosters that image. Consequently, we suggest serving the comely Rapeneau Premier Cru Brut as an aperitif or the "opening act" to a party or celebration. In short, we could think of no better way to spend an evening than to have an unending supply of Rapeneau's Premier Cru in our glasses. What more could one ask than to sip this wine the whole night through? Yet, we must also confess to thoroughly enjoying Ernest Rapeneau's elegant Champagne with well prepared seafood. Smoked salmon with capers, onion, and a soft spread of cheese is a wonderful accompaniment to this wine, but our favorite offering with the Rapeneau Grande Reserve is wild Coho salmon, cooked in white wine, fresh lemon, butter, and thin slices of sautéed onion. Salmon and Champagne seem to have a natural affinity, and the Rapeneau Grand Reserve with Coho salmon offers an ideal pairing. Canapés, creamy cow's milk cheeses, and salty foods provide other satisfying accompaniments to this fine Brut Champagne. Poultry and light fruit and vegetable medleys offer additional choices. Although fine Brut Champagne (dry Champagne) can be enjoyed at any time, it is unquestionably at its best before or with a meal, not afterwards or with dessert. Waiting to serve dry Champagne at the end of an evening or celebration is the primary reason some people choose not to imbibe. Sweet or sugary concoctions tend to throw Brut Champagne off balance, so we suggest enjoying "The Belle of the Ball" while the night is young. Salut!
Ernest Rapeneau is one of the largest of the family owned Champagne houses. Yet, for nearly 100 years Rapeneau has made very little wine under its own name. Instead, this venerable house has excelled in fashioning fine Champagnes under many of the world's most recognized labels. However, in recent years Rapeneau has begun bottling several very exciting Champagnes under the Rapeneau name. The most compelling of Rapeneau's own special Champagne offerings is this month's feature, the Ernest Rapeneau Premier Cru Grand Reserve Brut. Rapeneau also makes a pretty Champagne Rosé and a respectable entry level Brut. Look for more excellent offerings from this premier estate as they expand their portfolio.
Champagne is an ancient province of France, a pastoral land of meadows and streams and most importantly chalk hills upon which some of the world's choicest grapes are grown. Champagne's boundaries are delimited by law and its wines strictly regulated by the laws of Appellation Contrôlée as to permitted grape varieties (almost exclusively Chardonnay, Pinot Noir, and Pinot Meunier), yield, production, and quality. Yet, Champagne is more than a place; it is also a wine. In fact, Champagne is several different wines – only the most recognizable of which is white and bubbly.
Although Champagne can be still or sparkling, white or red, and even rosé, the wine the world has come to know as Champagne is always sparkling. So synonymous now is the name Champagne with sparkling wine that the nomenclature has been applied generically and indiscriminately to any wine that bubbles, much to the regret of the Champagne producers themselves. Authentic Champagne comes only from the Champagne district of France and meets all the approved legal requirements and standards of production, including absolute adherence to the painstaking Mé thode Champenoise, which requires that secondary fermentation take place in the bottle for sparkling Champagne.
The magic of Champagne (at least the bubbly kind that now encompasses the overwhelming majority of wine produced in Champagne) comes from encapsulating the bubbles in the very bottle in which the wine starts its life. In the old days, long before the advent of technical wine equipment, temperature control, and central heating, the slow fermentation of grapes in the cool Champagne autumn was often interrupted by winter's chill. With the onset of winter, fermentation would stop completely or at least appear to cease, so the wine was bottled and prepared for distribution. However, the following spring temperatures would rise and the fermentation process would begin anew. This delayed completion of fermentation is known as secondary fermentation. Secondary fermentation produces the beautiful bubbles and tiny streams of carbon dioxide that have come to enchant several centuries of well wishers and hedonists. What began as serendipity is now one of the wine world's highest art forms.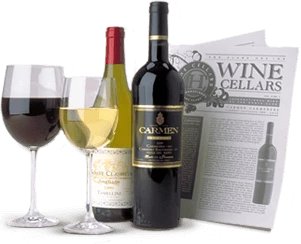 Enjoy Limited Production Estate
Bottled Wines
Discover limited production estate bottled wines such as Vergenoegd's internationally
acclaimed 2005 Cabernet Sauvignon, imported exclusively for our members.
DISCOVER OUR FOUR CLUBS