Purity and sophistication mark the regally robed 2020 Quinta Nova Reserva Terroir Blend (95 Points – Decanter; 92 Points – Wine Advocate). The wine's brilliant ruby/purple robe first captures the eye before seducing the nose with dazzling aromatics. A bouquet of cherries, raspberries, roses, and violets along with the sensuous scent of rain washed woodlands greet the nose. Ample and expansive on the palate, the 2020 Quinta Nova Reserva Terroir Blend reveals juicy berry flavors, delicate spice tones, and a delightful hint of forest floor. Sensuous and elegant, yet fully endowed, the 2020 Quinta Nova Reserva Terroir Blend combines the best of Old World Douro with today's penchant for charm and complexity. Rich ripe tannins carry all this goodness to a smashing finish. Juicy, intense, crystalline, and complex, the 2020 Quinta Nova Reserva Terroir Blend is an absolutely delicious expression of the Douro and its indigenous grape varieties. For optimal enjoyment, afford this polished Portuguese red at least 30 minutes of aeration before serving at cool room temperature (no more than 58°-62° F). Enjoy now or cellar for several more years; you won't be disappointed. Anticipated maturity: 2023-2030.
Portuguese reds make great companions to the rich heady dishes the Portuguese love to devour in copious quantities. Consequently, one need not be afraid of overpowering the youthful 2020 Quinta Nova Reserva Terroir Blend. One traditional accompaniment is Portuguese Bean Soup, a heady concoction of beans, sausage, potatoes, carrots, and almost anything else you care to put in. It makes a wonderful one pot dish and offers a tasty accompaniment to Quinta Nova's 2020 Reserva Terroir Blend. However, a Crown Roast of Pork or Lamb Chops marinated in good Portuguese red wine, onion, garlic, bay leaves, and more provide even more compelling companions. Take note, when the Portuguese talk about marinating, they truly mean marinating – two to three days is hardly off the charts, but we'll let you decide when enough is enough. If more familiar dishes suit you, consider pairing Quinta Nova's exemplary Reserva Terroir Blend with a perfectly grilled Ribeye or Tomahawk steak for another ideal complement. For something simpler, Beef or Pulled Pork Sliders with melted Cheddar cheese and red onion also warrant two thumbs up. Vegetable Lasagna works well, too, but then most meat, vegetable, and cheese dishes will provide tasty companionship to Quinta Nova's exceptional 2020 Reserva Terroir Blend. Enjoy!
Quinta Nova embodies the history and extreme beauty of the Douro, Portugal's most iconic wine region and home to Port as well as the country's most renowned unfortified red wines. Quinta Nova was owned by the Portuguese royal family until 1725 when it became Quinta Nova de Nossa Senhora do Carmo (New Estate of Our Lady of Mount Carmel) when two estates merged. It has been recognized as a bona fide Douro estate since the first demarcation of the Douro in 1756. Throughout the 18th and 19th centuries, several Portuguese families contributed to the growth and importance of the property by giving life to the vineyards, fruit orchards, and olive grove as well as to the property's historic chapel, winery, and manor house, all of which are integrated into the estate's hills. Since 1999, four generations of the Amorim family have been the owners and guardians of this formidable estate. Quinta Nova's 120 hectares (296 acres) of vines climb the steep hillsides above the swiftly running Douro River to bask in the sun and brilliant light that reflects off the river. As one expects from the Douro, red wines account for most of Quinta Nova's production. Quinta Nova's Reserva Terroir Blend (this month's feature) is a traditional blend of Touriga Franca, Touriga Nacional, and Tinta Roriz, and it is also the quintessential Douro red and the estate's most seductive wine. Quinta Nova fashions several other exceptional red wines, including Pomares, a delicious medium-bodied red blend and Mirabilis, a very dense long-lived red. Quinta Nova also fashions small quantities of Pomares Branco, a splendid Douro white wine from indigenous Portuguese varietals. And, of course, Quinta Nova crafts an exceptional portfolio of Ports.
Touriga Franca is the most widely cultivated grape in the Douro and is one of the five recommended grape varieties for Port. It is a deeply colored, highly perfumed, and richly fruity grape that lends both flavor and elegance to the Douro's wines. It is often blended with other Portuguese grape varieties, most notably Tinta Roriz and Touriga Nacional. Touriga Nacional is a distinctive Portuguese varietal that many consider to be Portugal's most important grape variety. It produces a very full-bodied red wine with long ageing potential, which makes it a favorite among the Port houses. It is also increasingly being blended with Portugal's other indigenous varietals, especially in the Douro and Dão regions, where it also accounts for many of Portugal's finest unfortified red wines. Tinta Roriz, also known as Aragones, is Portugal's name for Tempranillo, the Iberian Peninsula's most prized red grape variety. Tinta Roriz thrives on the hills above the mighty Douro River in both Portugal and Spain where the Douro goes by the name of Duero. Tinta Roriz/Tempranillo also figures significantly in the finest wines of Spain's Rioja and Castilla y León.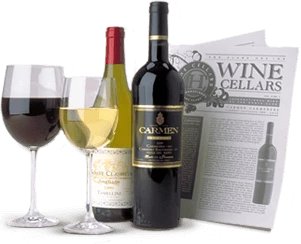 Enjoy Limited Production Estate
Bottled Wines
Discover limited production estate bottled wines such as Vergenoegd's internationally
acclaimed 2005 Cabernet Sauvignon, imported exclusively for our members.
DISCOVER OUR FOUR CLUBS