For those club members who are old enough to remember the old candy commercials for a truly 'serious and sophisticated candy', the 2000 Quinta Do Vallado Vinho Tinto is the enological equivalent. Indeed, the 2000 Vallado is a serious red wine drinker's wine; its deep brooding purple color and its bold somewhat rustic profile recall the best of the wines of yesteryear. No smoke and mirrors, acid balancing, oak chips or other insundry tricks of modern commercial winemaking are employed here. Instead, in the nose and on the palate the rich earth and spice tones of Quinta Do Vallado's native grapes are entwined with copious quantities of full but very dry fruit. A serious, delicious old style red is the result ' a wine that is broad in the mouth and long and very dry on the finish. In other words, the 2000 Vinho Tinto tastes like Port, without the sweetness or headiness of the latter, which comes from the addition of Portugese brandy. Enjoy this medium bodied wine cool (about 64° Fahrenheit) after at least thirty minutes breathing time in a decanter.
As one can imagine, the 2000 Vallado Vinho Tinto can hold up to many bold and spicy foods. The Quinta Do Vallado is an old fashion food wine in the best sense of the term. You need not worry about a serious marinade or a rich garlic-laden tomato sauce ruining the flavor of this wine. In our experience such fare is likely to embolden the Quinta Do Vallado. We heartily endorse grilled meets with this wine, especially freshly made sausage, even those that a pack a moderate amount of heat and spice. Zucchini Parmigiana is another of the panel's favorite choices with the Quinta Do Vallado. In other words, full flavored stick to your ribs kinds of foods, including spare ribs for that matter, provide wonderful companions to the 2000 Quinta Do Vallado Tinto. Enjoy!
Quinta Do Vallado is an old estate, whose origins can be traced to the beginning of the 18th century. Actual historical reference dates to 1716, but the glory days of this fine estate began in 1818 when the Ferreira family of Port wine fame purchased this historical property. The Ferreiras have meticulously maintained Quinta Do Vallado for the last six generations, producing excellent table wines (meaning unfortified wines, not inexpensive plonk) as well as fortified wine from the estate's vineyards. Today, Quinta Do Vallado comprises approximately 132 acres. Much of the current production is devoted to the estate's highly sort after red, Vinho Tinto, although Port is still made from the Quinta's grapes as well. Nearly all of Portugal's finest red varietals are grown at this estate, including Tinta Roriz, Tinta Amarela, Tinta Barroca, Sousao, and the legendary Touriga Nacional and Touriga Francesca, which are known for the production some of Portugal's finest reserve wines. All the wines from Quinta Do Vallado are only very lightly filtered, so like fine Port, even the estate's table wines are apt to throw sediment. Careful pouring or decanting is recommended, especially as this property's wines age and mature.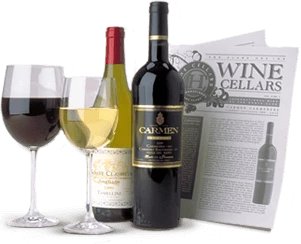 Enjoy Limited Production Estate
Bottled Wines
Discover limited production estate bottled wines such as Vergenoegd's internationally
acclaimed 2005 Cabernet Sauvignon, imported exclusively for our members.
DISCOVER OUR FOUR CLUBS