The deep purple, highly saturated 2015 Puccioni Old Vine Dry Creek Valley Zinfandel (90 Points – Wine Enthusiast) is delightfully aromatic and redolent with floral, fruit, and spice tones. Plump, sumptuous and brimming with cherry, blackberry, and bramble flavors, the 2015 Puccioni Old Vine Dry Creek Valley Zinfandel is an absolute joy to sniff, sip and savor. When Puccioni uses the term "Old Vines," it's no slick gimmick; they really mean it. The Petite Sirah (14%) in the blend dates to the vineyard's original 1904 planting and the Zinfandel (86%) hails from many century-old vines as well. The 2015 Puccioni Old Vine Dry Creek Valley Zinfandel is made in the traditional way with a whole lot of flair and flavor… the way we like it. For optimum enjoyment, we suggest serving Puccioni's classic 2015 Dry Creek Valley Zinfandel at cool room temperature (58°-64° F) after a few minutes of aeration. Anticipated maturity: 2020-2024. Enjoy!
Zinfandel is one of the most versatile of red wines, and the 2015 Puccioni Old Vine Dry Creek Valley Zinfandel is no exception. It provides a welcome companion all kinds of meats, pastas, and traditional Italian favorites such as Lasagna, Pasta Bolognese, Eggplant Parmigiana, and a host of southern Italian specialties steeped in tomato sauce. Penne pasta in a rich tomato cream sauce with chicken, broccoli, and roasted eggplant makes for another splendid accompaniment. Beef and Pork Bracciole make tasty accompaniments, too. Lamb burgers topped with tomato, goat cheese and organic greens earn two thumbs up as well. Grilled herb-encrusted pork chops served with braised greens and polenta, and hummus with roasted red pepper and bits of sun dried tomato provide other fine complements. Buon Appetito!
The Puccioni family is one of the original Italian families in the Dry Creek Valley of Sonoma County, and since 1904 four generations of the family have been growing wine there. Only handcrafted Zinfandel and Petite Sirah are produced at Puccioni, and their wines are made using 100-year-old vines with many vines much older.
Glenn Proctor's great grandfather, Angelo Puccioni, purchased the estate in 1904 and planted its hills with Zinfandel vines, and Petite Sirah undoubtedly, too. Glenn is the fourth generation California winegrower at Puccioni where he and his wife Laurie run the family operation. They farm sustainably and make wine the old fashioned way. In fact, Puccioni was the last vineyard in Dry Creek Valley to give up ploughing with a mule. We invite you to taste and enjoy this month's feature, Puccioni's handcrafted, limited production 2015 Old Vine Dry Creek Valley Zinfandel.
Although its DNA points to Eastern Europe's Primitivo grape as its ancestor and its New World appearance still remains under investigation, Zinfandel has been dubbed "America's own grape variety." In California, Zinfandel produces a wine quite different from its Croatian and Italian forebears, and nowhere is that more apparent and welcome than in Sonoma County – the spiritual home of Zinfandel.
In Dry Creek Valley and along the banks of Sonoma County's Russian River, Zinfandel relishes the cooling Pacific breezes that funnel up the appellations' canyons and valleys as its fruit basks in the long dry summer afternoons, which not surprisingly bring the grape to the pinnacle of perfection. Zinfandel's deep rich colors, intense berry, bramble, and herb flavors, high alcohol, and lush tannins result in wines that fill the mouth and satisfy all of the senses.
One of Zinfandel's keys to success is its extraordinary lifespan, which enables it to produce quality fruit well into old age. In fact, the oldest Zinfandel vineyards (many in California are in excess of 100 years of age) are the most prized. Zinfandel can be quite versatile, too (think White Zinfandel as well as many of California's most celebrated and intense red wines).
As an immigrant to our shores, Zinfandel embodies the American experience. It is a grape that has transformed itself over the last century and a half and honed its own unique identity. In the eyes of many, Zinfandel has become a bigger, better, more complex grape since its arrival in America with a can-do attitude and unique identity all its own.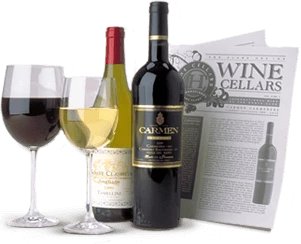 Enjoy Limited Production Estate
Bottled Wines
Discover limited production estate bottled wines such as Vergenoegd's internationally
acclaimed 2005 Cabernet Sauvignon, imported exclusively for our members.
DISCOVER OUR FOUR CLUBS