The 2004 Praxis Viognier is classic Viognier: floral, highly aromatic, deceptive, and seductive … right down to the last drop! From its lovely flower scented, fruit driven nose that seems to combine forsythia, jasmine, apricot, and pear into a single waft, one suspects this Viognier to be sweet, but alas not so. How deceptive and seductive Viognier can be, and utterly satisfying, too! The 2004 Praxis possesses lots of concentrated fruit and great acidity, which offer intensity and allow the wine to finish dry. Apricot, lime, subtle spice, and just a hint of exotica haunt the mid palate and silky textured finish of this charming Viognier, making it as quaffable as the frosty water of a mountain spring … with nearly 14° alcohol. Consider yourself forewarned. We suggest serving the 2004 Praxis Viognier fairly well chilled (about 40° F).
The glory of Viognier is its chameleon like ability to adapt to its surroundings, and the 2004 Praxis is no exception. This wine is a crowd pleaser, with or without food. Some tasters characterize Viognier as a theoretical blend of the best of Chardonnay and Riesling; and although this analogy may be a bit simplistic, it affords the imagination a wonderful array of culinary possibilities to explore with Viognier. Seafood, Chinese, Thai, and Vietnamese specialties go especially well with the 2004 Praxis Viognier. Soft crusted and non-crusted cheeses, with homemade bread and freshly sliced pear, provide ample evidence of just how easy and adaptable this delicious Viognier can be. Bon appétit!
The erudite Bill Arbios, longtime winemaker and consultant for Jarvis, Lyeth, Fieldstone, and Souverain wineries among others is the artist and scientist behind Praxis. Praxis, the Greek word for practice, is hardly something Bill Arbios lacks; he has made wine for more than three decades, but Bill is a modest fellow with a lot of talent who likes to get things right. Bill and his patient wife Susan launched Praxis several years ago as an outgrowth of their Arbios Cellars Cabernet Sauvignon, which first debuted in 1993 with a mere 125 cases. Today, the entire production of Arbios Cellars remains at a modest 3000 cases – more than ample testimony to Bill's insistence that "winemaking is not like being in a factory – it's creating a work of art … winemaking defines the essence of my life; transforming a challenge into a vision of elegance, grace and power." Praxis wines are all 100% varietal offerings. In fact, most of this property's wines are even produced from a single vineyard. Bill Arbios believes in allowing the nature of the grape variety and the natural terroir to express themselves in his wines. Consequently, he eschews blending as well as excessive manipulation. Bill's philosophy is simple and can be summed up in the words of Bill's early mentor, Lee Stewart: "buy the best grapes you can, spend more money than you can afford on the barrels, and don't screw it up." Essentially, this is the secret to great wines. Unfortunately, many winemakers miss the simple logic here and continue to manipulate their wines until they lack focus and are nearly unrecognizable. From Praxis, you can count on receiving only real wines that reflect individual grape varieties and their respective terroirs. Presently, the Praxis line of wines include a very tangy quaffable Sauvignon Blanc, a classic perfectly balanced Viognier, a lovely Burgundian style Pinot Noir that outshines many of its French cousins in Burgundy, a spicy Syrah, and a powerful full throttle Merlot.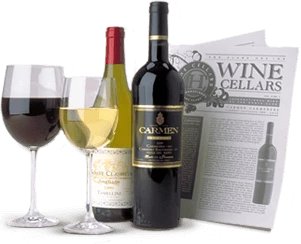 Enjoy Limited Production Estate
Bottled Wines
Discover limited production estate bottled wines such as Vergenoegd's internationally
acclaimed 2005 Cabernet Sauvignon, imported exclusively for our members.
DISCOVER OUR FOUR CLUBS