Prager's Steinriegl Riesling is not your ordinary Riesling, and the 2007 Prager Steinriegl is no exception, so before you taste this wine throw out all preconceived notions and past experiences of sugary sweet, cloying wines, which all too often haunt this great varietal. First and foremost, Austrian Rieslings are nothing like their German counterparts. In the Prager Steinriegl Riesling, an enthralling bouquet of apple blossoms and almonds marks this single vineyard Riesling as both special and unique. As one sips, a subtle minerality followed by the soft savor of spring flowers fill the mouth, but this is no flabby offering. Racy acidity and an extraordinary depth of flavor spread across the palate. Fruit, liquid minerals, and the zest of lemon form a long, dry finish on the 2007 Prager Steinriegl Riesling, so this wine bears no resemblance to its insipid German cousins. For the record, this is one big-boned Riesling, so we suggest you open it a bit ahead to let it breathe, as you would a fine red wine. We also suggest serving this wine only moderately chilled (40°-45° F).
Asian cuisine, artfully crafted Fusion dishes, and sophisticated seafood choices fare extremely well with the 2007 Prager Steinriegl Riesling. This is no wimpy Riesling; it can hold its own with a good bit of heat and spice. In fact, we think it is truly at its best when pushed to perform. Normally, artichokes, asparagus, and citrus can pose problems when paired with many white wines, but not so with this Prager Riesling. Tilapia with tomatoes, artichokes, and olives; and Grilled Monk Fish served with a mango and citrus chutney provide excellent foils for the wine, without overpowering it. Lightly Curried Shrimp provides another tasty accompaniment. Country pâtés and aromatic, full-flavored cheeses also respond well to this spunky Riesling. A hearty rotisserie chicken salad with rosemary and walnuts makes for yet another splendid accompaniment to the 2007 Prager Steinriegl Riesling. Enjoy!
The Prager winery is among Austria's most famous and highly regarded wineries. Located in the Wachau, a supremely beautiful section of the valley of the Danube River that lies just to the northwest of Vienna, Prager is also one of the largest producers in this very traditional wine region. While this modest-sized estate produces only about 100,000 bottles of wine per year, Prager's production is enormous by Wachau standards, where the average grower cultivates a plot of less than two acres. However, it is the consummate quality and variety of Prager's wines that truly distinguish this estate from its neighbors. The Prager estate comprises a mere 33 acres of vines, but all of those vines lie in prime vineyards. The Prager vineyards include relatively large parcels in five of the world's finest Riesling crus, including Steinriegl (10 acres), Klaus, Kaiserberg, and Hollerin. These vineyard holdings make Prager the most significant estate producer of top quality (Smaragd) Riesling in the Wachau. In fact, Prager is the only winery in the Wachau that produces more Riesling than Gruner Veltliner, the more prolific local varietal, a fact not lost on the world's Riesling fanatics who have endowed Prager and his wines with nearly cult status. Wachau (va-cow) Along the flow of the Danube, as it passes out of the mountains and courses towards Vienna and the East, lies a fortunate and idyllic set of curves in the river. Here the Danube widens and slows, passing smoothly and calmly by the small villages and mighty terraced hillsides that are known as the Wachau Valley. Renowned for centuries as a prime location for the growing of many vine and tree fruits, as the slopes at this enchanted place along the river provide access to long days of sunlight and the fresh cool breezes from the forests just to the north, this small region has vaulted in the past two decades to the forefront of quality in the production of Austrian wines. It is in the Wachau that a group of growers founded 25 years ago the Vinea Wachau Nobilis Districtus, a growers association to protect and promote the unique character of the valley's wines. Within the range are allowed three categories: Steinfeder (meaning the lightest, or "feather light") -- which are easy drink wines that are mostly consumed locally; Federspiel (named for the instrument used in the call and tether aspect of falconry) – exemplary of a house style, these are wines of the middle harvest that can be enjoyed young or after several years of aging; and Smaragd ("Emerald" for the small green lizards that live on the stone terraces of the vineyards) – the reserves, the "jewels" of the region, typically single-vineyard designated wines of more than 12.5% alcohol that are capable of long term aging and development. They are typically higher in alcohol than Federspiel and often contain a hint of residual sugar as well, making Federspiel wines the more sought after on this side of the Atlantic. Riesling (rees-ling) Riesling is one of the most important white wine grapes in Germany, and also one of the most celebrated grape varietals worldwide. It is grown extensively in its native Germany as well as in Austria and the Alsace region of France, but to a different tune. In Austria and Alsace its wares are more likely to be dry rather than sweet. And like Chardonnay, Riesling has wandered the globe, where it has gained enormous popularity in Australia, New Zealand, and Eastern Europe. Considerable holdings exist in Canada, California, Oregon, New York, and Washington State, too. Well-made wines from Riesling are balanced with strong fruit flavors and sufficient acidity to make them long lived. Although Riesling is often associated with sweet wines, this is not always the case. Riesling accounts for some of the world's finest dry white wines as well as sweet white wines.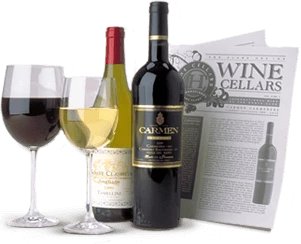 Enjoy Limited Production Estate
Bottled Wines
Discover limited production estate bottled wines such as Vergenoegd's internationally
acclaimed 2005 Cabernet Sauvignon, imported exclusively for our members.
DISCOVER OUR FOUR CLUBS