A dry, medium-bodied, yet delightfully, full-flavored wine, the 1999 Poggio del Lupo Orvieto sports the clear golden-hued role of classic Orvieto. Fragrant and refreshing, this Orvieto goes down easy. Hints of pineapple and peach are detectable on the palate, adding to the wine's subtle complexity. Drink this Umbrian classic moderately chilled.
Orvieto is often considered to be one of Italy's finest aperitifs and certainly the Poggio del Lupo is no exception. However, our experience leads us to suggest, even implore, that you not take this lovely Orvieto for granted. Paired with seafood, especially shellfish, light pasta dishes, particularly those with garlic and oil, all of the latent goodness in this wine gushes forward. Even a lightly spiced Hunan chicken or similarly endowed Asian dish will bring out the strength and vigor in this wine. Buon Apetito.
Situated majestically atop a high bluff in Umbria, the hill town of Orvieto has been famous for winemaking since the pre-Roman time of the Etruscans. Ancient cellars were carved from the underlying tufa. During a later era, when the popes used the town as a retreat from the summer heat of the Vatican, the golden, soft abboccato wines of Orvieto won a number of devotees from the Holy See. The most famous legend is that of Pope Gregory XVI, who stipulated in his will that his body be bathed in the wine of Orvieto before his funeral. Today, most of the modern white wine from Orvieto's 30 bottlers is dry rather than sweet. Conversion to newer winemaking technology has elevated the overall quality, but sadly, the average commercial Orvieto lacks the luster of Orvieto's ancient reputation. However, the excellent quality for both dry and sweet wines can still be found among the few estate producers among the 650 growers surrounding the town. Poggio del Lupo is one of Orvieto's fine, small estates, (60 acres, 30 planted in vines). Their Orvieto is made from a blend of 50% Procanico (a superior, local variety of Trebbiano), 20% Verdello, 10% Grechetto, 10% Drupeggio, and 10% Malvasia. Antonio Ortu is the proprietor and impetus behind Poggio del Lupo. He is an interesting story. After his father's death, in the 1960's, Antonio Ortu directed his family's several thousand acre estate in Libya. When Qaddafi came to power in the 1970's, all Italians were expelled. Ortu, forced to flee on one day's notice, arrived penniless in Italy. He became interested in grape growing and winemaking; purchased a small property north of the town of Orvieto; gradually planted vineyards and built a small winery. His drive to remake his life after losing everything, has culminated in this excellent wine.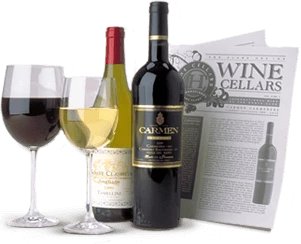 Enjoy Limited Production Estate
Bottled Wines
Discover limited production estate bottled wines such as Vergenoegd's internationally
acclaimed 2005 Cabernet Sauvignon, imported exclusively for our members.
DISCOVER OUR FOUR CLUBS