Bedecked in such a saturated purple robe, and anointed with the regal scents of eucalyptus, black raspberry, plum, spice and new oak, the 1999 Plantagenet "Omrah" could only be of the House and lineage of "Syrah", or should we say "Shiraz" – the ancient name of Australia's most noble varietal. While deep, brooding and loaded with alcohol, flavor and power, the "Omrah" Syrah is no despot in the glass. The wine reveals considerable charm in the form of a lush, velvety mid-palate and its authoritative finish is strong but not rough, thanks to ripe, well-integrated tannins. This lovely wine drinks quite well, especially after a little breathing time; yet, with another year or two in bottle, we predict even more majestic flavors will emerge from the Omrah. Open about an hour before serving and enjoy!
Australians will typically choose lamb or beef to accompany their finest Shiraz, and we certainly wouldn't argue with either of those choices. However, slow-cooked baby back ribs, smothered in homemade barbecue sauce, make for another grand accompaniment to the delicious 1999 Plantagenet "Omrah" Shiraz. A Jamaican jerk-rubbed pork tenderloin or chicken would also fill the gustatory bill. In addition, traditional Caribbean dishes such as: Cuban black beans and rice with "mojito" and free range chicken roasted with garlic, herbs and island spices also make first rate choices with this Plantagenet offering. Stew, game and marinated kebobs are other exemplary offerings with the 1999 Omrah. The spicier the dishes, the cooler we would suggest you serve this Shiraz (but not below 60°F).
Plantagenet wines are some of the most sought after high-profile wines in Australia. In fact, over the past three decades this winery has developed something of a cult following, Plantagenet makes a bevy of stylish, elegant, structured wines that exhibit complexity, balance and finesse. All Plantagenet wines are estate bottled with grapes grown on only 200 acres of a sprawling 8,000 acre property. The Plantagenet winery is located in the Mount Barker region in the very southwestern corner of Australia. Plantagenet has the distinction of being the first winery in the Mount Barker region and the first winery in the area to produce a commercial wine under its own label. The original vineyards were planted in 1968 by jackaroo – turned viticulturalist Tony Smith. Shortly after emigrating from England, Tony purchased 8,000 acres, thinking the property would be ideal for sheep and cattle raising as well as grape growing. Some 33 years later, he still maintains livestock, but happily Tony chose to dedicate the best part of this great estate to viticulture and winemaking. All Plantagenet's wines are estate bottled by Gavin Berry, a Roseworthy (Australia's most renowned school of oenology and viticulture) graduate and Plantagenet's winemaker since 1988. The Plantagenet name is derived from the ancient Royal Family of England (Richard the Lion Hearted, el al) who ruled England and a good part of France in the 12th century. Geoffrey Duc d'Anjou was nicknamed Plantagenet because he wore a sprig of broom (Planta Genista) in his helmet whenever he went into battle. When the first settlers came to the area near Mont Barker, they found a similar broom plant and named the shire Plantagenet. The Plantagenet Vineyard is located some miles inland and approximately 1,000 feet above the gleaming Indian Ocean. This area around Mount Barker is generally cooler than Margaret River, its more famous neighbor to the north. In fact, the Mount Barker region closely resembles Bordeaux in climate, with a predominantly winter rainfall, warm summers, and cool nights. The vineyards see little rainfall in the spring which helps prevent mildew and cuts down considerably on the need to spray. Such fine growing conditions also help maintain a crisp fruit balance in white varietals and produce spicy, elegance in the red wines. A fine array of grape varieties grow well in the Mount Barker area, including Chardonnay, Riesling, Pinot Noir, Cabernet and early ripening Shiraz. In addition to Plantagenet's two Mount Barker Estate bottled wines, Chardonnay and Shiraz, Gavin Berry also produces three premium wines at Plantagenet under the "Omrah" label. The philosophy behind Omrah is to produce a consistent range of fine wines from year to year, emphasizing fresh and vibrant varietal character, full ripe fruit and balanced acidity. In order to produce such wines in Australia, or almost anywhere for that matter, grapes grown in varying microclimates are necessary. Consequently, the grapes from Omrah come from Plantagenet's cool climate estate vineyards and from select warmer area vineyards, usually in South Australia. Omrah whites are made with no oak, so as not to interfere with the wine's fresh fruit flavors. Omrah Chardonnay is, in fact, the very first unwooded Chardonnay ever produced in Western Australia. Conversely, the Omrah Shiraz is barrel aged for at least 12 months in a combination of French and American barriques, underscoring the ability of Shiraz to absorb oak, without stunting the flavor of the varietal. Employing both French and American barrels simply adds complexity and dimension to this estate's flagship varietal. A delicious Merlot/Cabernet Franc blend is also produced under the Omrah label.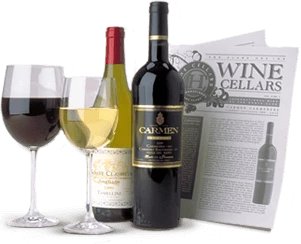 Enjoy Limited Production Estate
Bottled Wines
Discover limited production estate bottled wines such as Vergenoegd's internationally
acclaimed 2005 Cabernet Sauvignon, imported exclusively for our members.
DISCOVER OUR FOUR CLUBS