Signature Collection wines represent the very best of Pietra Santa's estate wines and honor the legacy of Frenchman Theophile Vache who founded the estate in the 1850s. Vache chose the site because of the remarkable soils, rich in limestone and shale due to their location on the San Andreas Fault. In his honor Pietra Santa dedicates these exceptional wines crafted from hand chosen blocks and made with the finest care and attention. Pietra Santa's 2011 Signature Collection Pinot Noir is the estate's first Pinot Noir to be granted Signature Collection status and it certainly warrants that distinction. Only 285 cases of this premier offering were made. The wine is deep in color for Pinot Noir, a grape typically light in color, and it carries fine fruit aromas reminiscent of wild strawberries and raspberries and delicious spicy flavors that are both immediately appealing and full of promise. Subtle hints of cola and lavender well up in the mid palate and meld with the wine's cache of fruit, spices, fine grained tannins and well-integrated wood tones. The resulting wine offers a unique combination of refinement and deep down flavors. Afford the 2011 Pietra Santa Signature Collection Pinot Noir thirty minutes of aeration and drink it happily now and over the next 5-7 years at cool room temperature (60°-65° F).
Like all of Alessio Carli's impressive progeny, the 2011 Pietra Santa Estate Grown Signature Collection Pinot Noir was made to grace the table in the company of a variety of foods. The Blackburn family and winemaker Alessio Carli enjoy cooking and pairing their favorite recipes with Pietra Santa's wines. The family's homemade Caponata, a delicious eggplant dish, earns high praise to pair with the delicious 2011 Pietra Santa Signature Collection Pinot Noir. Chicken, pork, and grilled salmon provide other tasty pairings to accompany this wine. However, Rack of Lamb, prepared with plenty of roasted garlic, olive oil, and fresh herbs, rates another family endorsement, and to our mind is the best choice to accompany the estate's most complex Pinot Noir. Pastas served with cream based sauces provide pleasing accompaniments, too. Roasted game birds served with onion foccacia and roasted root vegetables also provide good company to the 2011 Pietra Santa Signature Collection Pinot Noir. And although made to accompany fine foods, this impressive estate Pinot Noir needs only a clean glass to provide an enjoyable evening. Enjoy!
Pietra Santa is a family run estate producing outstanding artisanal wines and olive oils. It is located 25 miles from Monterey Bay in the beautiful Cienega Valley. Founded in the early 1850s by Frenchman Theophile Vache, it is now owned by the Blackburn family. Pietra Santa fashions an array of delicious wines, thanks to the acumen of Italian winemaker Alessio Carli and the estate's unique terroir. The estate's proximity to the coast allows cooling maritime breezes to temper the summer sun, resulting in a long growing season and vibrant balanced wines. Moreover, the winery is located on the San Andreas Fault, which has created soils rich in granite and limestone that naturally lower vineyard yields and add distinctive flavors to the wines. The winery was named Pietra Santa, Italian for "Sacred Stone," in honor of these exceptional soils.
Although Pietra Santa spans more than 400 acres spread across Cienega Valley, adjacent bench lands, and the nearby Gabilan Mountains, only 120 acres are devoted to wine grapes. Each of the winery's nine grape varieties benefits from the estate's varied terrain. Chardonnay and Pinot Grigio enjoy steep, terraced hill-sides where they thrive under the bright morning sun as well as cool, afternoon shade. Meanwhile, Pinot Noir and Sangiovese are grown on the moderate bench land, while Zinfandel, Cabernet Sauvignon and Mer-lot are planted in the deepest parts of the valley to receive maximum sun exposure. Pietra Santa's oldest vineyards date to 1905.
What is perhaps most impressive about Pietra Santa is how winemaker Alessio Carli brings out the best in each of Pietra Santa's varietals, and most especially in the estate's Signature Collection wines. The 2011 vintage is the estate's first bottling of Signature Collection Pinot Noir.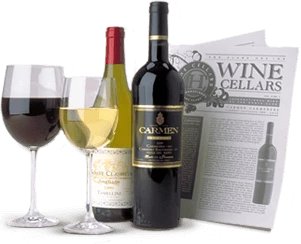 Enjoy Limited Production Estate
Bottled Wines
Discover limited production estate bottled wines such as Vergenoegd's internationally
acclaimed 2005 Cabernet Sauvignon, imported exclusively for our members.
DISCOVER OUR FOUR CLUBS