The 2005 Picket Fence Russian River Valley Chardonnay oozes old world charm and sophistication. From a golden-hued cup, an enchanting fruit bouquet of apricot and pear dances across the nose, bringing a smile of anticipation to our lips. Once in the mouth, a silky smooth texture evokes images and emotions of comfort and security just as the Picket Fence name and logo suggest. Complex and fruity, the 2005 Picket Fence Chardonnay offers up lemon, citrus and pear notes that mingle across the tongue and hold fast, giving this wine a wonderfully full center. Perfectly balanced, the 2005 Picket Fence Chardonnay remains connected and cohesive throughout. With a firm, yet mellow backbone derived from aging in French oak barrels, this Chardonnay introduces subtle, complex woodsy nuances while it preserves its old world style and intent to carry the fruit flavors to the end. An elegant, long finish adds to our appreciation with its pleasant persistence and vitality. Overwhelmingly, the Picket Fence Chardonnay 2005 wins our praise. Its elegant texture and perfectly balanced composition make it a wine to savor and to share with friends who also appreciate a classy, sophisticated Chardonnay. Serve at 50° F to enjoy the wine's full flavor.
The 2005 Picket Fence Russian River Valley Chardonnay pairs well with a variety of foods. We, for example, have enjoyed this wine with simple skewers of grilled seasonal vegetables basted with olive oil, rosemary, sage, and thyme over cous-cous for a back-deck family meal. For entertaining, however, we have more ambitious suggestions that fall into one of two camps – either rich, substantive dishes or slightly sweet, al fresco choices. In the first category, possible appetizers include Oysters Rockefeller, clam chowder or other creamed soups, even salmon pâté. Although not classical stand alone entrées, we like main courses of Fettuccine Alfredo or Risotto Milanese w/ saffron for their nuanced flavors and creamy textures that mirror the silkiness of the Picket Fence Chardonnay. The second category of dishes includes our grilled vegetables, to which we should add corn on the cob grilled to a caramel-like glaze, crisp lentil salad with feta cheese, and our featured recipe of Grilled Fennel Chicken with Pesto whose flavors excellently complement the fruit flavor profile of the Picket Fence. A cheese course or slightly sweet Gruyere or Gouda should just about finish off an enjoyable evening and bottle of the 2005 Picket Fence Chardonnay.
"Home is a place you grow up wanting to leave, and grow old wanting to get back to it." —John Ed Pearce Picket Fence is a family owned vineyard in California's beautiful Russian River Valley. Here, proprietor Katy Leese has teamed up with Don Van Staaveren, one of California's most celebrated winemakers, to produce some of the finest Chardonnay and Pinot Noir in the entire appellation. And when one considers the address, it is obvious that the Russian River Valley does not lack for talent or beg for notoriety. With such legendary names as Patz and Hall, Paul Hobbs, Rochioli, Siduri, and Williams Selyem as neighbors, it is obvious that Picket Fence enjoys good company. More importantly, the folks at Picket Fence want you to feel at home, too, and enjoy their wines. Consequently, we are sure you will be hearing a lot more about this great new venture. For now, we are content that we found Picket Fence before the world found it . . . because let's face it, there is only so long that a secret remains a secret, especially in a family. Katy Leese chose the name Picket Fence to reflect what she calls "the incredible sense of place that is embodied in her family's vineyard and Russian River Valley home and to pay tribute to the belief that picket fences are a timeless symbol encircling what we cherish most." One taste of this family's extraordinary wines will solidify the image of coming home, as Picket Fence Chardonnay and Pinot Noir embody not only this special place Katy calls home, but the name carries with it part of the incredible people who make the wine, too. For starters, the Vineyard Manager at Picket Fence is none other than the meticulous Pete Opatz, the current and past president of the Sonoma County Grape Growers Association and a man with a long history of producing great Sonoma County fruit. He has worked his magic at Chateau St. Jean and many other premium wineries for over thirty years, before coming to Picket Fence. Paired with Don Van Staaveren, the only winemaker in history to have five wines in the Wine Spectator's top 100 in the same year, including the # 1 wine, these two gentlemen make for a formidable team. Pete and Don's collaboration constitutes one of California's greatest parings: Picket Fence is the latest testament to both men's dedication and acumen. In addition to fashioning 7,000 cases of outstanding Chardonnay, Picket Fence also turns out small quantities of excellent Pinot Noir. Russian River Valley The Russian River Valley appellation or American Viticultural Area (AVA) is one of the largest and most important appellations in California. The Russian River AVA is centered in Sonoma County, south and west of Healdsburg, as it follows the Russian River itself towards Guerneville and the Pacific Ocean. The southwestern end of the AVA lies just 55 miles north of San Francisco's Golden Gate Bridge. Along the cool fog shrouded banks of the Russian River one finds some of the finest Chardonnay and Pinot Noir in the world. Chardonnay constitutes the largest single grape variety in the valley, but Pinot Noir is fast catching up. At present there are more than fifty wineries, hundreds of grape growers, and more than 16,000 acres of planted grapes in the Russian River Valley. The well drained soil and cool climate of the Russian River Valley provide some of the longest hang time for grapes in California, which translates into fine, balanced wines of distinction.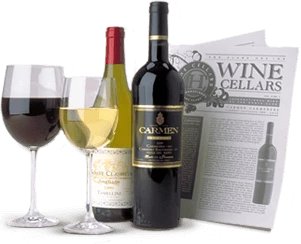 Enjoy Limited Production Estate
Bottled Wines
Discover limited production estate bottled wines such as Vergenoegd's internationally
acclaimed 2005 Cabernet Sauvignon, imported exclusively for our members.
DISCOVER OUR FOUR CLUBS