Pouilly-Fuissé has been called the quintessential aperitif and the world's most drinkable white wine, so we are happy to say that the 2002 Michel Picard Pouilly-Fuissé certainly supports those accolades. From the first glimpse of its bright yellow robe to the telltale ethereal finish that can only spell seduction by Pouilly-Fuissé, the Michel Picard is a charmer and consummate crowd pleaser. Scents of citrus, stone fruits, freshly baked bread, soft ripe cheese, and more haunt the nose and beg for another sniff as they implore a taste. Gentle, ripe, and round in the mouth, the Picard Pouilly- Fuissé reminds us of why the wines of the illustrious Pouilly-Fuissé commune have been called the world's most drinkable wines because they are. Indeed, it would be hard to find a Chardonnay that goes down easier than this elegant offering from Michel Picard. Although opinions, like tastes, vary, we suggest serving the Picard Pouilly-Fuissé well chilled (about 40º F). You can always let the wine rest in the glass until it reaches a more ambient temperature, but that is only if you can resist its utter enchantment.
Seafood and the fruits of the sea provide excellent accompaniments to the 2002 Michel Picard Pouilly-Fuissé. Whether baked, grilled, poached or sautéed, fresh flounder, sole or sea bass pair beautifully with this elegant white wine. Scallops, shrimp, lobster, and prawns offer other tried and true pairings. However, a bowl full of mussels, sautéed in a light saffron cream sauce, remains our perennial favorite. Chicken fricassee works well, too. However, the glory of Pouilly-Fuissé, and the Michel Picard is no exception, is its ability to shine on its own, unadorned or obliterated by food. Indeed, the 2002 Michel Picard Pouilly shines in the company of a single, thin, well-made glass and supplies the aperitif par excellence. Better still, call a friend and pour two glasses then wait for the enchantment to begin.
Picard Père et Fils is one of the largest wine producers and négociants in Burgundy and, with nearly 300 acres of vineyards, Michel Picard is also one of Burgundy's largest landholders. Although modest in size by California and by most other New World standards, Picard's domain defines the pinnacle in Burgundy, France's most famous wine region. As part of his vast holdings, Michel Picard owns at least five distinct historical estates in Burgundy, including his latest acqui-sition, the Château de Chassagne-Montrachet, which serves as the company headquarters. He also produces an excellent array of red and white Burgundies, which bear the Michel Picard label, most notably Chablis, Pouilly Fuissé, and Beaujolais-Villages. Despite the growing size of this vast estate, wine remains very much a family affair at Picard Père et Fils. Michel's father began the family business in 1951and Michel joined the family enterprise when he was only 16 years old. Picard's wife, Liliane, is also part of the business. Her family has produced many generations of winegrowers. Today, even the Picard's son and daughter, Gabriel and Francine, are an integral part of this growing concern. By all accounts, Michel Picard is a very accomplished and talented individual. In addition to consistently producing a superlative array of wines and owning 30 independent retail shops and related wine facilities for bottling and printing, Picard serves as mayor of Chagny in Burgundy, a position he has held since 2001. Motivated by a desire to change the town's political climate, Michel entered the race only two weeks prior to the election, and won. However, there is even more to Michel Picard than fine wine and civic pride. Michel is also a true patron of the arts. He has commissioned a number of major art works in Burgundy, and he is dedicated to preserving the ancient Flemish art form of tapestry production. And in his spare time, Michel serves on the Board of the internationally acclaimed culinary school Ecole des Arts Culinaires de Lyon, which is directed by Chef/Restaurateur Paul Bocuse. Not surprisingly, Michel Picard wines are the sponsoring wines at the school representing Burgundy. Moreover, Michel Picard has long been an enthusiastic supporter of the legendary Hospice de Beaune wine auction, one of the oldest charitable endeavors on earth. In fact, Michel has been among the top three purchasers at the auction since 1995. Each year he purchases an average of 50 barrels at the Hospice de Beaune event. During the mid 1990's, when several key purchasers decided not to participate in the auction, Michel Picard personally traveled throughout Burgundy to encourage négociants to support the auction and preserve the tradition. Michel Picard's efforts and dedication have helped preserve the grand tradition of the Hospices de Beaune wine auction one of the wine world's premier events.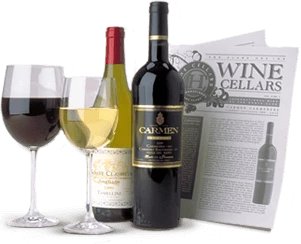 Enjoy Limited Production Estate
Bottled Wines
Discover limited production estate bottled wines such as Vergenoegd's internationally
acclaimed 2005 Cabernet Sauvignon, imported exclusively for our members.
DISCOVER OUR FOUR CLUBS