Philipponnat's Royale Réserve Brut is one of the most traditional of non-vintage Champagnes. It's a blend primarily of Pinot Noir grapes from the southern slopes of the fabled Montagne de Rheims – Champagne's greatest vineyards – to which lesser amounts of Chardonnay and Pinot Meunier are added. Full, rich, and dry, Philipponnat's Royale Réserve truly lives up to its reputation as a connoisseur's Champagne. Royale Réserve is bright in color and redolent in aroma with the scents of apple, apricot, currant, freshly baked bread, nutmeg, and citrus zest. Moreover, it comes across as immediately gratifying. In the mouth, this delicately beaded Champagne caresses the palate as it continues to offer a wealth of creamy flavors and a textured, sophisticated feel before making a grand exit. Fresh, deep, and uncommonly persistent for non-vintage Champagne, the Philipponnat Royale Réserve Brut provides ideal drinking in the traditional style of grand Champagnes. We suggest serving this fine Champagne fairly well-chilled (38º – 40º F) and exercising caution when opening.
In Champagne, hors d'oeuvres, smoked salmon, and charcuterie provide traditional accompaniments to fine Champagnes to which we vigorously nod our approval. Although ideal as an aperitif, the full flavor and sophistication of the Philipponnat Royale Réserve Brut make it the perfect partner to accompany grilled fish, scallops, and most seafood specialties served with delicate cream sauces. For the record, steamed Alaskan king crab legs served with warm drawn butter constitutes one our favorite accompaniments. Poultry and puff pastry provide other excellent pairings with this prestigious Champagne. Freshly cut slices of apple and pear accompanied by a plate of creamy cows' milk cheeses such as Muenster, Neufchatel, or Port Salut offer a simple, satisfying accompaniment to a glass of Royale Réserve, too. Nonetheless, we are truly enamored of this superb réserve cuvée as an aperitif, when we can enjoy its delicate perle, frothy mousse, and full velvety flavors without distraction, but as you like it!
Editor's Note: Champagne is a wine that is under pressure. It should always be well chilled before opening. Always exercise caution when opening a bottle of sparkling wine. Never use a corkscrew. Point the bottle away from people and objects. Use a clean towel or cloth to firmly grip the bottle. Gently remove the wire stopper while firmly holding the cork in place. Then with thumb and forefinger, remove the cork slowly from the bottle. Do not let the cork fly. Enjoy! The house of Philipponnat, located in Mareuil-sur-Ay on the southern slopes of the Montagne de Rheims, dates to 1522, which makes it one of the oldest concerns in Champagne. Nonetheless, this relatively small house has always kept a low profile, preferring that its superb portfolio of Champagne wines speak for themselves. Consequently, Philipponnat has been likened to Krug and is known in uncommon circles as a true connoisseurs' Champagne. Michelin-starred restaurants, world renowned chefs, sommeliers, and private clubs constitute the natural ambassadors of Philipponnat's wines. In Champagne, each house creates its own style. The Philipponnat style is uniformly one of power, which is married to grace. From the house's Brut Royale Réserve to its tête de cuvée Clos des Goisses, all Philipponnat Champagnes are full-bodied, highly structured wines that remain delicate and fresh; and with the exception of the Blanc de Blancs (white wine from only white grapes), all rely heavily on Pinot Noir from Champagne's greatest vineyards. In addition, Philipponnat's vintage wines and reserve cuvées age beautifully and gracefully. The date of disgorgement on the back of each bottle of Philipponnat provides an indication of how youthful the wine is. The winery's treasure vault holds a cache of old vintages, some more than 50 years old, which remain in superb condition – testament to the extraordinary longevity of this great Champagne house's wines. In addition to a particularly fine Royale Réserve Brut, which ranks consistently with connoisseurs and critics among the top non-vintage Champagnes, Philipponnat fashions a full-flavored Blanc de Blancs, Vintage Réserve Millésimée and Réserve Rosée Brut, and several specialty cuvées. Clos des Goisses is the most illustrious of these cuvées from a single 12 acre plot of the same name of which Philipponnat retains sole ownership. Clos des Goisses is the most famous vineyard in all Champagne. Consequently, varying amounts of Pinot Noir from Clos des Goisses are added into many of Philipponnat's Champagnes to furnish the additional depth and structure for which this Champagne house is justly renowned.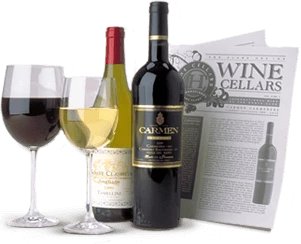 Enjoy Limited Production Estate
Bottled Wines
Discover limited production estate bottled wines such as Vergenoegd's internationally
acclaimed 2005 Cabernet Sauvignon, imported exclusively for our members.
DISCOVER OUR FOUR CLUBS