The 2007 Zemmer Alto Adige Pinot Grigio is another outstanding example of the Zemmer style. This is bright, clean, full-bodied Pinot Grigio that amplifies both the grape varietal and the mineral-rich style of Pinot Grigio for which Alto Adige is renowned. Zemmer has once again hit the mark with the 2007 Pinot Grigio, demonstrating why Alto Adige remains Italy's premier DOC for Pinot Grigio. Wrapped in a sunny yellow robe, Zemmer's exemplary 2007 Alto Adige Pinot Grigio exudes a beguiling bouquet of spring flowers, stone fruits, and minerals. And, unlike many lesser Pinot Grigios, this offering doesn't wilt in the glass. It remains elegant, but long on the palate, before finishing completely dry. Moreover, a very pleasant lemon and tropical fruit drop finish continues long after the wine has found its way home. Simply put, Zemmer's Pinot Grigio combines eminent drinkability with serious flavor and panache, so it is no wonder that many commentators and critics refer to Zemmer's wines as "sexy." Enjoy this noble Pinot Grigio well chilled (35°-40° F) or only slightly cool (50º F). We prefer it cool, but as you like it.
Well-made Pinot Grigio is one of the world's consummate aperitifs. It also renders a great service to light meals and simple foods, especially when gastronomic accompaniments involve seafood, pasta, and salads. The 2007 Zemmer Alto Adige Pinot Grigio rises to the aforementioned challenge and goes a step further. Because it possesses a highly aromatic profile and enough body and flavor to back up its initial appeal, we are not afraid to serve it throughout a meal. With Zemmer's Pinot Grigio there are plenty of crisp, mouth-filling flavors to assure that guests won't tire of the wine before they sit down at the table. The 2007 Zemmer Alto Adige Pinot Grigio pairs especially well with a variety of hors d'oeuvres, including tapas. It is a natural with sushi, sashimi, California rolls, and tempura, too. Some other favorite accompaniments include grilled shrimp served with a light Dijon mustard and dill sauce; real lump crabmeat mixed with a chive cream and served over a Parmesan tuile; oysters sautéed in butter, cream, and fresh herbs; and grilled trout with almonds. A tray of uncrusted cheeses provides another successful marriage. However, regardless of what you choose to serve with the 2007 Zemmer Pinot Grigio, we strongly suggest you invite over someone special to enjoy it with you: the true wine lover is never stingy.
Editor's Note: Peter Zemmer was recently named "Best European Winemaker" at one of Europe's leading wine competitions. Peter, named for his grandfather and the founder of the estate, drastically limits yields at his family's domain in the Alto Adige and fashions wines of exquisite charm and distinction from a growing number of varietals. In Cortina amidst the alpine hills and valleys of the South Tyrol (Alto Adige) nestles the Zemmer family winery. Founded in 1928 by Peter Zemmer, this family-owned and -run operation has recently emerged as one of the zone's leading producers of both white and red wines, thanks to the visionary leadership of Helmuth Zemmer and his talented winemaker son Peter, the firm's current guardians. The hallmark of Zemmer's wines is always a pure, precise, highly focused aroma that defines the essence of the varietal or varietals from which they are made. In addition, the aroma of a Zemmer wine is merely the prelude to the rich flavors that lie within. Zemmer's wines are consistently gratifying libations that appeal to the purist taster; they are completely unmanipulated expressions of their cepage and terroir. In other words, no smoke or mirrors are employed here. The annual harvest comes only from Zemmer's own vineyards and those that are bound by tradition to the Zemmer property. White wines, most notably Chardonnay, Pinot Bianco, Pinot Grigio, Sauvignon Blanc, and a luxury blend labeled Cortinie Bianco, dominate this producer's outstanding portfolio; but Zemmer also fashions fine, full-bodied red wines that merit serious attention, too.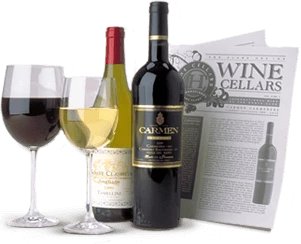 Enjoy Limited Production Estate
Bottled Wines
Discover limited production estate bottled wines such as Vergenoegd's internationally
acclaimed 2005 Cabernet Sauvignon, imported exclusively for our members.
DISCOVER OUR FOUR CLUBS