Pazo de Arribi is no ordinary winery, nor is Mencia a typical grape variety, so fasten your seatbelt and enjoy the ride. Produced from 30 year old Mencia vines, the 2007 Pazo de Arribi offers the taster a special wine experience. For openers, Pazo de Arribi's deep ruby and violet tinged robe imbues this Mencia with a mystical air, not unlike the land of Bierzo itself. However, what is most intriguing is the celestial set of aromas and flavors that graciously emanate from the center of this wine. Initially, the round cherry and cassis flavors that typify Mencia are all in evidence, but we beg you to allow the 2007 Pazo de Arribi Mencia to breathe. With fifteen or more minutes of aeration in a glass or decanter this wine will bloom: a bouquet of blueberries and violets mingled with the scent of spring woodlands emerges, and the center of this wine blossoms into a wellspring of smooth, textured, thoroughly captivating flavors. On the palate, the wine's fruit marries to the subtle spice and mineral tones that stem from the unique terroir of Bierzo, a high, enchanted land ringed by mountains and influenced by the nearby Atlantic Ocean. The result is a medium to full-bodied wine with deep fruit flavors, subtle earth tones, and an exceedingly round seamless structure. Consequently, we highly suggest allowing the mouthwatering 2007 Pazo de Arribi Mencia a little aeration before serving between cellar and cool room temperature (55°-66°F).
The 2007 Pazo de Arribi Mencia provides an exemplary partner for a host of simple and sophisticated dishes. The wine's amplifying flavor and seamless structure make it easy to pair with nearly all types of meats. The 2007 Pazo de Arribi provides stunning companionship to ham and pork; grilled or roasted chicken with garlic, herbs, and spices; and typically hard to pair vegetables such as asparagus. Some of our favorite accompaniments with this wine are prosciutto wrapped roasted asparagus. For an authentic Spanish presentation, try substituting a fine grade of Spanish jamon, if available, for the prosciutto. Grilled or roasted chicken over a bed of organic greens that are laced with black and green Spanish olives, red onion, and garlic sautéed green beans, offers another simple feast with which to enjoy the flavorful 2007 Pazo de Arribi Mencia. Grilled salmon provides good companionship as well. Buen Provecho!
Pazo de Arribi is a relatively new wine venture with vineyards in the ancient province of Galicia. It is a collaborative effort between Bodegas Adriá and Classical Wines of Spain. Bodegas Adriá was established in 2002 with a local Bierzo family, renowned for several generations for their expert winemaking skills with traditional Galician varietals. Located in the Bierzo DO (Denominación de Origen), Pazo de Arribi specializes in the production of the region's two premium grape varieties: Godello and Mencia. Pazo de Arribi highlights the finest attributes of Bierzo and the desire to consistently produce excellent, traditional wines in the region's cool climate. From Pazo de Arribi, one can count on aromatic, hauntingly beautiful Godello from estate grown fruit as well as complex, full-bodied, richly textured Mencia from old vines. From our tasting experience and the favorable critical acclaim Pazo de Arribi's wines are currently receiving, it is evident that the winery's prescribed goal has already been realized. In just a few short years Pazo de Arribi has helped Bierzo claim its rightful place among Spanish DO's. Moreover, Pazo de Arribi has graced us with a set of special wines that are both fun and intriguing to drink. Mencia The Mencia varietal is considered by enologists to be the direct ancestor and precursor of modern Cabernet Franc. This vine hails from the plantings of the earliest Roman settlers in Bierzo, who planted Mencia two thousand years ago in what remains one of Europe's most isolated wine regions. Bierzo is a remote area of Galicia, Spain's cool, wind swept province astride the Atlantic. Certainly, it is the very isolation of the Bierzo that has allowed Mencia to survive and even thrive. Moreover, the average age of the vines in Bierzo is quite old, which lends itself to the production of high quality wines. Consequently, the wonderfully fruity, spicy, and wholly intriguing Mencia varietal has recently been discovered or rather re-discovered by modern legions of wine drinkers. They are no doubt intrigued by this unique viticultural entity we call Mencia, whose attributes are consummate with both modern Merlot and Cabernet but with a softer, more exotic tone. It is Mencia's re-birth and the contemporary emphasis on quality versus quantity in Bierzo that led to the formation of Pazo de Arribi.
For years, many of Spain's finest wines remained virtually unknown outside their native regions, and the same can be said for the host of excellent Spanish cheeses that have just recently begun to arrive upon our shores. Most of us have now tasted or at least heard of Manchego and Mohan, but what about Roncal, Idiazábal, and the hundred or more other delicious cheeses that Spain produces? The 2007 Pazo de Arribi Mencia pairs exceptionally well with many of these cheeses, so we suggest pairing fine Spanish cheeses with Pazo de Arribi's unique Mencia. For more information on international gourmet cheeses, contact us at www.cheesemonthclub.com and savor the difference!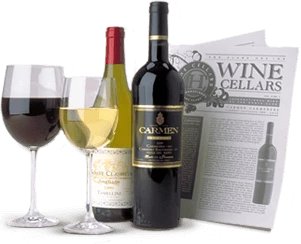 Enjoy Limited Production Estate
Bottled Wines
Discover limited production estate bottled wines such as Vergenoegd's internationally
acclaimed 2005 Cabernet Sauvignon, imported exclusively for our members.
DISCOVER OUR FOUR CLUBS