Godello is not yet a name on the tip of everyone's tongue, but Pazo de Arribi's 2010 Godello may help change that. Made from 100% Godello, the 2010 Pazo de Arribi cuts a fine figure in the glass, and that's before its alluring perfume caresses the nose. Not bad for starters. This wine's amplifying aroma offers up pretty floral and fresh fruit scents that are laced with a delicate spiciness and fresh minerality. Fig, apple, melon, and pear tones appear in the nose and continue their delightful presence on the palate. Moreover, the Pazo de Arribi Godello continues to work its magic all the way to a clean, persistent, almost complex finish. Fresh and lively to end, the Pazo de Arribi Godello exits with a flourish that leaves the thirsty gullet pleading for another sip. We suggest moderate chilling (40º-45º F) for maximum enjoyment.
In 2010 Pazo de Arribi once again fashioned an ebullient, charming Godello that can be enjoyed with or without food. As an aperitif, this wine offers a welcome change from Chardonnay, Sauvignon Blanc, or even Viognier. Moreover, we found Pazo de Arribi's 2010 Godello to positively shine in the company of rich, spicy appetizers, delicately prepared seafood salads, and many Galician specialties. Galician paella is a perennial favorite. It is prepared with hake, octopus, and plenty of shellfish. But don't be afraid to try your own rendition of paella; the 2010 Pazo de Arribi won't mind. Lightly fried calamari and sautéed oysters are some other suggested pairings with this Godello. Fish or chicken tacos offer tasty, easy to prepare accompaniments, too, especially when served with fresh avocado. However, we suggest you not overlook Asian stir fries such as Thai Chicken and Basil or even lightly curried dishes as accompaniments: it seems Pazo de Arribi's cheerful, flavorful Godello extends its welcome far and wide. Buen Provecho!
Pazo de Arribi, a relatively new winery with prime vineyards in the ancient province of Galicia, continues to push the envelope on quality. This winery remains a collaborative effort between Bodegas Adriá and Classical Wines of Spain. Bodegas Adriá was established in 2002 with a local Bierzo family, renowned for several generations for their expert winemaking skills with traditional Galician varietals. Located in the Bierzo DO (Denominación de Origen), Pazo de Arribi specializes in the production of the region's two premium grape varieties: Godello and Mencia. Pazo de Arribi highlights the finest attributes of Bierzo and the desire to consistently produce excellent, traditional wines in the region's cool climate. From Pazo de Arribi, one can count on aromatic, hauntingly beautiful Godello from estate grown fruit as well as full-bodied, richly textured Mencia from old vines. From our tasting experience and the favorable critical acclaim Pazo de Arribi's wines are currently receiving, it is evident that the winery's prescribed goal has already been realized. In just a few short years Pazo de Arribi has helped Bierzo claim its rightful place among Spanish DO's. Moreover, Pazo de Arribi has graced us with a set of very special wines that are both fun and interesting to drink.
Godello is a high quality white grape varietal indigenous to Galicia, Spain's cool, windswept province astride the Atlantic. A highly aromatic grape, Godello is enjoying renewed interest from wine lovers in Spain and abroad. New plantings and high critical acclaim have recently brought this heretofore obscure varietal into the limelight. Godello grows especially well in the Bierzo and nearby Valdeorras DO's of northwest Spain.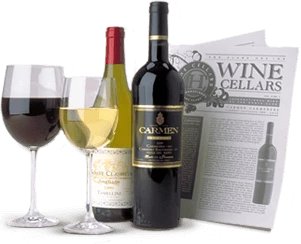 Enjoy Limited Production Estate
Bottled Wines
Discover limited production estate bottled wines such as Vergenoegd's internationally
acclaimed 2005 Cabernet Sauvignon, imported exclusively for our members.
DISCOVER OUR FOUR CLUBS