From the oldest vines of the estate, the 2019 Patient Cottat Sancerre Anciennes Vignes (91 Points – Wine Enthusiast) embodies the finest attributes of the Loire's most renowned appellation. It first lures the beholder with a vibrant golden green glow and a lithe enticing aroma of fresh citrus, apricot, and herbs. In the mouth, this Sancerre is complex, ripe, and beautifully balanced by fresh acidity and Sancerre's delightful minerality. Acacia and passionfruit flavors, along with a hint of pink grapefruit to delight the palate, sealed the deal and had us calling for more. Vibrant, precise, and easy to love, Patient Cottat's 2019 Sancerre Anciennes Vignes is classic Sancerre. For optimal enjoyment, we suggest affording Patient Cottat's 2019 Sancerre Anciennes Vignes a moderate chill (around 40°-45° F), before allowing it to unfold in the glass as it slowly rises to a more ambient temperature. Enjoy!
Almost every Sauvignon Blanc aficionado has a favorite accompaniment, which pays homage to the versatility of the grape and the myriad of styles in which Sauvignon Blanc can be cast. However, few will refute Sancerre's affinity for seafood, savory risottos, and many of the world's most popular cheeses. To this end, the 2019 Patient Cottat Sancerre Anciennes Vignes reigns supreme. White fish, crab, lobster, and especially oysters provide splendid accompaniments to Patient Cottat's 2019 Sancerre Anciennes Vignes. This old vine Sauvignon Blanc makes a terrific companion to crab cakes and squid ink risotto, too. Steamed New Zealand Green Lipped Oysters, prepared with tomato, fennel, and crème fraiche provides another splendid pairing. Gravlax and smoked salmon, served with capers, red onion, and cream cheese, also make tasty, easy to prepare accompaniments. In fact, just about any creature that once swam in the sea will prove to be a winning partner to Patient Cottat's superb 2019 Sancerre Anciennes Vignes, but one shouldn't pass up the opportunity to save a glass of Patient Cottat's Sancerre to share with Brie, Camembert, Crottin de Chavignol, or one of the Loire Valley's other prized goat cheeses. Bon Appéttit!
Deep in the heart of France, along the upper reaches of the Loire River as it turns westward to begin its long meander to the Atlantic, sit Sancerre, Pouilly-Fumé, and Menetou-Salon, spiritual homes of Sauvignon Blanc. Here one finds the exemplary estate of Patient Cottat, one of the region's finest and most consistent producers of Sauvignon Blanc.
Patient Cottat is produced by the Fournier family and is centered in the heart of Sancerre in the village of Verdigny. The name pays homage to Patient Cottat, a Master Goldsmith in 19th century Paris who fell in love with this beautiful region of France's Loire Valley, which has been renowned for centuries for its excellent, flinty-dry, herbal Sauvignon Blanc wines. The estate is comprised of vineyards in all three of the region's most important appellations: Sancerre, Pouilly-Fumé, and Menetou-Salon. Sancerre is the region's most prestigious appellation and Patient Cottat's Anciennes Vignes Sancerre (this month's feature) is the estate's flagship offering.
The Loire is France's longest and most picturesque river, and the valley that bears its name is known affectionately as le jardin de France (the garden of France). From the Loire's lush gardens, pastures, and vineyards flow a treasure trove of fruits, vegetables, and wines to grace elegant tables throughout France, including those in the most fashionable temples of gastronomy in Paris.
Given the Loire's length, varied terroir, and multitude of microclimates, it is not surprising that this vast region produces a wide array of wines. From the chalky hills on the upper reaches of the river as it bends in sight of Burgundy come several of the world's finest dry white wines in the guise of Sancerre, Pouilly-Fumé, Menetou-Salon and Quincy – all from Sauvignon Blanc. As the river flows west towards the heart of France, Chenin Blanc predominates, and fine, soft sparkling wines and the superlative sweet wines of Touraine and Anjou emerge from green hills in sight of stately châteaux. And by the time the slow moving Loire reaches the sea near Nantes, it becomes the home of Muscadet, a quaffable, fresh, bone dry white wine that is superlative with seafood.
The majority of the Loire's most celebrated wines are white, but one should not miss the growing number of excellent red wines being made in "the garden of France." Cabernet Franc is the most important red varietal in the Loire, at least in terms of quality. Bourgeuil and Chinon are the most notable appellations along the Loire for Cabernet Franc, each with a history of fashioning distinctive velvety red wines. Some very good Gamay and increasingly fine Pinot Noir based wines can also be found as well, the latter a specialty in Sancerre.
Sancerre is an appellation d'origine contrôlée (AOC) for wines produced in fourteen villages near the town of Sancerre. This appellation lies to the southeast of Orléans, along the upper reaches of the Loire River. Sancerre is considered by many to be the spiritual home of Sauvignon Blanc, as the appellation's greatest claim to fame lies in the production of crisp, elegant, eminently drinkable white wines made exclusively from Sauvignon Blanc grapes. The chalky, limestone-rich soil of Sancerre is ideal for the cultivation of Sauvignon Blanc. Consequently, white Sancerre was one of the first wines to be awarded appellation status by the French government in 1936.
As if the crafting of some of the world's purest, most enjoyable white wine is not sufficient acclaim, Sancerre also fashions very fine dry rosé from Pinot Noir and light, aromatic red Pinot Noir that rivals the village wines of Burgundy. Sauvignon Blanc and Pinot Noir constitute the only two legal grape varieties permitted in Sancerre.
Crottin de Chavignol, the Loire Valley's finest goat cheese, is also made in Sancerre. It was awarded its own appellation status in 1976. It ranks among the finest cheeses of France and pairs beautifully with Sancerre's incomparable Sauvignon Blanc.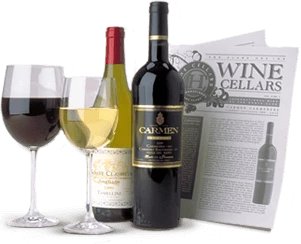 Enjoy Limited Production Estate
Bottled Wines
Discover limited production estate bottled wines such as Vergenoegd's internationally
acclaimed 2005 Cabernet Sauvignon, imported exclusively for our members.
DISCOVER OUR FOUR CLUBS